2014 NFL Mock Draft: Way Early!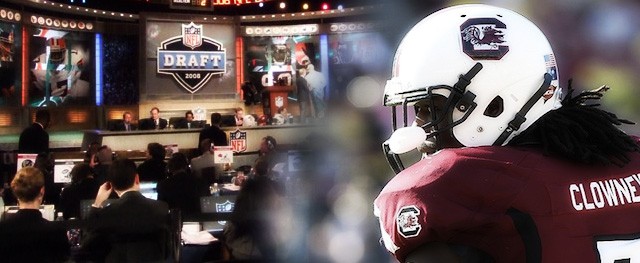 This is entirely too early, but why not drop a 2014 NFL Mock Draft for fun? That's what this is all about. There is no way to really project what will actually happen before an entire year of games are to be played but this isn't the Mock Draft HQ for nothing.
With that said, let's get rolling on 2014 early (Updated 3-11-14):
1. Houston Texans – Jadeveon Clowney, DE, South Carolina
Back to Clowney #1. He's had a few speeding tickets, but nothing that has caused any real concern. Teams are in love with his raw talent it's just the question of will he get comfortable once he gets paid.
I almost changed this pick, but hearing the press conference after Gary Kubiak was fired tells me this won't be a QB. This team feels they have the talent to make the playoffs next season barring they find a QB. These are Bob McNair's words, not mine. That tells me they will trade for a QB or acquire someone in free agency.
The Texans are also giving up 118 rushing yards per game which isn't horrible, but needs to come down by about 20%. They will go with the BPA.
2. St. Louis Rams – Greg Robinson, OT, Auburn
Sam Bradford will be back and the young receivers will be coming off their hypothetical red shirt year without their franchise passer. The key is keeping him upright but there are questions at both tackles. Long is showing age, and Saffold just went to Oaklanddddddd, to Oaklaaand.
3. Jacksonville Jaguars – Sammy Watkins, WR, Clemson
What? No quarterback? Nope. The Jaguars have resigned Chad Henne which tells me they will use this pick on a "can't miss" player who doesn't pass the ball. Who is that player? Sammy Watkins. Any person who saw the combine saw the level of talent Watkins possesses and guess what? He doesn't have the personality issues of Justin Blackmon.
4. Cleveland Browns – Johnny Manziel, QB Texas A&M
The Browns covet Johnny Manziel. This is the worst kept secret in the draft. They are changing jerseys in 2015 and need to bring in some excitement. Johnny Football could bring in that level of excitement if his style of play translates… not to mention the guy already vowed to bring Cleveland it's much wanted Superbowl Title.
5. Oakland Raiders – Teddy Bridgewater, QB, Louisville
Speaking of not having quarterbacks…(checks phone) the Raiders are so desperate I'm expecting that call any minute now. Terrelle Pryor plays the wrong position so they're going to need a real QB. Who else other than him should the Silver and Black gamble on? Kansas City, San Diego, and Denver are all extremely good. It's going to take a special player for this team to compete again.
6. Atlanta Falcons – Khallil Mack, DE/OLB, Buffalo
The Falcons cannot get their defense off the field and that is becoming a problem. They need a defensive end or a pass rusher to help boost the entire defense's effectiveness.
7. Tampa Bay Bucs – Jake Matthews, OT, Texas A&M
The Bucs need to bolster the offensive line. At this point in the draft Matthews is the best value for a young team looking to turn the corner.
8. Minnesota Vikings – Blake Bortles, QB, UCF
Minnesota was so desperate they auditioned Josh Freeman, who failed. Stepping into a competitive NFC North is a concern but he should be fine with some guy named Adrian Peterson to hand the ball to.
This pick was previously Brett Hundley, but he decided to return to UCLA for another season.
9. Buffalo Bills– Mike Evans, WR, Texas A&M
The Bills need a legit #1 wide receiver. They have a young player in Robert Woods but he looks more the part of a complementary piece.
10. Detroit Lions – Justin Gilbert, CB, Oklahoma State
The Lions are looking to build a defense to compete in a competitive NFC North. There are tons of receivers in this division so you can never have enough corners.
11. Tenessee Titans – Anthony Barr, OLB, UCLA
The Titans want Jake Matthews for the due to the obvious ties to the franchise, but he's long gone in this 2014 NFL mock draft. Barr is a great player with huge upside who will add to a young defense.
12. New York Giants – Taylor Lewan, OT, Michigan
The Giants need to find a way to keep Eli Manning's pockets clean and that will likely start with this selection. Taylor Lewan is a nice athletic tackle who should play for a long time in this league and form a young duo with Jordan Pugh if he blossoms.
13. St. Louis Rams – HaHa Clinton-Dix, S, Alabama
The only weak spot in this defense is their back line. I can't remember the last time a Rams safety was highly regarded in the league. And for that reason HaHa to St. Louis.
14. Chicago Bears – Aaron Donald, DT, Pittsburgh
The Bears allow the most rushing yards in the game at 154 yards per. On top of that is the fact they cut Julius Peppers.
15. Pittsburgh Steelers – Darqueze Dennard, CB, Michigan State
Ike Taylor is getting up there in years. Don't be surprised if Dennard emerges as the best corner from this class, he has all of the tools.
16. Dallas Cowboys – C.J. Mosley, LB, Alabama
Jerry Jones will make a pick on the defensive side, and I'm guessing that player will be a linebacker due to the struggles there this season. Demarcus Ware has also been cut.
17. Baltimore Ravens – Marquise Lee, WR, USC
The Ravens lost a ton of toughness and some sure hands when they traded Anquan Boldin basically for free. Marqise Lee showed some of those same qualities in USC's big win versus Stanford. It seems almost too good a fit.
18. New York Jets – Eric Ebron, TE, UNC
If Geno is the man, you have to help him. There is no #1 on this team with Santonio Holmes looking like he lost a major step after injury. Plus, the Kellen Winslow Experiment did not work.
19. Miami Dolphins – Zack Martin, OT/OG, Notre Dame
After Jake Long bounced, it was only a matter of time before the Dolphins think long term. I don't need to rehash all the drama on this offensive line.
20. Arizona Cardinals – Dee Ford, OLB, Auburn
Ford will add much needed youth to their pass rush. John Abraham is getting up there in years as well.
21. Green Bay Packers – Ra'Shede Hageman, DT, Minnesota
It is likely BJ Raji will not be back, but if he is it will be at a price that more accurately reflects his diminishing production.
22. Philadelphia Eagles – Jeremiah Attaochu, OLB, Georgia Tech
Chip Kelly's defense needs a boost in the rush department. Attaochu provides just that. A player who plays extremely fast and disrupts plays is always welcome.
23. Kansas City Chiefs – Brandin Cooks, WR, Oregon State
This team can go many different directions. Receiver isn't the biggest need but Cooks has made such a name in the combine it's hard to pass on him. He would be the complimentary receiver they've been aching for.
24. Cincinnati Bengals – Kony Ealy, DE/OLB, Missouri
Considering Michael Johnson just got his big money deal from Tampa, it is time to add another pass rush specialist to the rotation.
25. San Diego Chargers – Jason Verrett, CB, TCU
Verrett will give this defensive backfield a much needed boost in talent.
26. Cleveland Browns – Odell Beckham Jr., WR, LSU
The Browns are quietly building a very good defense but they are a mess on offense. When they draft the new QB of this franchise, it would be a good move to also draft a key weapon to put with Josh Gordon. Runningback is also an option but there will be some good ones still available with their next selection.
27. New Orleans Saints – Timmy Jernigan, DT, Florida State
The Saints may draft a young offensive weapon but you can never have enough help to chase down Cam Newton.
28. Carolina Panthers – Calvin Pryor S Louisville
Yes, this team will release Steve Smith, Brandon LaFell, and Tedd Ginn but there is a good chance that two or all three will be back after failing to get big money in free agency. Safety Mike Mitchell played a key role in this defense and just took his talents to Pittsburgh, there is a much pressing need currently there.
29. New England Patriots – Kyle Fuller, CB, Virginia Tech
Aqib Talib has put in work for this franchise but will likely cash in elsewhere.
30. San Francisco 49ers – Jordan Matthews, WR, Vanderbilt
Anquan Boldin is still here, but there are questions on the other side.
31. Denver Broncos – Stanley Jean-Baptiste CB Nebraska
After the Super Bowl blowout loss, it's time to turn to defense which is simply a mess right now. The Broncos literally have no starting quality middle linebacker or corner on this roster especially with no Champ Bailey. Jean-Baptise has drawn comparisons to a prime Nnamdi Asomugha.
32. Seattle Seahawks – Kelvin Benjamin WR Florida State
Russell Wilson has to get more time in the pocket. He's creative at eluding rushes but at 5'11 it's probably not best that he's on the run that much. Either way, OT or WR this pick must help him. Sidney Rice has been cut.
Round 2. Washington Redskins- Stephon Tuitt, DE/DT, Notre Dame
Shanahan is gone. Whoever is the new coach will have tough decisions to make on this defense, mainly should they transition down to 4-3? This pick may change to a corner.