2014 NFL Mock Draft: Way Early!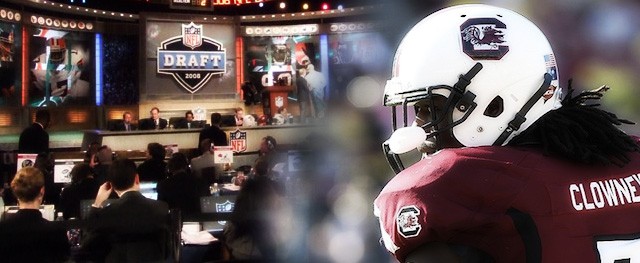 This is entirely too early, but why not drop a 2014 NFL Mock Draft for fun? That's what this is all about. There is no way to really project what will actually happen before an entire year of games are to be played but this isn't the Mock Draft HQ for nothing.
With that said, let's get rolling on 2014 early (Updated 12-6-13):
1. Texans: Anthony Barr OLB UCLA
I almost changed this pick, but hearing the press conference after Gary Kubiak was fired tells me this won't be a QB. This team feels they have the talent to make the playoffs next season barring they find a QB. These are Bob McNair's words, not mine. That tells me they will trade for a QB or acquire someone in free agency. Could there be a Mike Shanahan and Jay Cutler reunion in Houston?
The Texans are also giving up 118 rushing yards per game which isn't horrible, but needs to come down by about 20%. They will go with the BPA who I believe right now, is Anthony Barr.
2. Jaguars: Teddy Bridgewater QB Louisville
First and Foremost, the Jaguars stink. There is no correct way to say it. This franchise needs to be rebuilt from the ground up. There are things to like such as Justin Blackmon and Cecil Shorts. There is a whole lot to dislike. With this pick the Jaguars absolutely should consider all options including Jadeveon Clowney or trading out and getting multiples.
All and all in the end they opt for the quarterback with baited breath. Bridgewater doesn't project to a first team all pro but what are they going to do? Trot Chad Henne out there for 16 more games of mediocrity?
3. Buccaneers: Jadeveon Clowney DE South Carolina
The Buccaneers found a quarterback for a few years in Mike Glennon. He isn't a Pro Bowl QB, but with the talent level at the position so thin these days he is more than adequate to start. Clowney is simply way too good to pass up and this is a QB deep draft.
4. Falcons: Khalil Mack OLB Buffalo
The Falcons cannot get their defense off the field and that is becoming a problem. They need a defensive end or a pass rusher to help boost the entire defense's effectiveness.
For those wondering Stephon Tuitt falls to round two for this projection.
5. Rams: Jake Matthews OT Texas AM
Sam Bradford will be back and the young receivers will be coming off their hypothetical red shirt year without their franchise passer. The key is keeping him upright but there are questions at both tackles. Long is showing age, and Saffold can walk.
6. Vikings: Brett Hundley QB UCLA
Hundley is extremely young and hasn't played under a ton of duress. Stepping into a competitive NFC North is a concern but he should be fine with some guy named Adrian Peterson to hand the ball to. Minnesota was so desperate they auditioned Josh Freeman, who failed.
7. Browns: Johnny Manziel QB Texas AM
The NFL is transitioning to a spread offense league and that is where Johnny Football comes in. Is he the seventh best player in the class? No, but when you are desperate you will overdraft a guy (Brandon Weeden).
8. Raiders: Derek Carr QB Fresno State
Speaking of not having quarterbacks…(checks phone) the Raiders are so desperate I'm expecting that call any minute now. Terrelle Pryor plays the wrong position.
9. Bills: Vic Beasley DE Clemson
Beasley is undersized, but that could be a positive that allows him to play multiple positions in the NFL. An effective pass rusher from any position is what the Bills need along with a legit #1 wide receiver.
10. Steelers: Mike Evans WR Texas AM
Jericho Cotchery is getting legit snaps for this team. In 2014. Anytime you're relying on names of years past (we didn't forget you signed Plax as well) it's time to take a look at the position. They couldn't pay Mike Wallace what Miami could and now you have a hole at receiver. Fill it with Mike Evans who is a younger Plaxico Burress type.
11. Jets: Sammy Watkins WR Clemson
If Geno is the man, you have to help him. There is no #1 on this team with Santonio Holmes looking like he lost a major step after injury.
12. Titans: Cameron Erving OT Florida State
The Titans have a young team but still issues protecting the quarterback. They invested in a guard last year, it only makes sense to round out that investment in your quarterback Jake Locker with a young tackle.
13. Chargers: Justin Gilbert CB Oklahoma State
Gilbert will give this defensive backfield a much needed boost in talent.
14. Giants: Louis Nix III NT Notre Dame
Jason Pierre-Paul has fallen off harder than any player in football between 2012-2013 and says he will be back to form in 2014. This team always invests in defensive line, so if JPP is going to comeback at least man the middle with a strong rotation of Nix and Linval Joseph.
15. Rams: HaHa Clinton-Dix S Alabama
The only weak spot in this defense is their back line. I can't remember the last time a Rams safety was highly regarded in the league. And for that reason HaHa to St. Louis.
16. Packers: Eric Ebron TE North Carolina
Jermichael Finley suffered a really bad concussion (he could have died) and his career is in jeporady.
17. Bears: Ra'Shede Hageman DT Minnesota
The Bears allow the most rushing yards in the game at 154 yards per.
18. Dolphins: Taylor Lewan OT Michigan
After Jake Long bounced, it was only a matter of time before the Dolphins think long term. They acquired Bryant McKinnie but at this point in his career he's going to go to the highest bidder when his contract is up.
19. Eagles: C.J. Mosley OLB Alabama
The Eagles are rolling on offense, now its time to give defense some attention. Mosley would be a nice fit for when its time to move on from Demeco Ryans.
20. Cardinals: Kyle Van Noy OLB BYU
The Cardinals seem to be headed back towards relevance with Carson Palmer of all people leading the way. I'm not saying they are going to be a great team but they are competitive again week in and week out. They have a nice combo in Mathieu and Peterson in the defensive backfield, now its time to add on the linebacker unit.
21. Ravens: Marqise Lee WR USC
The Ravens lost a ton of toughness and some sure hands when they traded Anquan Boldin basically for free. Marqise Lee showed some of those same qualities in USC's big win versus Stanford. It seems almost too good a fit.
22. Lions: Davante Adams WR Fresno State
The Lions tried to develop a young guy next to Calvin Johnson in Titus Young. They have now turned to journeymen which is working but eventually you have to have a legit #2.
23. Cowboys: Adrian Hubbard OLB Alabama
Jerry Jones will overdraft someone, and I'm guessing that player will be a linebacker due to the struggles there this season. To boot Hubbard is from the SEC so he checks all of the boxes.
24. Bengals: Ifo Ekpre-Olomu CB Oregon
The Bengals have gotten a lot from Adam Jones and Terrance Newman but it's time for the young guns to show what they got. Dre Kirkpatrick needs to step in as their best corner as they draft a running buddy for the future.
25. Browns: AJ Johnson ILB Tennessee
The Browns are quietly building a very good defense but they are oddly doing it from the edges in. Now that they have corners and outside linebackers, its time to look inside for that key player.
26. 49ers: Darqueze Dennard CB Michigan State
The 49ers get Carlos Rogers some help, to add with a young star safety in Eric Reid.
27. Chiefs: Jason Verrett CB TCU
The Chiefs may go offensive tackle but with the struggles of Eric Fisher, I think Brandon Albert will remain with the team for now.
28. Panthers: Cyrus Kouandjio OT Alabama
The Panthers are back, but going forward there are salary cap issues here. To put it simply: they overpaid a few guys in today's post rookie cap market. Even if they retain Jordan Gross this offensive line has had all sorts of issues.
29. Patriots: Austin Seferian-Jenkins TE Washington
Do I need to say why? Gronk is an injury away from early retirement, and Aaron Hernandez is on trial. Jenkins is the closest thing to Hernandez in this draft and should be selected if he's there.
30. Saints: Scott Chrichton DE Oregon State
The Saints may draft a young offensive weapon but you can never have enough help to chase down Cam Newton.
31. Seahawks: Antonio Richardson OT Tennessee
Russell Wilson has to get more time in the pocket. He's creative at eluding rushes but at 5'11 it's probably not best that he's on the run that much. Russell Okung is often hurt. It's time to draft a solid tackle for insurance if nothing else.
32. Broncos: Gabe Jackson OG Mississippi State
Interior line is always an issue with this team, with center being the biggest hole.
Round 2. Washington Redskins- Stephon Tuitt Notre Dame
Here's Tuitt. If Shanahan goes and the new coach looks like he'll move Kerrigan down to 4-3 end, then this pick may change to a corner.