Mel Kiper's Updated 2014 NFL Mock Draft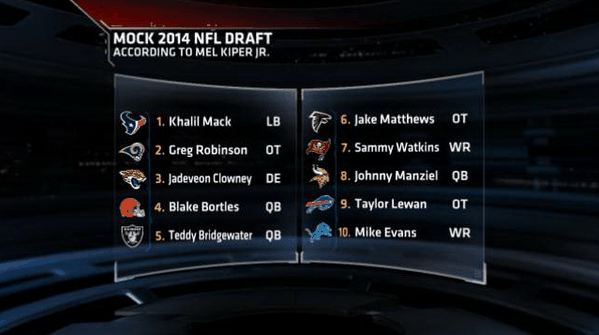 It's that time of the year again where mock's are coming in fast and furious. The latest mock to cause some debate in the draft community is ESPN's Mel Kiper's latest 2014 mock. He has some unorthodox selections to be sure.
Is there a chance this is how the draft could play out? We'll see…
Mel's picks below, my thoughts underneath each pick:
Texans- Khalil Mack LB
Khalil is good, but he's not going over Jadeveon. Mel's trolling here…
Rams- Greg Robinson OT
Good pick, no issue.
Jags- Jadeveon Clowney DE
If the draft plays out this way, then Jacksonville got extremely lucky.
Browns- Blake Bortles QB
Excuse me, what did Bortles do in the last three months to leapfrog him as the #1 QB?
Raiders- Teddy Bridgewater QB
Makes sense, because Schaub may have nothing in the tank.
Falcons- Jake Matthews OT
Falcons luck out here…
Bucs- Sammy Watkins WR
Probably the second best prospect in the draft. No way he lasts beyond the 4th pick. *Slaps table like Skip Bayless* BOOK IT!
Vikings- Johnny Manziel QB
People just want to see this for entertainment reasons. Something tells me they go QB later.
Bills- Taylor Lewan OT
Great pick but Bills fans will regret not taking Mike Evans to put with EJ Manuel the next decade.
Lions- Mike Evans WR
They just paid Golden Tate, doubt they double dip. This will be Justin Gilbert most likely or a trade down.