NFL Mock Draft 1.0
Updated: February 18, 2014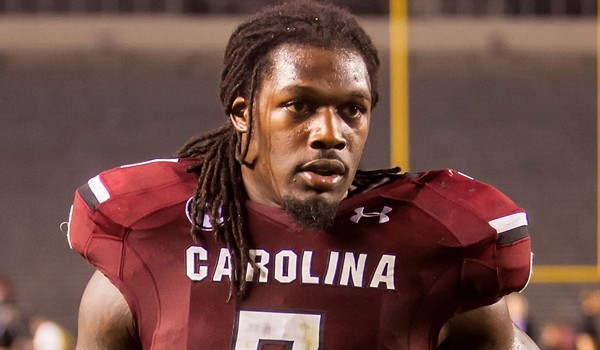 1. HOU – Jadeveon Clowney, DE, South Carolina. Best overall player in this year's draft. Texans need a franchise QB but instead decide to draft a dominate DE to pair with with Watt, Mercilus and company.

2. STL – Jake Matthews, OT, Texas A&M. Greg Robinson has a higher upside but Matthews is the more polished player right now. With 2 first round picks the Rams only need to go BPA here to be in good shape.
3. JAX – Teddy Bridgewater, QB, Louisville. Best QB in this year's class IMO. Jags get their franchise QB and Bridgewater is a perfect fit for Jedd Fisch's offense.
4. CLE – Johnny Manziel, QB Texas A&M. Despite the front office turnover I still think the Browns covet Manziel. Size and pocket presence is my biggest concerns but he has the talent of a top 5 pick.
5. OAK – Sammy Watkins, WR, Clemson. Raiders could go QB here but for a team that lacks a true #1 receiver Watkins is too good to pass up here.
6. ATL – Greg Robinson, OT, Auburn. Huge upside but needs a lot of coaching up on his technique. Has elite LT potential.
7. TB – Khalil Mack, OLB/DE, Buffalo. Lovie Smith's Tampa 2 defense relies on getting pressure with the front 4, Mack can help there.
8. MIN – Blake Bortles, QB, UCF. The Vikings need a franchise QB and I think they reach here to fill that need.
9. BUF – C.J. Mosley, LB, Alabama. Bills could go for a skill position player here but I think they take Mosley to pair up with Kiko Alonso.
10. DET – Mike Evans, WR, Texas A&M. Matthew Stafford loves to throw jump balls which Evans excels at. Number 2 receivers to pair up with Megatron.
11. TEN – Anthony Barr, OLB, UCLA. The Titans are moving to a 3-4 and could use some help rushing the passer.
12. NYG – Kony Ealy, DE, Missouri. BPA at a position of need for the Giants. Pass rush was nonexistent for most of last season.
13. STL – HaHa Clinton-Dix, S, Alabama. Most complete safety in this year's class. Can play centerfield or in the box.
14. CHI- Aaron Donald, DT, Pittsburgh. Quick, pass rushing 3-technique to replace Henry Melton assuming he isn't re-signed. If he is, they could go CB here.
15. PIT – Jason Verrett, CB, TCU. Ike Taylor is getting up in age and has lost a step or two so he should be moved to safety. Verrett is small but has elite potential.
16. BAL – Marqise Lee, WR, USC. Joe Flacco needs weapons; Lee can be a solid #2 next to Torrey Smith.
17. DAL – Louis Nix, DT, Notre Dame. For Cowboys fans hopefully Jerry Jones see's the glaring need at DT.
18. NYJ – Eric Ebron, TE, UNC. Steal at #18, super athletic tight end who will be a matchup nightmare. Go to guy for Geno Smith.
19. MIA – Taylor Lewan, OT, Michigan. The Dolphins offensive line was a mess last year. Need someone to protect Ryan Tannehill's blindside.
20. ARZ – Dee Ford, OLB, Auburn. Situational pass rusher his rookie year who will eventually replace John Abraham.
21. GB – Jimmie Ward, S, NIU. Best man to man cover safety in this class. Packers desperately need help at safety.
22. PHI – Jeremiah Attaochu, OLB, Georgia Tech. Can rush passer, play in space. Versatile player that Chip Kelly will love. Eventual replacement for Trent Cole.
23. KC – Odell Beckham Jr., WR, LSU. Dwayne Bowe had a down year and was not the #1 receiver Alex Smith needed. Beckham Jr. can develop into that; has dynamic playmaking potential.
24. CIN – Justin Gilbert, CB, Oklahoma State. Leon Hall has torn his achilles twice in 3 years. Terrance Newman and Pacman Jones are getting up there in age.
25. SD – Darqueze Dennard, CB, Michigan State. Tall, long corner. Questionable long speed but would be a day 1 starter in San Diego.
26. CLE – Kelvin Benjamin, WR, FSU. Greg Little is too inconsistent to be a #2 next to Josh Gordon. I'm not as high on Benjamin as other but his size makes him a viable option.
27. NO – Lamarcus Joyner, S, FSU. Replacement for Roman Harper; can play free or strong safety and slot corner. Forms a good young tandem with Kenny Vaccaro.
28. CAR- Jordan Matthews, WR, Vanderbilt. Panthers could lose Brandon LaFell and Ted Ginn in free agency. Big target for Cam who could become a #1 receiver.
29. NE –Ra'Shede Hageman, DT, Minnesota. Steal this late in the first round. Has the power and quickness to play NT or 5-techinque.
30. SF – Allen Robinson – WR, Penn State. Anquan Boldin and Mario Manningham are both scheduled to become free agents. I expect Boldin to be back, Robinson can sit and learn from him.
31. DEN- Stephon Tuitt, DE, Notre Dame. Injuries and age make defensive end the Broncos biggest need.
32. SEA – Zack Martin, OT/OG, Notre Dame. Can play right tackle or guard which are two positions the Seahawks could upgrade.