2014 NFL Mock Draft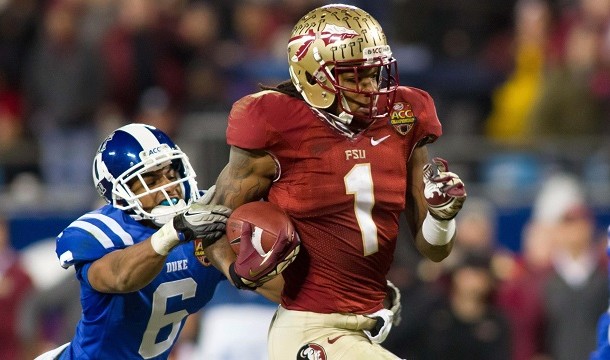 Jadeveon Clowney? Sammy Watkins? Johnny Football? Everyone wants to know where these college superstars will fall in the NFL draft on May 8th.
Anticipated to be one of best drafts in recent memory, teams such as the Oakland Raiders, Jacksonville Jaguars, and Cleveland Browns can really start to point their teams in the right direction. It all starts with the first round.
1. Houston Texans – DE Jadeveon Clowney, South Carolina
Although the Texans need a quarterback, a rare talent such as Clowney is just too much to pass up on. A physical freak, Clowney did not only impress at the Scouting Combine, where he posted a 4.53 40-yard dash time (faster than Russell Wilson and Cam Newton), but Clowney also showed that he can drop back in coverage at his pro day. Now pair his elite athleticism with the mentoring of JJ Watt? This pick is a no-brainer.
2. St. Louis Rams – OT Greg Robinson, Auburn
The Rams need to protect the fragile Sam Bradford in order to gain any ground against their dominant division. Greg Robinson is what they need. A 6-5 332 pound man who can run a 4.92 40? Yes please. The Rams can go many directions with this pick but with Jake Long recovering from a torn ACL, Robinson makes the most sense.
3. Jacksonville Jaguars – QB Johnny Manziel, Texas A&M
The most electrifying player in college football, Manziel can not only put his team on his back, but his city as well. Jacksonville fans will fall in love with this electrifying player who can extend the play with his feet as well as driving the ball down the field as well as anyone in this draft class. Manziel can throw a beautiful pass on the run and the fact that some scouts don't see him as a top 10 pick is just ridiculous. Manziel will be a great fit with the Jaguars.
4. Cleveland Browns – WR Sammy Watkins, Clemson
The closest thing to a "sure thing" since Larry Fitzgerald, Watkins' ability to go up for the ball is as good as any. A pro ready prospect, Watkins is a phenomenal route runner and exceptional at everything else he does. Watkins and Gordon will make one of the most intimidating duos of receivers for years to come.
5. Oakland Raiders – OLB Khalil Mack, Buffalo
Great football instincts and a special ability to rush the passer, Khalil Mack will help the Raiders' defense in a great way. Arguably the best player in this draft.
6. Atlanta Falcons – OT Jake Matthews, Texas A&M
With Robinson and both Clowney and Mack off the board, Atlanta won't be upset with this consolation pick in Jake Matthews. With terrific pass blocking ability , Matthews will give Matt Ryan enough time to get the ball to their star receivers.
7. Tampa Bay – WR Mike Evans, Texas A&M
With Lovie Smith and McCown now running the show, this pick makes perfect sense. Vincent Jackson and Mike Evans would be a matchup nightmare especially in the NFC South. Evans is not only a freakish athlete for his size, he also has great catching ability and is able to outrun and bully the corner lined up in front of him.
8. Minnesota – QB Derek Carr, Fresno State
With the biggest arm in the draft and the ball with the best velocity, Derek Carr will really help open up the passing game for Minnesota. Stretching the field for Cordarrelle Patterson is something the Vikings had trouble doing last year: not anymore.
9. Buffalo – TE Eric Ebron, North Carolina
With Stevie Johnson, Spiller, Jackson, Goodwin, and now Eric Ebron, Buffalo now has one of the best offenses (besides EJ Manuel) in all of football. Ebron has the ability to make jaw-dropping catches and can also burn your defense. Very athletic for a tight end.
10. Detroit – DT Aaron Donald, Pittsburgh
Although help in the secondary is needed, Detroit will not pass up on one of the best overall players in the draft. With his ability to shed blocks and get behind the line of scrimmage, Donald and Suh will create an unstoppable duo in the trenches.
11. Tennessee – CB Justin Gilbert, Oklahoma State
After losing Verner in free agency, Tennessee will look for a secondary help early in the draft. With great ball skills, Gilbert will make Tennessee's secondary one of the best in the league.
12. NY Giants – OT Taylor Lewan, Michigan
His recent assault charge will not have much effect on Lewan's draft stock. Giants will do the smart thing here and take an player who can anchor their offensive line for years to come.
13. St. Louis – S Haha Clinton-Dix, Alabama
After addressing the offensive line with their first pick, St. Louis will look to address their defense now. Clinton-Dix has the size, speed, and tackling ability that Jeff Fisher will love. NFC West arguably now has the best defenses of all-time.
14. Chicago – OLB Anthony Barr, UCLA
If Barr falls to Chicago there is no question he will be drafted. Great rush linebacker who might transition to defensive end, Barr and Jared Allen will help the Bears get a pass rush that is one of the most impressive in the NFL.
15. Pittsburgh – CB Kyle Fuller, Virginia Tech
A very aggressive and sticky corner, Fuller will help Pittsburgh's secondary very much. Fuller has tendencies of getting burned by quicker receivers because of his aggressive play-style but he is exactly the type of player Pittsburgh fans will love. Very high ceiling for Fuller if he can play with his head more.
16. Dallas – DE Kony Ealy, Missouri
A very athletic defensive end with a high motor, Ealy has the ability to rush the passer and also is very skilled at bat .After losing DeMarcus Ware, Jerry Jones will look for a replacement that will be able to deliver the same type of play that Ware gave for years.
17. Baltimore – OT Zack Martin, Notre Dame
An athletic player, Martin is a terrific run blocker and a player that Ray Rice and Bernard Pierce would love for his ability to throw defenders around in the second level.
18. NY Jets – CB Darqueze Dennard, Michigan State
Jets go with back-to-back corner picks in the first round two years in a row. With Cromartie now gone, Dennard makes perfect sense. A speedy corner with great skills in man coverage, Dennard is very physical and has great ball skills.
19. Miami – OG Xavier Su'a Filo, Notre Dame
Phenomenal upper body strength, Su'a Filo is the top guard in the draft and the top need for Miami after losing two starters from their offensive line last season.
20. Arizona – QB Blake Bortles, Central Florida
Arizona needs to move on from Palmer eventually. Bortles is a very raw player but has the skills to be an elite player. With Palmer mentoring him for a few years, Bortles can be great.
21. Green Bay – S Calvin Pryor, Louisville
A hard-hitting safety that can play anywhere in the secondary is exactly what the Packers need. Not only can he hit, Pryor is great in coverage and can make tackles behind the line of scrimmage look easy.
22. Philadelphia – DE Dee Ford, Auburn
Eagles are in much need of a pass rusher. With Ford still on the board at 22 and Pryor and Clinton-Dix gone, this pick makes perfect sense. Philly will need to find a replacement for Trent Cole eventually.
23. Kansas City – WR Odell Beckham Jr., LSU
One thing that held KC back last season was their inability to move the ball through the air. ODB has a great ability to run routes and catch the ball. Will help the Chiefs get ready for a deep playoff run.
24. Cincinnati – CB Jason Verrett, TCU
If Jason Verrett was 2 inches taller he would be a top 10 pick. Verrett is a lockdown corner that has great ball skills. Only problem with Verrett is that he tends to get bullied by bigger receivers.
25. San Diego – CB Bradley Roby, Ohio State
San Diego needs a lot of help in their secondary and a complete player like Roby will be a nice addition.
26. Cleveland – QB Teddy Bridgewater, Lousiville
It is very possible that Bridgewater or Bortles will fall this far or farther in the draft. Bridgewater played in a pro-style offense in college. Although Bridgewater doesn't have the strongest arm, he makes up for it with his unbelievable anticipation. Bridgewater has become very underrated by many.
27. New Orleans – LB C.J. Mosley, Alabama
After having the worst defense in NFL history two season ago, Rob Ryan helped turn the Saints' defense into a hard-hitting, run stopping group. One hole on that defense would have to be linebacker coming into this season. Mosley is a great tackler and can help bring some more leadership to that defense.
28. Carolina – OT Cyrus Kouandijo, Alabama
After losing their longtime left tackle this offseason, Carolina's new top need is offensive line. Although they are also in a lot of trouble in the receiver department, Carolina needs to draft a tackle here.
29. New England – WR Marquise Lee, USC
If the Belichick/Brady tandem are to make a few more Super Bowl runs, they need to help get their quarterback a few weapons. Lee is not only elusive and fast, he also is a terrific route runner, which is necessary in the Patriots' offensive scheme.
30. San Francisco – DT Ra'Shede Hageman, Minnesota
After signing Brandon Lloyd in free agency San Francisco will look to add some depth to their defensive line.
31. Denver – LB Ryan Shazier, Wisconsin
Denver has added a lot of pieces through free agency but they are still in need of a linebacker. Shazier is a great prospect who can start from day 1.
32. Seattle – WR Allen Robinson, Penn State
Seattle will look to add some star power on offense and Allen Robinson is exactly what they need. A player who seems to always be getting the ball and has the ability to make the defender miss better than most players in this draft.