Draft to the Max: Latest 2014 NFL Mock Draft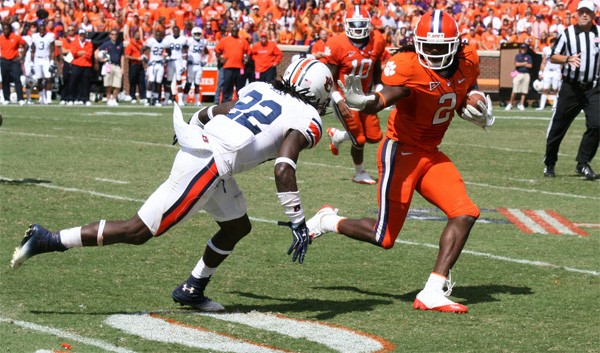 Latest 2014 NFL Mock Draft Picks: Rounds 1 & 2
1. Texans: Jadeveon Clowney DE South Carolina
If the Texans took Clowney they would have the best D-line in the league. JJ Watt wasn't as productive as last year because he was doubled every play. With Clowney you could not double Watt which would make this duo the most feared in the league. Jadeveon is also a once in a life time talent! He ran a record breaking 4.53 40 yard dash. Texans might also pick QB Teddy Bridgewater from Louisville or trade out of the top 5.
2. Rams: Khalil Mack OLB Buffalo
The Rams need an upgrade at the OT position and WR. Two of St. Louis's OLBs are also free agents, one of them is their starter. Even though Mack didn't play D1 college football he has every right to be taken in the top 3. Khalil can line up on the line and on the perimeter. He is also a freak of nature and his best aspect is in the passing game. Mack ran a great 40 time of 4.65 seconds It is very likely the Rams will trade this pick.
3. Jaguars: Teddy Bridgewater QB Louisville
Blaine Gabbert got traded and Chad Henne is not the long term solution at the QB. The Jaguars are tired of being a loser team in the NFL. Teddy is the most ready QB in this draft, he is the guy that has the best chance to win right away in the NFL. Bridgewater has outstanding mental makeup and accuracy, and has good throwing power and pocket mobility.
4. Browns: Sammy Watkins WR Clemson
The Browns are going to take either a QB or a WR. I think it is a risk to take Johnny Football in the top 10 and I'm not sure if Blake Bortles is the real deal. Besides Josh Gordon, Cleveland has some serious wide receiver trouble as their other receiver continue to struggle. Watkins is the real deal, him and Josh Gordon would make a great duo for their future QB.
5. Raiders: Mike Evans WR Texas AM
This is going to be a tough pick for the Oakland Raiders. With them acquiring Matt Schaub and having Terrelle Pryor and Matt McGloin I don't think they should take a QB. The best WR is gone in Sammy Watkins, and the once in a generation player, Jadeveon Clowney, has also been drafted. With the talent remaining they should address the wide out position though. Evans is a tall receiver and is a red zone threat. I think he would fill in nicely as a No. 1 recover for Oakland but this is a little high to draft him in my opinion. I think trading back in the draft is a legit option for the Raiders.
6. Falcons: Greg Robinson OT Auburn
The two main needs for the Falcons are OT and a dominant pass rusher. With Jadeveon Clowney going #1 and they should go with Greg Robinson. Robinson has very quick feet which allows him to be a productive blocker in open space. He delivers a solid first hit off the ball which gives him a advantage. He ran a 4.92 in the 40 and did 32 reps in the 225 pound bench press.
7. Buccaneers: Jake Matthews OT Texas AM
Like the Atlanta, Tampa Bay is desperate for a pass rusher. With Clowney and Mack already been drafted, Jake Matthews is a safer pick then taking Anthony Barr or C.J. Mosley. Jake has experience playing both tackle positions and is best in the pass game. He is a solid run blocker which will be good with their rising RB, Doug Martin.
8. Vikings: Blake Bortles QB Central Florida
The Vikings have been searching desperately for a franchise QB. Bortles has good size and above average throwing abilities and mobility. There are no negativities in his game. He had a great pro day (which doesn't mean al lot) but QB expert, "Jaws", said he is the BEST QB in this draft. I would compare him to Joe Flacco. He will start right away for the Vikings but it will be a couple year I think before the Vikings are back in the playoffs.
9. Bills: Taylor Lewan OT Michigan
With all the injuries to EJ Manuel this year, you have to think protecting him will be their top priority. The Bills O-line stunk blocking for their star RB, CJ Spiller. Lewan has great lower body strength which is great for the running game. He is also effective in the pass game.
10. Lions: Justin Gilbert CB Oklahoma State
I think Detroit's first choices in this draft are either WR Sammy Watkins or Mike Evans. With both of them gone they should go in the direction of drafting a position is which they really need. Justin Gilbert can play all type of coverages and is a ball hawk. He also has good size and speed.
11. Titans: Darqueze Dennard CB Michigan State
The Titans main need to replace Pro Bowl CB, Alterraun Verner. Dennard has the size to cover big receivers, the speed to cover any receiver, and he can return the football. He will be a nice replacement.
12. Giants: Aaron Donald DT Pittsburgh
The Giants have had a tough off-season on their D-line. They have lost Justin Tuck and Linval Joseph. New York needs to take the best pass rusher available and in this scenario it is Aaron Donald.
13. Rams: Zack Martin OG Notre Dame
With this pick the Rams will either take an offensive lineman or a WR since they took a defensive player with their 2nd overall pick. With their starting tackle and guard becoming a free agent this of season they need another lineman. Another WR is a want. Zack Martin is the most versatile lineman in this draft and I believe can play all five positions on the offensive line.
14. Bears: HaHa Clinton-Dix S Alabama
A focal point for the Bears this offseason is to upgrade at the safety. It would be more worth it to draft Clinton-Dix than pay the big bucks to get a top safety like Jairus Byrd. Haha hits like a linebacker and is above average in the coverage game.
15. Steelers: Brandin Cooks WR Oregon State
The Steelers have plenty of needs they to address, one includes WR. I think Brandin Cooks is the third best recover but Marqise Lee and Odell Beckham jr. are close behind. Cooks also has great ball skills and is a excellent route runner.
16. Ravens: Marqise Lee WR USC
When the Ravens traded Anquan Boldin last year they have majorly struggled in the pass game. Marlon Brown nor Jacoby Jones should be playing the No. 2 receiver as they were forced to this season. Marqise catches most of his passes short which allows him to create big plays after the catch with his great speed.
17. Cowboys: Anthony Barr OLB UCLA
This could be a potential steal for the Cowboys. Their star DE Demarcus Ware got cut because of his huge salary cap hit and they were all ready desperate for more pass rushers. Barr specializes in his pass rushing abilities and can make an early impact in the NFL.
18. Jets: Eric Ebron TE North Carolina
With the Jets signing WR Eric Decker it doesn't fix their WR need, it just helps it. It still allows the Jets to draft another pass catching position, in this case it is the TE. Ebron gives you great size, speed, and catching ability. He is like no other player in this draft.
19. Dolphins: Timmy Jernigan DT Florida State
Both of the Dolphins starting DTs are free agents this offseason. It is unlikely they will be able to resign both of them. Jernigan is overall the best DT in this draft but is not the best in any category. I think Jernigan has a bright future in the NFL.
20. Cardinals: Johnny Manziel QB Texas AM
This may come as a surprise pick but it makes sense if you think about it. Carson Palmer has three years left in the tank at the most and the Cards might want to get rid of him before that anyway. To me Manziel is not ready to be a starter in the NFL like all rookie QBs. Sitting a couple years learning the game will be great for his development. I think in Johnny's third year he could be a legit QB for Arizona. He can make all the throws in the game, can scramble like Vick, creates a spark on offense, and he has shown he is teachable.
21. Packers: Calvin Pryor S Louisville
The Packers could use an upgrade at the safety position and with Pryor on the board they shouldn't hesitate to take him. He specializes in the run game and has excellent instincts.
22. Eagles: C.J. Mosley OLB Alabama
The No. 1 need for the Eagles this offseason is LB. Mosley is primarily a middle backer but can pay outside. C.J. is the best coverage line backer in this draft and he is very productive.
23. Chiefs: Morgan Moses OT Virginia
It seems like the Chiefs lost all of their O-lineman in free agency. Morgan Moses is a better choice for them than a WR. Moses had great production and college but he is average as an overall blocker.
24. Bengals: Kony Ealy DE Missouri
The Bengals need to replace DE of Michael Johnson. I know Jernigan is a tackle but I think his pass rushing skills would fill the pass rushing need. Ealy has a great step off the ball and is best defending against the run. He would fill right in.
25. Chargers: Jason Verrett CB TCU
The Charges have one of the worst secondaries in the league. They should draft the best CB on the board. Verett is a big hitter but he lacks size, he really stands out in the pass game.
26. Browns: Xavier Sua-Filo OG UCLA
The Browns passed on a QB with their first pick and their plan back fired, Johnny Football was selected. Their next need is OG. Xavier is a good run and pass blocker which most lineman can't say in this draft.
27. Saints: Odell Beckham Jr WR LSU
The only recover Drew Brees has to throw to is Jimmy Graham. Beckham will probably go in and be the No. 1 receiver. He has great range in his pass catching ability and has a sky high potential.
28. Panthers: Kelvin Benjamin WR Florida State
The Panthers have no WRs that deserve the chance to start. Benjamin is a vertical threat who has the potential to be a No. 1 receiver. He could also be a bust.
29. Patriots: Kyle Fuller CB Virginia Tech
The Patriots lost Aqib Talib but signed Darrell Revis. That relationship will probably last one year. They need a CB! The only intangible he doesn't have is speed.
30. 49ers: Louis Nix III NT Notre Dame
The 49ers star DE Justin Smith can't play forever. Louis Nix is a steal at this point in the draft. He has great mobility for a guy who weighs 345 pounds!
31. Broncos: Bradley Roby CB Ohio State
The Broncos two starting CBs, Champ Bailey and Aqib Talib, are veterans in the NFL. They are both in the latter part in their career and this might be Champ's last season. Denver also needs more depth in the CB position anyway. Roby is a lockdown corner and is solid in the open field.
32. Seahawks: Jace Amaro TE Texas Tech
Russell Wilson doesn't have any exceptional receivers, so what's better than a big tight end? Jace was very productive in college and has relatively good hands.
Round 2
1. Texans: Derek Carr QB Fresno State
2. Redskins: Ra'Shede Hageman DT Minnesota
3. Browns: A.J. McCarron QB Alabama
4. Raiders: Jimmie Ward S NIU
5. Falcons: Stephon Tuitt DT Notre Dame
6. Buccaneers: Austin Seferian-Jenkins TE Washington
7. Jaguars: Carlos Hyde RB Ohio State
8. Vikings: Dee Ford DE Auburn
9. Bills: Ryan Shazier OLB Ohio State
10. Titans: Jeremy Hill RB LSU
11. Giants: Lamarcus Joyner S Florida State
12. Rams: Davante Adams WR Fresno State
13. Lions: Cyrus Kouandjio OT Alabama
14. Steelers: Deone Bucannon S Washington
15. Cowboys: Demarcus Lawrence DE Boise State
16. Ravens: Bishop Sankey RB Washington
17. Jets: Jarvis Landry WR LSU
18. Dolphins: Gabe Jackson OG Mississippi State
19. Bears: Daquan Jones DT Penn State
20. Cardinals: Joel Bitonio OT Nevada
21. Packers: Troy Niklas TE Notre Dame
22. Eagles: Stanley Jean-Baptiste CB Nebraska
23. Bengals: Jeremiah Attaochu OLB Georgia Tech
24. 49ers: Loucheiz Purifoy CB Florida
25. Chargers: Jordan Matthews WR Vanderbilt
26. Saints: Bashaud Breeland CB Clemson
27. Colts: David Yankey OG Stanford
28. Panthers: Bruce Ellington WR South Carolina
29. 49ers: Marcus Martin C USC
30. Patriots: Russell Bodine C North Carolina
31. Broncos: Tre Mason RB Auburn
32. Seahawks: Marcus Roberson CB Florida