2014 Final Mock Draft – Ryan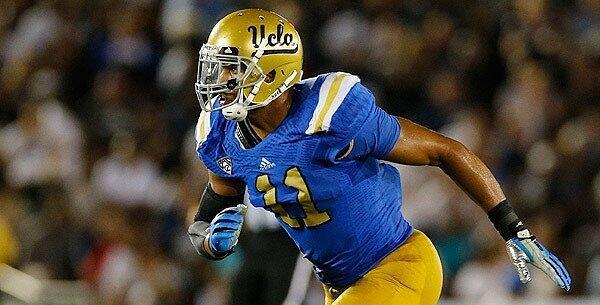 With one of the most controversial and anticipating drafts in recent memory, here are my predictions for the 2014 NFL Draft.
1. Houston Texans – DE, Jadeveon Clowney, South Carolina
Although the Texans need a quarterback, a rare talent such as Clowney is just too much to pass up on. A physical freak, Clowney did not only impress at the Scouting Combine, where he posted a 4.53 40-yard dash time (faster than Russell Wilson and Cam Newton), but Clowney also showed that he can drop back in coverage at his pro day. Now pair his elite athleticism with the mentoring of JJ Watt? This pick is a no-brainer.
2. St. Louis Rams – OT, Greg Robinson, Auburn
The Rams need to protect the fragile Sam Bradford in order to gain any ground against their dominant division. Greg Robinson is what they need. With Jake Long obviously not a long-term solution, Greg Robinson makes perfect sense. Robinson is an absolute destroyer in run blocking. Robinson can completely overpower defensive linemen and also impress with his athleticism in the second level. The Rams can go many directions with this pick but when a prospect who draws Larry Allen comes your way you don't pass on him.
3. Jacksonville – OLB, Khalil Mack, Buffalo
Khalil Mack absolutely dominated college football throughout his career at UB. Athleticism and fundamentally ready for the NFL are the two things you think about when you say Khalil Mack. Jacksonville needs some superstars on both sides of the ball and Mack can be the future of the Jacksonville Jaguars.
4. Cleveland – QB, Johnny Manziel, Texas A&M
The most electrifying player in college football, Manziel can not only put his team on his back, but his city as well. Cleveland fans will fall in love with this incredible player who can extend the play with his feet as well as driving the ball down the field as well as anyone in this draft class. Manziel can throw a beautiful pass on the run and the fact that some scouts don't see him as a top 10 pick is just ridiculous. Manziel has excellent vision and play making ability. Johnny Football will be a great fit with the Browns.
5. Oakland – WR, Sammy Watkins, Clemson
The closest thing to a "sure thing" since Larry Fitzgerald, Watkins's ability to go up for the ball is as good as any. The Clemson product catches the ball as naturally as any, while also possessing great vision and the ability to create yards after the catch. Watkins is not only quick and elusive, but he can also lower his shoulder and plow through defenders if need be. Sammy Watkins can help spark the Oakland franchise and help get them back on the right track.
6. Atlanta Falcons – OT, Jake Matthews, Texas A&M
With Robinson and both Clowney and Mack off the board, Atlanta won't be upset with this consolation pick in Jake Matthews. Matthews can immediately be plugged in at right tackle and dominate that side until left tackle Sam Baker has another injury problem. With exceptional pass blocking and run blocking ability, Matthews can also get to the second level and dominate linebackers. This player can really help the Atlanta offense in all levels.
7. Tampa Bay – WR, Mike Evans, Texas A&M
With Lovie Smith and McCown now running the show, this pick makes perfect sense. Vincent Jackson and Mike Evans would be a matchup nightmare especially in the NFC South. Evans is not only a freakish athlete for his size, he also has great catching ability and is able to outrun and bully the corner lined up in front of him. Evans is able to win jump balls with his strength and has the sticky hands that will really help him excel at the next level. Above all, Evans ran a 4.46 40 at the combine. Pair him with Vincent Jackson and this team now has an incredible receiving duo.
8. Minnesota – QB, Derek Carr, Fresno State
With the biggest arm in the draft and the ball with the best velocity, Derek Carr will really help open up the passing game for Minnesota. Stretching the field for Cordarrelle Patterson is something the Vikings had trouble doing last year: not anymore. Carr is very smart in his pre-snap reads and is able to pick a defense apart. Carr has unbelievable vision and the Vikings will regret it for a long time if they pass on him.
9. Buffalo – OT, Taylor Lewan, Michigan
Lewan is arguably the best offensive lineman in this draft. Lewan is the best pass blocker in this draft and is undoubtedly going to make an impact in his first season. Lewan will help protect Manuel, something he didn't have last year.
10. Detroit – WR, Odell Beckham Jr., LSU
ODB is a fast and athletic player that would without-a-doubt become an instant starter on the Detroit Lions. With his great hands and his phenomenal route running abilities, Beckham will not only beat you before he gets the ball in his hands but after as well. This shifty 5'11 receiver has the vision and explosiveness to completely turn a defense inside-out. Now pair him with the best receiver in the NFL? Uh oh.
11. Tennessee – CB, Darqueze Dennard, Michigan State
After losing their sticky man corner in the offseason, drafting a very similar player makes sense. Dennard is a very fast and very physical man corner. Dennard has great ball skills and will immediately make an impact in the Titans' secondary.
12. NY Giants – DT, Aaron Donald, Pittsburgh
Donald isn't the Clowney or Manziel of this draft in terms of hype, but he definitely has a chance to have the most impact on a team after the draft. Aaron Donald is a fast and strong defensive tackle who just bullies offensive linemen throughout the entire game. Donald has an incredibly fast first step that makes him get immediate pressure to opposing backfields.
13. St. Louis – S, Ha Ha Clinton-Dix, Alabama
After already addressing the offensive line with their first pick, St. Louis will look to help their defense at 13. Clinton-Dix is a player that a team like the Rams will really enjoy. Besides being a player with great instincts and awareness, Clinton-Dix can play over the top and also come down and lay the big hit. An aggressive DB like this guy will really help when playing in the NFC West.
14. Chicago – LB, C.J. Mosley, Alabama
Still looking for their long term replacement for Brain Urlacher, Mosley can help fill that hole. Like his ex-teammate Clinton-Dix, Mosley sets his play apart from others because of his awareness and instincts. Mosley is great tackler and a great leader as well.
15. Pittsburgh – TE, Eric Ebron, North Carolina
Heath Miller won't be around forever but for the few seasons he has left, he can help this physical freak Eric Ebron reach his full potential. Ebron has the unique combination of size and speed that haven't been seen in a prospect since Vernon Davis. Like Davis, Ebron moves like a wide receiver and but at the same time can create a huge mismatch just because of how big and athletic he is.
16. Dallas – DE, Kony Ealy, Missouri
After losing Demarcus Ware this offseason, Jerry Jones will most likely try and find a replacement for the future hall of famer as soon as possible. Look no further than Kony Ealy. Ealy is a very fast and athletic player with a very high motor. One of the best players right off the snap in college football, Ealy has the potential to be something special.
17. Baltimore – LB, Anthony Barr, UCLA
Anthony Barr is a very fast and athletic player that can beat you right off the snap based on his speed alone. Barr can bull rush the passer as well as having a very effective swim move. Despite facing double teams throughout his entire last season at UCLA, Barr was still able to make some noise behind the line.
18. NY Jets – WR, Brandin Cooks, Oregon State
The Jets are in desperate need of a playmaker on the offensive side of the ball and who else than Brandin Cooks who ran a 4.31 40-yard-dash. Cooks is an elusive playmaker with quick hands to grab the ball and take off like he's shown so many times that he can do. Cooks has unreal stop and go moves and watching him play is almost like playing a video game.
19. Miami – OT/OG, Zack Martin, Notre Dame
Miami needs to gain some strength to their offensive line. Martin is a player who can play guard or tackle and at this point in the draft would be a great value pick. Martin has good quickness off the snap and has exceptional play in the second level.
20. Arizona – QB, Blake Bortles, Central Florida
Bortles should fall on draft day. He has the athletic ability and the anticipation on throws to succeed. Besides being a fairly raw talent, Bortles should have a better chance of being a solid starter if he can sit behind a proven veteran for a few seasons.
21. Green Bay – S, Calvin Pryor, Lousiville
It has been shown in the past that Green Bay is very vulnerable to a big, athletic quarterback. No more of that with Pryor at safety. Pryor is an strong, hard hitting, ball hawking safety. A player who can intimidate opposing receivers because of his ability to make a big hit. Pryor is also a very reliable tackler with great closing speed on the opposing player. Put Pryor on Green Bay's defense and now they have a s0lid secondary.
22. Philadelphia – CB, Kyle Fuller, Virginia Tech
Chip Kelly loves players who are versatile and not afraid to make a big play. Kyle Fuller is exactly that. With the ability to play outside, slot, safety, or even outside linebacker, Fuller is not only flexible at different positions, he can also play them well. Philly had trouble against the pass last year and with a hard hitting and physical man corner such as Fuller, they now have more than just a decent secondary.
23. Kansas City – CB, Justin Gilbert, Oklahoma State
Even if Brandon Flowers stays on the team, Gilbert is a phenomenal pick, especially at 23. Gilbert is a big, fast corner with great ball skills. Gilbert is athletic enough to stick with a receiver all over the field.
24.Cincinnati – LB, Ryan Shazier, Ohio State
Shazier is a fast player, especially for the linebacker position. He will fit perfectly into the Bengals' 4-3 defense. Shazier is a smart player in the sense that he puts himself in positions to always make plays. Shazier has great technique as a tackler and will only get better.
25. San Diego – CB, Justin Verrett, TCU
If Verrett was 6'0, he would easily be a top 10 pick. The problem with Verrett is, he can get bullied by bigger receivers if the can get good leverage. Besides that, Verrett is a great tackler and very good in coverage. Believe Verrett has the ability to a a star a the corner position, even if that means he has to play in the slot.
26. Cleveland – WR, Marqise Lee, USC
After taking Manziel with the 4th pick, Cleveland can now add some more pieces for him to succeed on offense. Lee is a long receiver who is fast and elusive. Pair Lee with Gordon and Cameron and now Cleveland has good offense.
27. New Orleans – DE, Dee Ford, Auburn
After just missing on Lee, New Orleans will be happy to be able to take the fast defensive end. Ford relies on his speed off the snap to be an effective pass rusher. Ford can set the edge and on occasion even be asked to drop back in coverage. Although he is a bit undersized, Ford can still be very disruptive rushing the passer.
28. Carolina – OT, Cyrus Kouandijo, Alabama
Even though receiver is a huge need for Carolina, after losing their longtime starting left tackle this offseason, Carolina desperately will need help protecting Cam Newton. Kouandijo is a big, physical offensive tackle that has the ability to be an elite talent.
29. New England – DT, Louis Nix III, Notre Dame
Nix has a 340-pound frame which gives him a load of natural strength. Nix has quick feet which helps him apply quick pressure. Nix also plays with a strong motor and will be a great replacement for Wilfork when he eventually leaves or retires.
30. San Francisco – WR, Allen Robinson, Penn State
Not freakishly athletic, but he gets the job done. Robinson has a large frame already, with room to get even bigger. Great acceleration with the ability to be a dangerous after catching the ball. Nasty with the ball in his hand while at the same time having the elusiveness to shake off defenders and pick up a lot of yards once he has the ball in his hands.
31. Denver – QB, Teddy Bridgewater, Louisville
Boom. Denver drafts Peyton Manning's eventual replacement in Teddy Bridgewater. If Bridgewater does happen to fall to 31, there is a very high chance that Denver will take him. Bridgewater already has great mechanics and being behind Manning for a few seasons will help him get fully developed and even go farther than his already high ceiling. Bridgewater is able to run out of the pocket if need be and throws a very tight spiral while also being able to step up in the pocket and deliver a tough throw, even while under a lot of pressure.
32. Seattle – DT, Ra'Shede Hageman, Minnesota
Losing Red Bryant in free agency hurts and Hageman can help Seattle recover from that loss. Hageman consistently out plays offensive linemen, completely manhandling and bullying them deep into the backfield, showing off his speed and strength, which is rare for a person of his size. Hageman can just be a luxury pick and can be used when need be on Seattle's front 4.