2014 NFL Mock Draft: Way Early!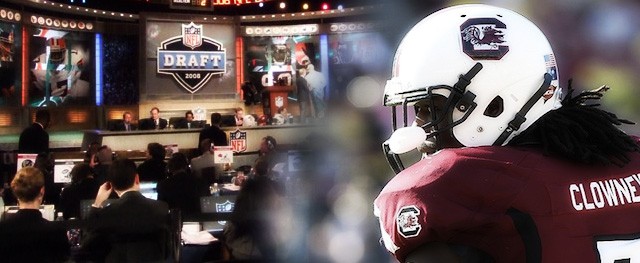 This is entirely too early, but why not drop a 2014 NFL Mock Draft for fun? That's what this is all about. There is no way to really project what will actually happen before an entire year of games are to be played but this isn't the Mock Draft HQ for nothing.
Questions? Concerns? Email a player.
FINAL UPDATE 5-7-14):
1. Texans: Jadeveon Clowney DE South Carolina
Back to Clowney #1. He's had a few speeding tickets, but nothing that has caused any real concern. Teams are in love with his raw talent it's just the question of will he get comfortable once he gets paid. This is literally the biggest, and fastest player at his height to ever enter the draft.
2. Rams: Greg Robinson OT Auburn
Sam Bradford will be back and the young receivers will be coming off their hypothetical red shirt year without their franchise passer. The key is keeping him upright but there are questions at both tackles. Long is showing age, and Saffold just went to Oaklanddddddd, to Oaklaaand.
3. Jaguars: Sammy Watkins WR Clemson
What? No quarterback? Nope. The Jaguars have resigned Chad Henne which tells me they will use this pick on a "can't miss" player who doesn't pass the ball. Who is that player? Sammy Watkins. Any person who saw the combine saw the level of talent Watkins possesses and guess what? He doesn't have the personality issues of Justin Blackmon.
4. Browns: Johnny Manziel QB Texas AM
The Browns covet Johnny Manziel. This is the worst kept secret in the draft. They are changing jerseys in 2015 and need to bring in some excitement. Johnny Football could bring in that level of excitement if his style of play translates… not to mention the guy already vowed to bring Cleveland it's much wanted Superbowl Title.
5. Raiders: Khalil Mack OLB Buffalo
The Raiders seek to improve a defense that needs help ASAP. Nick Roach is their best LB and only produced 5.5 sacks on 112 tackles last year.
6. Falcons: Jake Matthews OT Texas AM
Mike Tice would love to coach Jake Matthews and he will get his chance if the draft pans out this way. Sam Baker will finally get some competition for his spot.
7. Buccaneers: Blake Bortles QB Central Florida
Lovie Smith's first action as the new coach of the Bucs was to acquire Josh McCown- a quarterback who will turn 35 before the upcoming season. It's obvious Mike Glennon has a confidence rating of zero for them to replace him before a game's been played. Tampa is geographically the closest team in the league to UCF. They likely have seen and know more about Bortles than any other team.
8. Vikings: Anthony Barr OLB UCLA
The Vikings aren't going to reach for Derek Carr at eight. That would be a waste of a resource when he's going to be there in round two and the guy they really want (Blake Bortles) is gone. Barr is considered slightly undersized for his position and his love for football is quietly questioned by scouts, but all I know is when I watch him he's hitting everything moving.
9. Bills: Mike Evans WR Texas AM
The Bills need a legit #1 wide receiver. They have a young player in Robert Woods but he looks more the part of a complementary piece.
10. Lions: Aaron Donald DT Pittsburgh
Ndamukong Suh is one of my favorite players in the league but there are whispers that people around the Lions simply don't see him with the team much longer. There have been several little articles popping up about his attitude, cap number, and trade possibilities. I think it's a foregone conclusion that he's going to be departing this franchise soon and Donald is a much cheaper replacement.
11. Titans: Justin Gilbert CB Oklahoma State
Speaking of players leaving teams, Alterraun Verner and Chris Johnson took a great deal of talent away from a Titans franchise that really couldn't afford it. Gilbert is a big tough corner that deserves to be drafted this high for his return ability alone. This team scored more than 24 points only 7 times in 2013.
12. Giants: Taylor Lewan OT Michigan
The Giants need to find a way to keep Eli Manning's pockets clean and that will likely start with this selection. Taylor Lewan is a nice athletic tackle who should play for a long time in this league and form a young duo with Jordan Pugh if he blossoms.
13. Rams: Jason Verrett CB TCU
Word is that the Rams want Bradley Roby but all we hear about is how good Verrett has been during the draft process and that he would be a definite top 10 pick if he were taller. The talent is there and all it takes is one team, so I have the Rams opting for the player coming off the better 2013 season. Yeah he's only 5'9 but he's a solid 190 lbs with 4.3 speed.
14. Bears: HaHa Clinton-Dix S Alabama
The Bears are going to be looking to draft competition for Chris Conte, who will likely start the offseason on the PuP list.
15. Steelers: Darqueze Dennard CB Michigan State
Ike Taylor is getting up there in years. Don't be surprised if Dennard emerges as the best corner from this class, he has all of the tools.
16. Ravens: Eric Ebron TE North Carolina
The Ravens lost a ton of toughness and some sure hands when they traded Anquan Boldin basically for free.
17. Cowboys: Kony Ealy DE Missouri
Jerry Jones will make a pick on the defensive side, and I'm guessing that player will be a linebacker due to the struggles there this season. Demarcus Ware has also been cut.
18. Jets: Kyle Fuller CB Virginia Tech
Losing Antonio Cromartie was tough for this team. Kyle Wilson and Dee Milliner have both left more to be desired, while their next best corner Darrin Walls only has one career INT and four career starts.
19. Dolphins: Zack Martin OG Notre Dame
The Dolphins' prayers are answered and they get the player they covet the most. Martin will replace Jonathan Martin and/or Richie Incognito as he can play either position.
20. Cardinals: Calvin Pryor S Louisville
The Cardinals pass up Derek Carr and Teddy Bridgewater to pick a player that will help them win right now. A Quarterback can be had next round.
21. Packers: C.J. Mosley OLB Alabama
The Pack need help in the middle of their defense whether it's at defensive tackle, middle linebacker, or safety.
22. Eagles: Marqise Lee WR USC
Desean Jackson is gone and no one knows what Jeremy Maclin will bring. He's been pretty injury prone and Riley Cooper is not a #1.
23. Chiefs: Odell Beckham Jr WR LSU
This team can go many different directions. Receiver isn't the biggest need but Beckham has made such a name in the combine it's hard to pass on him. He would be the complimentary receiver they've been aching for.
24. Bengals: Bradley Roby CB Ohio State
The Benglas still rely on old timers Terence Newman and Pacman Jones, so a young player is much needed to rotate in and eventually start with Dre Kirkpatrick.
25. Chargers: Xavier Sua-Filo OG UCLA
There are several ways the Chargers can go but ultimately they make the pick that makes the most sense and draft a long term replacement for Luis Vasquez.
26. Browns: Brandin Cooks WR Oregon State
The Browns are quietly building a very good defense but they are a mess on offense. When they draft the new QB of this franchise, it would be a good move to also draft a key weapon to put with Josh Gordon. Runningback is also an option but there will be some good ones still available with their next selection.
27. Saints: Ryan Shazier OLB Ohio State
Shazier is going to play special teams from day one and help draw attention away from Junior Galette who will command more attention coming off a career year with 12 sacks in 2013.
28. Panthers: Joel Bitonio OT Nevada
Bitonio is a dark horse first rounder. I honestly haven't seen much on him but from what I know he plays all five offensive line positions. The Panthers need a player like that exactly, as their offensive line was decimated last year.
29. Patriots: Ra'Shede Hageman DT Minnesota
Vince Wilfork is getting banged up pretty regulary and his career is winding down. The Patriots need to get younger on the defensive tackle position immediately.
30. 49ers: Cody Latimer WR Indiana
Anquan Boldin is still here, but there are questions on the other side. Latimer goes a nose over Davante Adams due to Adams not being as fast as previously expected.
***NOTE: Don't be surprised on draft day if this pick ends up being AJ McCarron. There are rumors that the 49ers are willing to trade as high as #5 overall if possible to get Mike Evans. That would then place a QB needy team here like the Raiders who could take a QB with less pressure.
31. Broncos: Dee Ford DE Auburn
After the Super Bowl blowout loss, it's time to turn to defense which is simply a mess right now..
32. Seahawks: Morgan Moses OT Virginia
Russell Wilson has to get more time in the pocket. He's creative at eluding rushes but at 5'11 it's probably not best that he's on the run that much. Either way, OT or WR this pick must help him.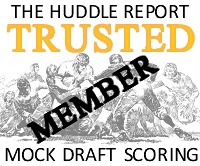 Our Writers' Drafts:
2014 Final Mock Draft – Ryan
Get Started on Next Year:
2015 Mock Picks!