2013 NFL Mock Draft: Post Season Edition!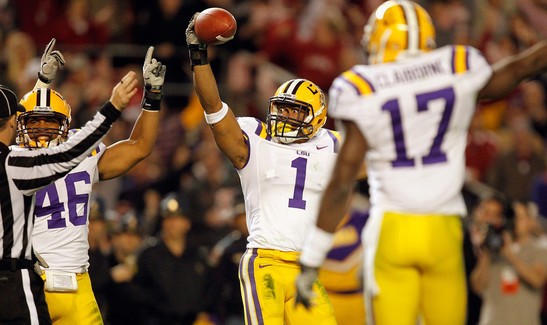 First of all, happy New Years everyone.
Another NFL season is in the books, and if you are wired anything like me you are super excited for the season after the season- draft season! That doesn't meant that I won't be checking out the playoffs (my Broncos wrapped up that #1 seed!) but it does mean that for many fans the 2013 NFL Draft is all there is left to look forward too.
There will be a lot of changes this off season. Already five GM's and seven coaches have been fired. If you are a fan of one of those teams, you probably have no idea what to expect. This mock will try to take the uncertainty into consideration.
Finally, we have to take some bowl games into consideration. Mike Glennon looked like Blaine Gabbert v2.0 in the Music City Bowl, while guys like Barkevious Mingo showed up huge for their teams. Guys are going to continue rising from strong bowl games all winter long.
Also, if you have a blog or post on forums don't be afraid to link to us and show us some love!
Now with all that said, here is the latest mock. Enjoy:
1. Chiefs: Geno Smith QB West Virginia
Im still sticking the Chiefs with Geno. Yes, he struggled in the Pinstripe Bowl, but did you see the conditions? It was a mud bowl and at the end of the day his stat line was still respectable even if his play was just as sloppy as the action on the field.
Until the Chiefs introduce a new coach and we have an idea of where they will go, lets continue to mock Geno here. At the end of the day they need a QB and it doesn't look like someone is going to bail them out of this pick. Now if Manti Te'o has 25 tackles in the Championship, I reserve the right to change my mind…
2. Jaguars: Bjoern Werner DE Florida State
The Jaguars are another team stuck with a pick that doesn't fill their main need (QB) but hey, at least they can afford to take the BDPA. Tim Tebow is on his way, so a three man battle between Henne-Gabbert-Timmy will pop off this summer. #facepalm
Werner is very good against the run and doesn't give up on plays. He has a good feel for the game for a guy who only started playing like five years ago. The perfect replacement for stopgap Jason Babin.
3. Raiders: Star Lotulelei DT Utah
Now… NO DISRESPECT but why is Tommy Kelly still on this team? (Tommy is known to give that work out, ask Cam Newton). All season long he embarrassed himself, this organization, and the fans of Oakland's squad. It's time to cut bait and Star might just be pound for pound the #1 player in this class. Terrell Pryor will get the nod at QB, and that's how they'll roll in '13.
4. Eagles: Luke Joeckel OT Texas AM
Sorry Eagles fans… I still can't go with Te'o here. Maybe if the new coach is a defensive guy, and comes in cleaning house… but until then my logic says they will do whatever it takes to make Nick Foles successful. You cannot pray and hope Jason Peters comes back 100%. There has to be someone there on this line to keep King Dunlap from seeing snaps in 2013.
5. Lions: Damontre Moore DE Texas AM
The Lions go with the BDPA. As they should. This stat-padding offense is among the leagues best, but if your defense isn't getting stops does it matter? Here's to Suh/Fairley playing to their potential next year with Moore on the outside.
6. Browns: Jarvis Jones OLB Georgia
I have Jones dropping here mainly due to medical concerns and the needs of other teams. He was advised to retire just two years ago, and has lasted this long unphased but who knows what they find during the draft process?
This could very well be Von Miller v2.0 if all checks out, and exactly what the Browns need. No matter who the GM/coach is, they are kind of stuck to the Weeden wagon for at least one season in my opinion, as it would be an EXTREME waste of resources to pick a QB here.
7. Cardinals: Taylor Lewan OT Michigan
No bold predictions. I did a whole post on why the Cardinals must shell out the dough to get Mike Vick. For those that need cliff notes: he would easily have been the best QB, and the second best RB on this team in 2012.
Vick has proved in 2010 that he can play at a Pro Bowl level given the right talent and an actual defense.
8. Bills: Manti Teo ILB Notre Dame
Te'o goes eight. Not bad for a inside linebacker, as this is the perfect spot for an elite insider. I don't think that the Bills new coach will fall in love with any QBs in this draft… but it certainly depends on who takes this job. Mike Glennon (more on him in one pick) could easily slide in here.
9. Jets: Mike Glennon QB North Carolina State
You cannot cut or trade Mark Sanchez because of the insane contract he has… but what you can do is draft someone to push him on the bench. While I don't think that Glennon will come in and be a franchise savior, he easily has the tools to oust Sanchez.
Glennon is going to be picked top 10 mainly because of media hype. I like to call this the 'McShay Factor'. The guy throws a pretty ball and has a strong arm, but guess who also did? Kyle Boller.
10. Titans: Dion Jordan DE Oregon
While I still think the Titans could fall in love with Mingo, Im giving the nod to Jordan this time around because he has the frame to play DE full time. Our database has him at 6-7 241.
11. Chargers: Barkevious Mingo OLB LSU
The Chargers are a pretty hopeless situation. This team blew entirely too many draft picks, and signed some bad free agents. I don't need to name the names, you know who we're talking about… and why AJ Smith has been shown the door.
The start to the rebuild will be acquiring talent anywhere it can be found. Mingo projects to OLB, which the Bolts shouldn't say no too.
12. Dolphins: Eric Fisher OT Central Michigan
The Dolphins have two things that must happen this off-season: (1) Replace Jake Long (2) Find a #1 wide receiver.
13. Buccaneers: Jonathan Banks CB Mississippi State
Ever since Talib got moved, this pick was cemented as a CB. Don't look now but Eric Wright may be cut as well too.
Also, do not rule out QB. Greg Schiano didn't draft Josh Freeman, and Freeman is regressing. He may opt to find "his" guy now.
14. Panthers: Demarcus Milliner CB Alabama
Panthers could use a DT, but have been burned too many times drafting them. Free agency seems to be the best route to patch that up. Milliner is a tough physical guy who will come in and battle V-Jax, Colston, Roddy White, and Julio Jones.
15. Saints: Johnathan Hankins DT Ohio State
No matter what Sean Payton does this off season, you know he will address this porous defensive line.
16. Rams: Chance Warmack OG Alabama
Sam Bradford cannot take the next step if he is always throwing while on the run for his life. This team recently signed Bears bust Chris Williams who has a bum wrist… it's time to invest again on the line. The pieces are there for this team to be great. It's all about letting Sam execute.
17. Steelers: Alec Ogletree ILB Georgia
Pittsburgh missed the playoffs which only means their guys will be a year older when next season begins. They were already old enough at linebacker before the season began.
18. Cowboys: Sheldon Richardson DT Missouri
Starter Josh Brent is going to prison, as he should. But football wise, he was a starter and has to be replaced. Jay Ratliff days are numbered as well.
I used to mock OLB/DE's here, but as I watched more and more Dallas games it became evident that Anthony Spencer is at worst this team's second best defensive player. Jerry is going to have to pay him.
19. Giants: Ezekiel Ansah DE BYU
The Giants stockpile DE's and Ansah is simply too good to pass up. A 270 lb. sprinter?!! Where does Tom Coughlin sign up?
20. Bears: DJ Fluker OT Alabama
Bears fans, reason with me. The main reason that Lovie Smith can win 10 games and still get fired is because- the Bears could not keep Jay Cutler healthy enough to make a decent playoff run!!!!
At the end of the day, this team has not been able to find a right tackle. Williams is on the Rams like I said earlier, and Gabe Carimi is always banged up as well. It's time to fix the problem and draft the best RT prospect that you'll see for a while in DJ Fluker.
21. Rams: Kenny Vaccaro S Texas
Eric Reid drops because he got served something mean by DeAndre Hopkins. Vaccaro elevates in his place to the Rams, who will be taking a look at the best safety available with one of their picks.
22. Vikings: Keenan Allen WR California
The Vikings are in the playoffs because of Adrian Peterson and Adrian Peterson alone. Insane. Christian Ponder is trying to make that next step, but has no one to throw too. Michael Jenkins? That's cool, he'll take Kennan Allen…
23. Bengals: Sam Montgomery DE LSU
The guys on this defensive line are playing out of their mind… and at least one (shout out Michael Johnson) is about to get paid out of his mind as well.
24. Ravens: Barrett Jones OG/C Alabama
I want to stick the Ravens with some defensive help, but Matt Birk is just so damn old….
25. Seahawks: Terrance Williams WR Baylor
This pick very likely will be traded to someone coming to get Matt Barkley (Bills?). If not, then Russell needs some weapons.
26. Colts: John Jenkins DT Georgia
As I type this, every starter on the Colts three man front is banged up with injury. This team is playing well, and will get better if they can build depth and keep guys on the field. That's what the 360-pounder Jenkins can do.
27. Packers: DeAndre Hopkins WR Clemson
Yes! Hopkins is cracking the first round early. The thing is Greg Jennings is likely not going to be back, Finley may be gone, and Driver may retire as well. A TE may make sense, but this team thrives off multiple receiver sets. If Jennings leaves, a guy with legit starter caliber talent will be needed. Hopkins proved that he is no side kick, against one of the best defenses in the nation.
28. 49ers: Eric Reid S LSU
Speaking of the defense Hopkins lit up….
I still like Reid, just not in the middle of the first anymore. He may need some time to develop and the 49ers are the one team that he wouldn't have to start immediately on. They need a safety for when they move on from Whitner.
29. Texans: Tyler Eifert TE Notre Dame
Texan fans.. I know this doesn't make much sense, but you have to think about it. Owen Daniels is always getting injured, and Dressen is in Denver right now. Andre Johnson commands his attention, and Eifert would thrive alongside Houston's current talent in multiple TE sets.
Eifert has the ability to spring Arian Foster for huge runs because he is a good blocker, and take any linebacker or safety 1-on-1 down field because his hands are so good as well. If there is a home-run pick in this draft, it would be if the Texans could land Eifert.
30. Patriots: Tavon Austin WR West Virginia
The Patriots keep calling back old school receivers. Enough is enough. Tavon will eventually take over for Welker and he and Edleman will keep it rolling for the last years of Brady's career.
31. Falcons: Giovani Bernard RB North Carolina
Michael Turner needs to be pushed for his starting spot. Who better than Bernard? Even if he loses the RB battle, he is still and excellent threat on third downs and punt returns.
32. Broncos: David Amerson CB N.C. State
I almost want to put a WR here, but the Broncos get a DB again in my 2013 NFL mock draft.
I like the current defensive back group for the Broncos, dont get me wrong, but Champ Bailey is getting WAY up there in age and Tracy Porter has missed practically every game in 2012. The future cannot be Chris Harris and Tony Carter with all due respect. This is a good defensive unit, but could regress right back into a bad one if the defensive backfield is ignored!
Can't get enough? Click Here for an early 2014 Mock!