DeAndre Hopkins Rises in Chick Fil' A Bowl
Updated: December 31, 2012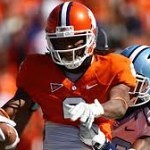 The worst thing that happened for Clemson was a blessing in disguise for DeAndre Hopkins. Clemson's Junior wide receiver was thought of as a second round pick as best, as he is usually an afterthought next to super Sophomore Sammy Watkins. Well, Hopkins showed he is no second potato.
After Watkins went out of the game with a sprained ankle, Hopkins went H.A.M. as they say. He posted a Chick Fil' A Bowl record of 190 yards receiving and 2 touchdowns. All of this against the mighty LSU Tigers aka "DB-U."
On the LSU side, Bernie Logan has played well. He blocked a kick. Sam Montgomery has been disruptive. But Barkevious Mingo looked like the player that once was thought of as the #1 pick in many mock drafts. I've said it before, in another year he could easily be he #1 overall pick… the door still isn't closed on that happening by the way.
Mingo, Hopkins… *whew* this was an instant classic folks. Make sure you find a replay of the 2013 Chick Fil A Bowl if you didn't get to see it!
(Just in case you are wondering I'm liking Hopkins in the pick 30-40 range.)