Post Free Agency Mock Draft!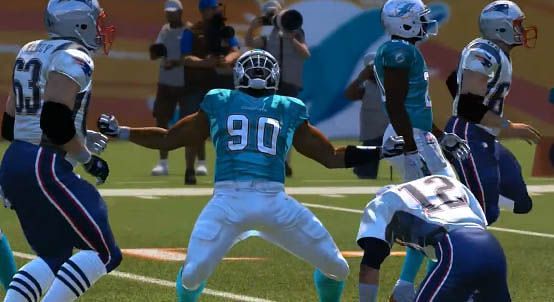 Free agency was super exciting this year. We've seen great players get traded, some released, and even more sign deals within minutes of free agency started. How will Ndamuknog Suh and Darrelle Revis' new teams adjust their draft strategies? How will the teams that lost great players like Dallas react?
Find out who I mocked to your favorite team in the wake of free agency in my latest 2015 NFL mock draft.
Picks below:
1. Buccaneers: Jameis Winston QB Florida State
The Bucs have shed bad contracts in Josh McCown and Michael Johnson in an effort to reboot this franchise. Previously I had Mariota here but there is only so long I can pretend that Jameis isn't clearly the better player. Mariota did himself no favors during his pro day and Winston has continued to look the part of a franchise QB… IF… IF… he can stay out of the news for the wrong reasons.
2. Titans: Leonard Williams DT USC
Many people are mocking Mariota here but I still don't think he has the kind of potential to draft over a Leonard Williams. Zach Mettenberger is already there and there will be little flack if the Titans draft the top lineman in the draft over him.
3. Jaguars: Dante Fowler Jr. DE Florida
Fowler just seems to keep getting better year after year. The Jaguars would like to add some offensive weapons for Bortles, but it seems as if Julius Thomas is the answer to that problem for now.
4. Raiders: Danny Shelton DT Washington
The Raiders were players in the Terrance Knighton sweeps and also sent a tire kicker towards Greg Hardy. This tells me that they are looking for an impact player on that defensive line. With Knighton opting for Washington, Mr. Shelton makes sense as a solid day one starter at the tackle.
5. Redskins: Shane Ray DE Missouri
Speaking of the Skins, here they are going for a new defensive end now that Brian Orakpo's production has fallen and he's a free agent. Ray didn't destroy the combine the way Vic Beasley did but teams just have to go on film to see the potential here.
6. Jets: Amari Cooper WR Alabama
The Jets used their cap room to bring back Antonio Cromartie and Darrelle Revis. Therefore this pick will not be a corner. Looking forward, if Geno is the guy then you absolutely have to get him some help. Brandon Marshall has been traded three times, I don't think you can count on him being a long term solution.
7. Bears: Vic Beasley OLB Clemson
Beasley absolutely flamed the combine and proved to be one of the best athletes in this entire class. With Mariota on the board the Bears will consider replacing Jay Cutler but ultimately fix their eyes on doing that in round two with Garrett Grayson (remember who wrote this first.)
8. Falcons: Randy Gregory DE Nebraska
The Falcons have one of the worst pass rushes in football. Let's be honest about it. Drafting arguably the quickest pass rusher in this class absolutely makes sense.
9. Giants: Brandon Scherff OT Iowa
I still have Scherff to NY as of now. It looks like the Giants have decided to bring in Shane Vereen as a veteran back and Scherff fills a need to help their backs consistently get lanes. He's being compared to Zach Martin and that's a pretty good comparison if you ask me.
10. Rams: Andrus Peat OT Stanford
Last time I wrote this draft I told you that Sam Bradford was given permission to seek a trade. That trade has happened and Bradford has been shipped to Philly in exchange for Nick Foles.
With Foles trusted as the starting QB the Rams are open to get another linemen. This would stop the shuffling between guard/tackle that Greg Robinson is currently having to do. Ironically, I think Mike Mayock's comments on Peat's physique have helped Peat's name stay on the top of draft people's minds.
11. Vikings: DeVante Parker WR Louisville
The Vikings just traded for Mike Wallace but that doesn't mean anything. Wallace was under utilized in Miami and that could be the beginning of a downward trend in his career.
12. Browns: Malcom Brown DT Texas
I previously mocked Danny Shelton to the Browns who are in need of an impact player upfront badly. With Shelton gone they have to make a slight reach to assure they get their guy here.
13. Saints: Kevin White WR West Virginia
The Saints have shuffled up their offense big time due to cap restrictions. Jimmy Graham is now in Seattle in exchange for Max Unger, and Kenny Stills has been traded to Miami for Dannell Ellerbe. Losing two receivers in a few days is nothing to sneeze at considering the way Drew Brees likes to spread the ball around.
14. Dolphins: Melvin Gordon III RB Wisconsin
With Kenny Stills and Jordan Cameron in town the attention can be turned into making this pick strike some gold in the backfield. Gordon's your prototypical feature back and has experience playing a large number of snaps per game.
15. 49ers: Alvin Bud Dupree DE Kentucky
How much can one defense take? Justin Smith and Patrick Willis have decided to retire. Then there is the constant question of how long can Aldon Smith stay out of trouble?
Something tells me the Niners are going to use their newly less talented defense as a scapegoat to dump Smith….
16. Texans: Dorial Green-Beckham WR Oklahoma
Now that Andre Johnson has left this team after years of frustration the new era can begin. Dorial Beckham will be an attractive option but I think AJ's shoes may be too big to fill with such an enigmatic guy like Beckham…
17. Chargers: Todd Gurley RB Georgia
San Diego had to depend on the undrafted Brandon Oliver to fill the loss of Ryan Matthews. Now that Matthews is in Philly and the Chargers have brought in Orlando Franklin upfront, they need an explosive back to shoulder the bulk of the carries. Can Gurley be that man? I think he can.
18. Chiefs: Jaelen Strong WR Arizona State
No receiver caught a touchdown pass for this team. None! I don't care that Jeremy Maclin is in town, Dwayne Bowe is on the street and this team still needs help catching touchdowns.
19. Browns: Brett Hundley Jr. QB UCLA
Here are the Cleveland Browns current Quarterbacks: Thad Lewis, Johnny Manziel, Josh McCown & Connor Shaw.
McCown will do his best in 2015 but at age 35 there is little left in the tank as we saw in Tampa. Manziel is a wasted pick and has to be treated as such until there is evidence that young man has his life together. Maybe he becomes a trade asset in a year or two.
Hundley is a big character guy with a ton of physical potential if he can get his mechanics down consistently:
But wait? Why isn't this pick Mariota?! Because…
20. Eagles: Marcus Mariota QB Oregon
There is no way Chip Kelly is leaving this draft without his guy. Yes, the Eagles have traded for Sam Bradford and signed a lot of high price free agents (Demarco Murray, Byron Maxwell) but something tells me they aren't done quite yet.
Filling all your needs in free agency and trades basically means you aren't going to sign a ton of rookies. I expect those picks to be traded in some sort of deal that nets Mariota to Philly.
THIS IS A PLACEHOLDER PICK. The Eagles will trade up somewhere in this draft.
21. Bengals: Arik Armstead, DE/DT, Oregon
Michael Johnson's production was sorely missed as this squad struggled to get pressure on opposing quarterbacks. Johnson is a free agent and may come back to Ohio like Lebron James but until that happens I'll mock a DE here.
22. Steelers: Trae Waynes CB Michigan State
Pittsburgh needs help in the defensive backfield. Troy Polamalu is not walking through that door. Nor is Ryan Clark. Waynes is an extremely talented big corner that could transition to safety if needed. More importantly this pick keeps him away from heated rival Baltimore. Pick could also be Landon Collins who slips in this draft.
23. Lions: Eddie Goldman DT Florida State
Ndamukong Suh and Nick Fairley are both out of the door. In comes Haloti Ngata, but he can't do it all himself.
24. Cardinals: Denzel Perryman ILB The U
The Cardinals need an inside linebacker and Perryman is near the top of the board at this point. The value and need boxes check off.
25. Panthers: Ereck Flowers OT The U
If the Panthers don't draft some offensive linemen Cam Newton should demand a trade. Ereck Flowers is a player who could go literally anywhere from 10-30 in this draft and will likely elevate on draft day. I like the way he gets down-field in the run game and that athleticism will go a long way with the mobile Cam Newton.
26. Ravens: Breshad Perriman WR UCF
The Ravens need a receiver pretty badly. Their best player at the position is the 36 year old Steve Smith Sr.
27. Cowboys: Jordan Phillips DT Oklahoma
Demarco Murray is gone to Philly but I don't think its as big of a deal people think. He's coming off a near 400 carry season and had major flaws in his ball handling/durability even with that offensive line opening huge lanes. Remember, the underwear thief Joseph Randle ran for nearly 5 yards a carry in spot duty. They'll be alright.
With Jerry Jones' team desperately needing a pass rush from this defensive line, the fast riser Phillips will definitely be on Jerry's board.
28. Broncos: La'el Collins, OT/G, LSU
Now that Orlando Franklin is in San Diego something must be done about finding a long term solution at guard. As I predicted in my last 2015 mock draft, Owen Daniels signed with Denver so no Maxx Williams here.
29. Colts: Markus Golden DE Missouri
The Colts could stand to grab another pass rusher as Cory Redding is probably set to retire after this next season. Trent Cole is in town but he's basically here on prowl for a ring along with Andre Johnson and Frank Gore.
30. Packers: Eric Kendricks ILB UCLA
Eric Kendricks is the prototypical inside linebacker prospect in this draft class. Seeing that this squad has tried to mend their problems on the inside by moving Clay Matthews out of position, it is finally time to move on from AJ Hawk and draft at his position.
31. Saints: Maxx Williams TE Minnesota
The Seahawks decided to do something about their tight ends and trade this pick to the Saints. Ironically, the Saints now need a tight end so the pick doesn't actually change: Maxx Williams.
32. Patriots: Marcus Peters CB Washington
Darrelle Revis followed his heart (and wallet) back to division rival NY Jets. Brandon Browner is available in free agency, but he's more of a #2 and not going to give you the production to justify a big contract at this point.
Peters is a gamble because of some reports that came out regarding his disagreement with his collegiate coaches. If there is any organization that could coax a young man into straightening up and playing "their way" you already know it's this one.