Post BCS Championship Mock!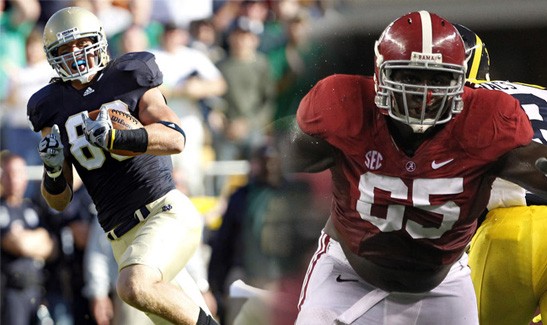 Another week down, and it's time for another 2013 NFL Mock Draft. Last night was the BCS National "Championship" game and we saw a lot of good and a lot of bad things. First thing is first: Notre Dame got that work. No way around it. I think I predicted it that Notre Dame simply was going to be too small to deal with the offensive line of the Tide.
All things aside before we get into the picks, what happened to Manti Te'o? All season long people told me this was the best linebacker on planet earth. So who was in that #5 jersey last night? Because that guy was whiffing on tackles left and right. But more on him later.
The NFL playoffs started last week, and we saw some good teams play. Baltimore, Houston, Green Bay, and Seattle all advanced and they certainly deserved so. Those wins threw off the end of the first round so the draft has been adjusted based on those things. Also the Bills and Chiefs have hired new head coaches which we'll take into consideration as well.
With everything said lets get to the picks:

1. Chiefs: Geno Smith QB West Virginia
Andy Reid was named the new head coach of this team. Who knows what he does but we know that he will bring in his own quarterback. There are going to be guys available via trade but its far more likely Reid chooses to get his own guy and pull a McNabb.
Yes Geno isn't the #1 player in this draft but until someone bails the Chiefs out via trade we have to keep mocking him here.
2. Jaguars: Jarvis Jones OLB Georgia
I move Jones back up to the Jaguars because of his strong showing to finish the season. At the end of the day, Werner could still very well be the pick but if they go for pure talent over every thing else it absolutely has to be Jarvis Jones here. For a team this bad, talent anywhere will help.
3. Raiders: Star Lotulelei DT Utah
The Raiders let Tommy Kelly embarrass himself, this organization, and their fans all season long. It has to end.
Star is probably the #1 or #2 best player in this draft so value wise it's still a win for the Raiders.
4. Eagles: Luke Joeckel OT Texas AM
The Eagles pass up all of the defensive options to sure up that offensive line. I know the Eagles fans are mad they see this pick alot but what are we going to do? Pretend that you don't have a second year QB and a makeshift line going into 2013?
There are three premium positions in the draft: quarterback, left offensive tackle, and defensive end. Any time you have the chance to get the BEST prospect at any of those positions and its a need you absolutely have to make it happen.
5. Lions: Dion Jordan DE Oregon
The Lions go with the highest rated defensive player. As they should. This team can score 50 on any night, but they'll probably give up 55 in the process. Jordan will hopefully bring them something they've lacked which is some focus.
6. Browns: Bjoern Werner DE Florida State
The Browns have a new coaching staff coming in. This defense is good but there are ways to go. Finding a nonstop pass rusher like Werner could be what this team needs.
7. Cardinals: Taylor Lewan OT Michigan
I still feel like the Cardinals should do what it takes to get Vick… but even if they don't I doubt they are going to select Matt Barkley. If they want a game manager they probably could just keep Kevin Kolb and pay him the big bucks.
Lewan gets the nod here because no matter who the QB is, he can't throw the ball on his back. This unit has been leaky all year and contributed to some of the bad play at quarterback.
8. Bills: Mike Glennon QB North Carolina State
Buddy Nix has come out publicly and said that he will be adding a passer to this roster this off season. So the answer is… who?
If they go into the draft without acquiring a QB via trade then it is time to draft one. I don't think Glennon is the eighth best player at all in this draft, but the ESPN machine is churning for him and Kiper/McShay are calling him the best QB in this draft week after week. Glennon in the first is going to happen folks, sorry.
9. Jets: Barkevious Mingo OLB LSU
The Jets wont draft a QB now that Rex Ryan has Mark Sanchez' jersey tatted on him and the fact they guaranteed his fifth year contract before he even played the fourth.
10. Titans: Damontre Moore DE Texas AM
The Titans need to bolster this pass rush. Derrick Morgan is a good player but Moore projects to be even better.
For those that are wondering, yes they are going to keep Chris Johnson. Because…. how many wins are you really looking at with Jake Locker and Javon Ringer in the backfield?
11. Chargers: Cordarrelle Patterson WR Tennessee
Someone left a comment on the last draft that basically said that the Chargers cannot afford to draft a defensive player. And you know what, you're right. This offense is that bad at every single position.
Philip Rivers will not be replaced, not now, but who is he really expecting to throw too? What receiver on this offense is going to beat defenses week in and week out? Danario Alexander? I think he's a "maybe" answer at BEST. Eddie Royal and Robert Meachem? Nope!
12. Dolphins: Eric Fisher OT Central Michigan
The Dolphins have to pay Jake Long over fifteen million if they franchise and retain him. I seriously doubt that Long is worth the same salary as three other players. He's good, but this unit will be fine without him especially if they can land Fisher who isn't elite but very athletic and holds his own.
13. Buccaneers: Demarcus Milliner CB Alabama
Aquib Talib is out and Eric Wright is not far behind him. Milliner had a great NC game, and his stock remains sky high.
14. Panthers: Jonathan Banks CB Mississippi State
QUICK… name the Panthers starting corner backs. If you named Chris Gamble and Captain Munnerlyn you are right. Maybe.
Gamble was nicked up last year and rookie Josh Norman started in his place with Captain. This unit has to play better and no way of doing that without injecting it with some sorely needed talent.
15. Saints: Ezekiel Ansah DE BYU
WOAH! WOAH! Yes. I am going there!
It is time for the Saints to make a desperate move to inject some life into this unit. Defensive tackle is needed, but they have contract obligations to some of the guys on this unit and can draft there later. I have Payton going for an athletic freak in Ansah to bolster the pass rush ASAP. Any time you play Cam Newton and Matt Ryan twice a year you have to have a guy that is capable of getting to them on the regular.
16. Rams: Chance Warmack OG Alabama
The Rams have to find a way to get Sam Bradford some time in the pocket. Here is one good way to make that happen. Chance Warmack showed in the National Championship why some people have called him the best football player in the Nation.
17. Steelers: Alec Ogletree ILB Georgia
The Steelers have one of the oldest linebacker corps in the league, and there is no guarantee they'll all be back. Even if they are back a young gun on the inside is needed to pair up with Timmons.
Offensive linemen are needed but they may wait to see what Mike Adams develops into.
18. Cowboys: Johnathan Hankins DT Ohio State
Josh Brent will be awaiting some sort of trial by the time next season starts (he's getting charged right?) and Jay Ratliff is on his way out in a while. It is the right time to grab a starter at DT. Right tackle is still an option if the move for Tyron Smith to the left is permanent.
19. Giants: DJ Fluker OT Alabama
The Giants opt for Fluker. DJ will come in and solidify the right side for Eli Manning from day 1. Hopefully this gives him the time needed to revert into "good Eli" and make the playoffs again.
20. Bears: Manti Teo ILB Notre Dame
WOAH! WOOOOOAH! Yup. Calm down. This is more where Te'os actual draft stock was the entire time. If you check some of my earliest 2013 NFL mock drafts I had him going around here.
I coined the phrase, the draft is not always about the better player and while that is 100% true it seems like the Notre Dame hype is wearing off after the blowout. Missing a half dozen tackles in the biggest game of the year is not good.
21. Bengals: Sam Montgomery DE LSU
Michael Johnson will test free agency as this team is going to have to break the Brinks truck open for Geno Atkins. Sam Montgomery is more than adequate enough of a replacement. Let Johnson get his paper elsewhere.
Running back is a need too. The Law Firm BJGE looked very slow this year and fumbles now.
22. Rams: Kenny Vaccaro S Texas
Vaccaro gets the nod over Eric Reid for now. The Rams are really, really, close to being a good team. One of the final pieces to the puzzle is securing the back end.
23. Vikings: Keenan Allen WR California
The Vikings made and were eliminated from the playoffs because this team features on man on offense: AMFD2k* (dont steal that)
Peterson is a once in our lifetime football player, but its only a matter of time before teams cave in and give this team 9-10 man fronts on nearly every play. Kennan Allen is a big body WR who can come in and make it happen if Ponder can get the ball to him.
24. Colts: Jonathan Cooper OG North Carolina
Jonathan Cooper usually is not in my first rounds, but he is rising due to the rise of Fluker. Teams that miss on DJ Fluker will have their eyes on Cooper and Barrett Jones heavy.
We all saw what happened when Baltimore decided to blitz Andrew Luck and put this line to the test. They failed miserably.
25. Ravens: Barrett Jones OG Alabama
Ray Lewis won't be the only man to retire on the Ravens this year. It is likely Ed Reed and Matt Birk goes with him. Matt Birk is so old he collects social security and NFL game checks at the same time. Im kidding, but you get my drift he's old. Jones can play any position on the line including center and will be a replacement.
26. Seahawks: Terrance Williams WR Baylor
Seattle is doing well but they need to find a legitimate game changer at receiver. None better than the man who almost logged 2,000 yards at Baylor… without RG.
27. Packers: Tyler Eifert TE Notre Dame
The Pack still have Jermichael Finley who is young but has a huge contract. There is a better chance of ya boy getting Rashida Jones to follow him back on twitter than Finley getting that money. I'm guessing he's let go, and when that happens there will be room for another tight end and the best one in the draft just happens to be here.
28. 49ers: Eric Reid S LSU
San Francisco is going to evaluate if they want to sign Dashon Goldson to a big extension later this year (he's franchised.) They likely will shell out the cash for him but an upgrade is still needed next to him. Whitner plays well but his best days are in the wind.
29. Texans: DeAndre Hopkins WR Clemson
The Texans are still waiting to see if Matt Schaub can take them to the promise land. Last week's win should have been a loss if Andy Dalton could throw an accurate 25 yard pass to AJ Green who was wide open with under five minutes to go. Andre Johnson is fighting injuries and age, but father time always wins. Keyshawn Martin looks like a good #3 guy, but who will be the full time #2? Enter Mr. Hopkins.
30. Patriots: Tavon Austin WR West Virginia
The Patriots are going to say goodbye to Wes Welker soon. This is Tom Brady's team and they will go as far as he can take them. Austin is the proverbial replacement for Welker and projects to a wonderful run after the catch guy in this system.
31. Falcons: Giovani Bernard RB North Carolina
Michael Turner has lost a step or two. Atlanta opts to draft his replacement now. Bernard can return punts and kicks as well so there is a lot of value here.
32. Broncos: Xavier Rhodes CB Florida State
The Broncos need a CB, even if they manage to win a title off Peyton's right arm. Champ Bailey is in his mid-thirties. If he pulls a Ronde Barber and moves to safety then suddenly this CB unit becomes realy average.
Cant get enough? Click here for a way early 2014 Mock.