Prospects in the BCS Championship Game and Prediction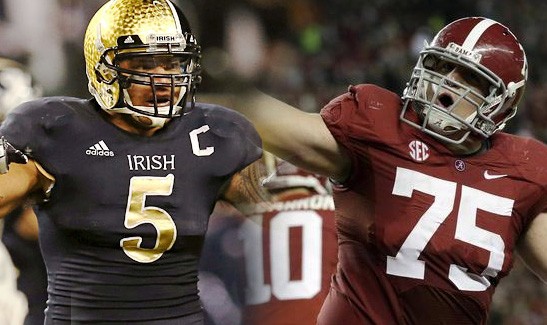 The college season is going to be officially over when Notre Dame meets Alabama in the BCS "Championship" game in Miami, Florida later tonight. I know everyone is hyped up because this is the first time Notre Dame has been in championship contention in almost two decades, and Alabama is going for their third title in four years (dynasty?).
But over here at MDHQ we are all about that NFL Draft so let's talk about some of the prospects you'll see in tonight's game plus a prediction:
Notre Dame
Everyone knows about the defense, so let's start there. Of course the #1 prospect is Manti Te'o the middle linebacker. He almost won the Heisman this year, with good reason. He notched almost 100 tackles and 7 interceptions on the year. While I personally think Luke Kuechly was a better prospect just a year ago, Te'o should be picked in the top 10 as well and will be a tackling machine in the middle of a pro defense for the next 15 years.
Notre Dame also has the big nose tackle which people don't really talk about. At 6'3 and 320+ pounds, Louis Nix was the anchor all year and helped keep defenders off Te'o. Te'o himself has said candidly in interviews that this defense's weakness is when he's blocked out of plays. Expect to see Nix picked around the fourth round.
On offense of course we have to talk about Theo Riddick the WR/RB. His season was above average and he climinated with 880 yards rushing and 364 receiving. He's an interesting prospect for the later rounds as a hybrid WR/RB.
I don't have to tell you about the last guy we'll profile here, Tyler Eifert. He is the oil that makes the whole machine run. Without Eifert's ability to stretch the defense and provide reliable hands for freshman QB Everett Golson, the Irish wouldn't even be in this game. He's also a good in-line blocker which isn't said about many tight ends coming straight out of college. Eifert can go as high as the top 15 in this draft. Remember who said it first. He's that good, and this is a copycat league. Every team is looking for their Gronkowski/Hernandez /Graham, and come draft day Eifert's value is going to be realized much sooner than many of us have him in our mock drafts.
Alabama
When you talk about Bama there is one unit that simply leads this team: the entire offensive line. It is odd that your team would be lead by a group of superstar linemen but that is exactly the case at Alabama. Chance Warmack, DJ Fluker, and Barrett Jones are all going to be no worse than second round picks in the 2013 draft.
In the backfield there is QB AJ McCarron who is steadily growing as a passer. He is likely going to be picked in the top 40 picks if he decides to enter the 2014 NFL Draft. However the guy you will see in 2013 is running back Eddie Lacy. He's no Trent Richardson or Mark Ingram but he had a good year behind that all-world line (1182 yards, 16 touchdowns) and shows a great burst on his runs. He should be a second to third round pick in the NFL, and could wind up being a way better pro.
Defensively, you have a bunch of terrific talent starting in the front seven with outside linebacker CJ Mosley who claims he is coming back to college for another season (Don't do it! Reconsider! Read some litera-ture on the subject!). The draft eligible DBs on this unit Robert Lester and Dee Milliner are also among the nation's best at their positions with Milliner a potential top 10 overall selection. I could talk about how good Alabama's defense is all day, but the fact of the matter is they have NFL talent for the next three years at pretty much every position.

So who is going to win this thing?
I put it to you like this. In life there are situations where you see things coming, but don't want to believe it. It's like when your friend starts talking to that clingy chick and you know she is going to pull him down the aisle… and as much as you don't want to see it, suddenly one day you wake up and realize you're in a fitting room trying on a tuxedo.
We all know there couldn't be a more perfect story for sports media if Notre Dame was to ride this thing all the way out, but Alabama isn't trying to have that. The Tide and that all-universe offensive line are just going to drag the Irish and their fans to all over the field. It's probably not going to be really pretty either. As much as it would be a Cinderella story for Manti Te'o and crew to hold that crystal football; fact-of-the-matter is that Bama is just too big and too fast.
I'm sorry but Notre Dame it might be time or you to turn your player cards in and write those vows… the Tide are getting a ring tonight.
Bama by 14.