Andy Reid is the New Chiefs Coach, How Does That Affect the #1 Pick?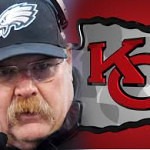 Rejoice Chiefs fans. You have a new head coach. And that man just happens to be the Eagles old coach. That's right, after 14 years in Philly Andy Reid will be taking the mustache to Kansas City.
Reid and the Chiefs agreed in principle to a five year deal today. He is going to be formally introduced in a few days. With the coaching vacancy finally filled the team now needs to find a general manger and move forward with the #1 overall draft pick:
(Romeo Crennel's) dismissal cleared the way for Reid to bring in his own general manager. A source said that will be either Tom Heckert, the former Eagles and Browns general manager, or Packers Director of Football Operations John Dorsey, who was director of college scouting in Green Bay when Reid was on Mike Holmgren's Packers staff in the 1990s.

Reid has remained very close to both Heckert, who left the Eagles for the Browns after the 2009 season, and Dorsey.
The best way to predict the future is to look at the past. Since it looks like Reid is leaning towards Heckert let's look at the players they drafted together in the first round:
2006- Brodrick Bunkley
2007- Traded to DAL (Dallas selects Anthony Specner. Philly selects Kevin Kolb, Stewart Bradley, and C.J. Gaddis.)
2008- Traded to CAR (Carolina selects Jeff Otah)
2009- Jeremy Maclin
So from their history it looks like if Heckert and Reid like a player that is rated lower, or gets a decent offer they are more than likely to trade down. If they don't get any offers or cannot complete a trade they will likely stay put and select the highest rated player on the board (remember Maclin fell to 18 after being expected to go top 7 to Oakland.)
This to me says that Luke Joeckel, Star Lotulelei and Jarvis Jones could VERY well be in the plans for the #1 draft pick. I would not be surprised at all if they passed on Geno Smith. I'm not ready to start mocking Geno out of the #1 spot but boy does the Heckert/Reid combo make it interesting.