Why the Bears May STILL Draft Mitch Trubisky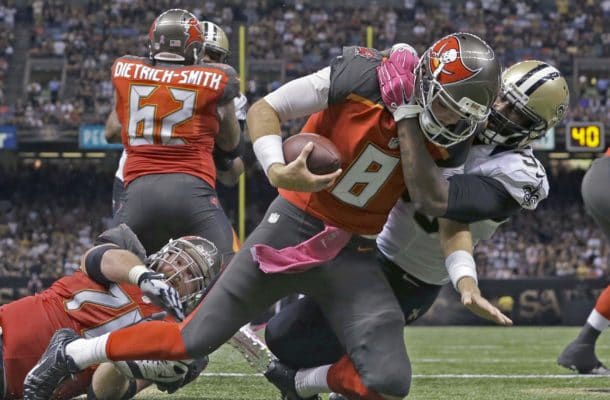 The Chicago Bears made a huge splash in free agency when they decided to part ways and release incumbent QB Jay Cutler. No, releasing Cutler was not the splash as we all saw it coming, it was what happened next.
The Bears signed Mike Glennon to a three-year, $45 million deal that will pay $19 million guaranteed to the former Bucs QB. For those counting, Glennon has only attempted 11 more passes than YA BOY in the past two seasons.
Who knows, he just may be the answer. He's still 6'6 with a 30-15 TD to INT ratio and in the prime of his career. Crazier things have happened.
But what happens in the 2017 draft if the Bears hedge their bet with UNC's Mitch Trubisky?
Y2Jeremy has posted his new 2017 mock detailing this exact scenario. DRINK IT IN, MAAAANNNNN…..
My first foray into the 2017 draft. Explanations on EVERY pick.
1. Browns: Myles Garrett DE Texas A&M
It's either going to be Garrett or Trubisky on this pick but the Browns are reportedly enamored with Garrett. Indeed why wouldn't they? Garrett blew up the combine on top of his very impressive season, and he should be the first pick.
2. 49ers: Jonathan Allen DE Alabama
A lot of people think a QB will go here, but Hoyer is a decent spot starter for a year (the 49ers aren't needing to win right away, they're a few years away from a playoff roster) if the Redskins try to keep Kirk Cousins or the 49ers want to take a QB from the loaded class next year. The Niners are moving to a 4-3 so a third D-line pick in a row is possible. Allen apparently is having some issues with his shoulder, but he should still be considered the favourite.
3. Bears: Mitch Trubisky QB North Carolina
No team is excited to have Glennon as QB, I don't care how many press releases or teammates saying crap on social media there are. The Bears supposedly like Trubisky anyway, and they won't surely put their eggs in the Glennon basket entirely.
4. Jaguars: Jamal Adams S LSU
Cyprien chose greener pastures elsewhere and Barry Church is not a long term answer. The draft is loaded in the secondary and the Jaguars could find a replacement early.
5. Titans: Solomon Thomas DE Stanford
The Titans got Cyprien and Logan Ryan to shore up the secondary so defensive end is the only real go here. Karl Klug tore his Achilles and so maybe a replacement will be brought in with the Titans first pick. Thomas could be value here as he was touted to go as high as the 2nd pick.
6. Jets: Leonard Fournette RB LSU
No brainer here. The Jets have no running back. Fournette happens to have a higher grade on him than Ezekiel Elliot did.
7. Chargers: Malik Hooker S Ohio State
I know he's injured for a few months, but it looks like Hooker won't miss any regular season action safety is a huge need for the Chargers. Hooker was a top 5 pick before the injury, so would be good value here.
8. Panthers: Cam Robinson OT Alabama
The Panthers blocking was abysmal and relying on Matt Kalil would be a mistake, Robinson is the only tackle worth taking so early.
9. Bengals: Derek Barnett DE Tennessee
The Bengals are set for one DE but not two, and Barnett has definite chops as a pass rusher and should go in the top 10.
10. Bills: Marshon Lattimore CB Ohio State
Stephon Gilmore defected to the Pats and Lattimore falls in my mock, making this an instant replacement pick. If not corner the Bills should probably find a receiver or maybe take Cam Robinson if he falls to them.
11. Saints: Taco Charlton DE Michigan
I was going to mock Mike Williams here but apparently the Saints love Taco Charlton and will take him if he gets to them, so I'll defer to peer pressure.
12. Browns: Mike Williams WR Clemson
Maybe the Browns will like DeShaun Watson enough to take him, but I'm not so sure. What I do know is Terrelle Pryor bolted for the Redskins, and Josh Gordon cannot be trusted to stay out of trouble.
13. Cardinals: Reuben Foster ILB Alabama
Karlos Dansby has the OLB position locked up, but what about inside? Kevin Minter is a one year wonder and could regress if he even returns.
14. Eagles: Dalvin Cook RB FSU
Frank Gore seems ageless, but there will be a point where he breaks down and won't be the great rusher he is anymore. Cook seems to have character concerns and could go all over the place, but the Colts may find the value too good to pass up.
15. Colts: Zach Cunningham ILB Vanderbilt
Linebacker is a huge need for the Colts who simply have noone good there. Foster is off the board but luckily for them Zach Cunningham is not.
16. Ravens: John Ross WR Washington
The Ravens have Breshard Perriman but who else? Mike Wallace is a bust and Steve Smith finally called time on his career.
17. Redskins: Haason Reddick OLB Temple
People may say this is too high bu the Redskins have a REAL need at linebacker and Reddick helped himself immensely in the combine. We always see some surprising picks and this is one that makes sense.
18. Titans: O.J. Howard TE Alabama
Delanie Walker is 33 and not getting any younger and Howard is being touted as the real deal, Howard can learn behind Walker before he retires.
19. Buccaneers: Christian McCaffrey RB Stanford
Doug Martin is done as a Buc so Tampa can help themselves to one of many great running back prospects. McCaffrey's combine was awesome and he should be in the top 25 picks.
20. Broncos: David Njoku TE Miami
Thomas and Sanders are two awesome receivers but the Broncos are lacking offensive options after these two. Paxton Lynch's development will be impressed with more weapons. Njoku is an athletic freak of nature and teams absolutely love him.
PLEASE FLIP THE PAGE BELOW
Pages: 1 2