The Ultimate Redskins Mock Draft v. V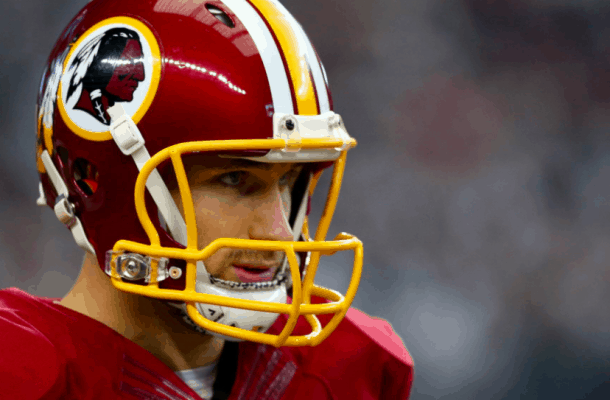 We are winding down the days until the 2017 NFL Draft. We certainly appreciate all of the mock drafts submitted this season.
Let's take the time to highlight one of our most consistent drafters, draftp. Throughout the season he has submitted Redskins mocks on the regular, and this week is no different. Let's see what players might end up in the Nation's capital in 2017.
The Latest 2017 Redskins mock draft below:
With less than a week away the 2017 NFL Draft looms. For Redskins fans like me, we are praying for a solid draft but with no GM in place in Washington the Redskins fan base worry that mistakes may be made. I hope that someone up there in the Redskins management has a clue of what they are doing. This draft will be my last this year and I hope that some of them will be drafted by my Redskins.

Draft needs: ILB, OLB, CB, FS, DL, G, RB, WR.
1. Redskins: Haason Reddick OLB Temple
Rd. 1, Pick 17. The Redskins select ILB/OLB Haason Reddick 6-1, 237 lbs. Reddick ran 4.52 40 at the NFL Combine. He has risen up draft boards faster than anyone this year. With this pick the Skins would not only have a linebacker with the speed to play sideline to sideline but on passing downs they can allow him to pin his ears back and come in as and extra rusher which he excels at. He is solid in coverage being he starter his college career as a CB. I want this guy to be a Redskin!
2. Redskins: Tarell Basham DE Ohio
Rd. 2, Pick 49. The Redskins select OLB/DE Tarell Basham 6-4, 269 lbs. Basham ran 4.70 40 at the NFL Combine. Like Reddick, Basham has risen quickly up draft boards with impressive showing at both the Senior Bowl and the NFL Combine. Basham has all the physical tools to become an elite 34 OLB but he can also put his hand in the dirt and rush the passer on passing downs when the Skins switch to the 43 alignment.
3. Redskins: Sidney Jones CB Washington
Rd. 3, Pick 81. The Redskins select CB Sidney Jones 6-0, 186 lbs. Jones ran 4.47 40 at the NFL Combine. Jones was once a top 5 CB and a 1st round prospect but an injury in his Pro Day has dropped his draft stock do to uncertainty over how fast he will recover and whether he will be back in time for the start of the season. This is a value pick for the Redskins.
4. Redskins: Marcus Maye S Florida
Rd. 4, Pick 114. The Redskins select FS Marcus Maye 6-0, 207 lbs. Maye ran 4.47 40 at his Pro Day. The Redskins new secondary coach was Maye's secondary coach at Florida. The Skins should be very high on a couple of the Florida players this draft but Maye might be the best fit for the Redskins. Maye has excellent range and can play single high safety or the Skins can change up and play Tampa 2. Maye will WOW fans with his tone setting hits. Plays like a beast.
5. Redskins: Dede Westbrook WR Oklahoma
Rd.4, Pick 123. The Redskins select WR Dede Westbrook 6-0, 178 lbs. Westbrook ran 4.39 40 at his Pro Day. This Biletnikoff award winner as the nation's top wide receiver has the speed to make opposing defenses take note to where he has lined up on every play. This will allow underneath routes room to develop. Westbrook has soft hands but needs to work on route running and developing an expanded route tree.
6. Redskins: James Conner RB PITT
Rd. 5, Pick154. The Redskins select RB James Conner 6-1, 233 lbs. Conner ran 4.65 40 at the NFL Combine. Conner is a big bruiser back that is at his best as a one cut runner between the tackles but he has shown he can also be and receiving outlet that is quite at home working his way out to the flats. Anyone that knows James Conner's back story will admire his determination. I'm a big fan of his and I hope he has a successful NFL career. I hope it is with the Skins.
7. Redskins: Deatrich Wise Jr. DE Arkansas
Rd. 6, Pick 201. The Redskins select DE Deatrich Wise Jr. 6-5, 274 lbs. Ran 4.92 40 at the NFL Combine. Wise would give the Redskins another pass rushing option. He has the size to play both 34 or 43 DE. He would be a nice two gap option. Holds his own on running downs.
8. Redskins: Stevie Tu'ikolovatu DT Utah
Rd. 6, Pick 209. The Redskins select NT Stevie Tu'ikolovatu 6-1, 331 lbs. Ran 5.45 40 at the NFL Combine. Tu'ikolovatu would give the Redskins a true 34 NT able to hold his own against double teams. Tu'ikolovatu turned a lot of heads at both the Senior Bowl and the NFL Combine.

9. Redskins: Ben Braden OG Michigan
Rd. 7, Pick 220. The Redskins select G Ben Braden 6-6, 329 lbs. Braden ran 5.04 40 at the NFL Combine. Braden can play G or OT. Quick feet, solid frame, NFL strong. Came from old school NFL power offense at Michigan. Good prospect to develop, has a mean streak.
10. Redskins: Joey Ivie DT Florida
Rd. 7, Pick 235. The Redskins select DL Joey Ivie 6-3, 301 lbs. Ivie ran a 4.97 40 at his Pro Day. Ivie has talent but was mostly used as a rotational player at Florida which was loaded with defensive lineman. Blue collar guy has a non-stop motor. Doesn't give up on plays, plays to the whistle. Solid bull rush, has some pass rush moves, Needs to get better at using his hands. He might be able to carve himself out a spot on the rotation with a solid training camp. He needs to fight for it otherwise it 's the Practice Squad to start the season. Still there is talent to develop with this guy.