2015 Draft: Jameis, Jameis, Jameis… (and Todd Gurley)
Updated: October 16, 2014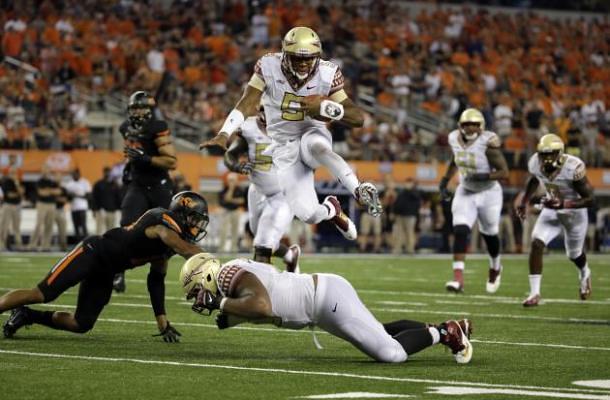 What do we have to say about Jameis Winston that hasn't been said before? The guy's name floats in controversy seemingly every two weeks during his stay at Florida State. Though Jameis has found a way to remain eligible, he has never displayed the actions of a contrite and changed man. If anything, he's been the exact opposite. Jameis smiles in the "haters" faces as he continues to skirt around NCAA rules.
Now Winston is in another deal, something to do with hundreds of pieces of authenticated signed memorabilia hitting the market. Just a week prior Georgia's Todd Gurley II was suspended indefinitely for the same thing.
My tune on this hasn't changed. During the Johnny Manziel fiasco I issued these words regarding players getting paid off their image:
The problem here is that it isn't illegal for a college athlete to sign his autograph and the next person to sell it- it's just illegal for the athlete to get any kind of financial kickback from the deal.

… it is going to be downright impossible to prove that Johnny got a little "something something" on the side without someone snitching.

All in all, this looks like much ado about nothing. Let young Johnny live.
Again, I don't have a problem with these young men signing autographs and people selling it. I don't even REALLY have a problem with them getting paid. With what we know about brain injuries, I'm pretty sure that a meal plan and a dorm room is not proper compensation for what these athletes give up in return for their service.
Let's throw out the whole "student athlete" debate because we all know these young men are signed to scholarships for their athletic prowess, not their academic. Not that there is a problem with them wanting to take school serious, but reality is the NCAA is a two year minor league for the NFL at this point nothing more nothing less.
In the end this won't hurt Gurley's stock. This is the first major thing he messed up with. In Jameis' case it is another ledger on a long list of red flags regarding his character. I believe more than half of the teams in the NFL will take Jameis completely off their draft boards, but ultimately someone will call his name. We'll just wait and see who…