Rewind: Merrill Hodge's Johnny Manziel Analysis was 100% Right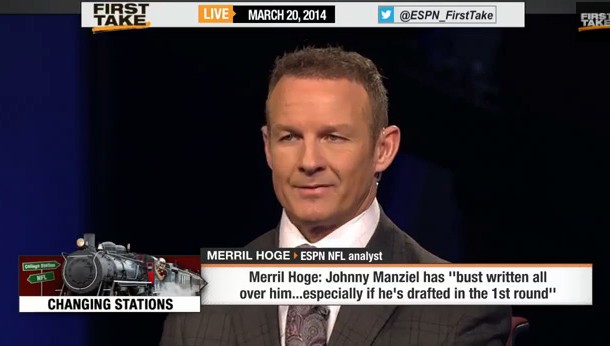 It is time to give credit where credit is due. Approximately two years ago ESPN analyst Merrill Hodge was heavily criticized for coming at Texas A&M's Johnny Manziel and his lack of elite first round talent.
Looking back, Hodge's rant was 100% spot on. People forget that some were calling for Johnny Football at #1 overall!
Here is what Hodge said:
Johnny's skill set had bust written all over him.
No team should take him in the first round.
Any staff that takes him, the head coach, staff and GM will be fired in two years.
Johnny makes bad decisions and NOT pan out in the league.
Graded him a 6th round pick at BEST.
No team should draft him in the first 3 rounds
All of these predictions were 100% DEAD ACCURATE. SPOT ON.

But yet people like Skip Bayless who said Johnny should have went #1 overall still get paid millions to analyze sports?
I'll just hold my tongue there.
Click play below and let the facts speak for themselves: