R.I.P to Jameis Winston's Draft Stock
Updated: September 20, 2014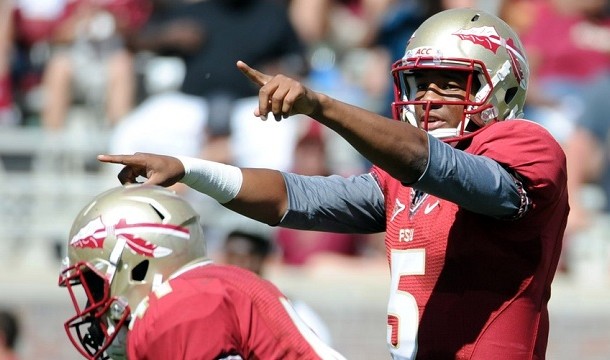 Florida State has decided to finally bench their embattled quarterback, Jameis Winston, after another controversial incident. Apparently Jameis was chilling at the student union when he decided to jump on one of the tables and yell a famous phrase from the internet.
Just in case you haven't seen it yet:

Jameis Winston just yelled "Fuck her right in the pussy" on campus I shit you not.

— Kief Osceola (@KiefOsceola) September 16, 2014
For a guy who has a NFL career if he wants one you have to ask why is he doing these things?
Here is the timeline of Jameis Winston events for those concerned:
Nov. 25, 2012: Jameis and teammate PJ Williams (and others) are complained on by neighbors for shooting BB guns and damaging property. No charges filed.
Dec. 7, 2012: Jameis is accused of some sort of sexual assault, but ultimately no charges are filed. Jameis does not act like an innocent man at all. He takes a vow of silence as the case ultimately falls apart.
July 21, 2013: Jameis steals a couple cups of soda from Burger King. Allegedly.
April 29, 2014: He steals $30 worth of crab legs.
May 20, 2014: Winston no shows a code of conduct hearing regarding the alleged sexual assault. He isn't legally obligated to attend but again, not the actions of an innocent man.
Sept. 16, 2014: Student Union outburst above.
The questions beg to be asked: Why are you allegedly putting yourself in compromising situations with women when you're the starting quarterback? Why are you stealing $2 worth of soda? Why are you stealing crab legs? Why are you yelling vulgarities at the student union?
Why are you doing all these things– when you're the starting quarterback and the most recognizable face on the entire team?
Some in the media are already trying to write an apology for the kid. I get it. He's a young guy. He's supposed to grow up. He made a mistake, but how many mistakes are we going to grant him.
When is Jameis finally going to realize once and for all that his behaviors are bigger than himself? He's held to a higher standard due to the game whether he likes it or not.
I'm not saying he should live a monk's life and never have fun, I'm not saying that at all, but where is the awareness of who he has become? Where is the thought, "If I get caught stealing these crab legs I might lose my Heisman?"
Jameis Winston is a talented football player. He has a good arm. He's tough. He can make plays with his legs or with his body over smaller players. There is a lot of Steve McNair in him. However all that talent is not worth waiting to see if he ever "gets it." The guy has a pattern of constantly getting himself in these types of incidents.
For now I'd take him immediately out the first round of my draft board if I were an NFL team. Hopefully one day he grows up and realizes its time to make better decisions and take ownership of his new found responsibility.
There is no reason why Jameis Winston can't be the next Steve McNair one the field; I just would hate it if Jameis Winston also became the next Steve McNair off the field as well.