2013 NFL Mock Draft: Super Bowl Week Edition!
Updated: January 30, 2013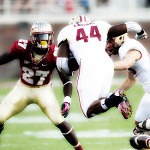 Another week, another 2013 NFL mock draft.  Due to thing out of my control this edition will be a bit shorter than others.  A lot is going on with the site, hopefully which will increase the quality of the experience for you guys.
Football wise, it is Super Bowl week.  The Ravens and 49ers made it to the top of the mountain, and one of them will remain after this Sunday.  On another note, the official prediction will drop in a few days.  I still have no clue who is going to win this thing…
Anyways, in the world of the NFL Draft last week was the Senior Bowl.  All in all it was a good game defensively but offensively there wasn't much to write home.  Guys like Kawaan Short and Ezekiel Ansah made themselves noted in the game and will profit from it hugely.
Without further adieu, here are the mock picks:
1. Chiefs: Luke Joeckel OT Texas AM
Im still looking at Joeckel to the Chiefs. Reid could fall in love with Geno, but until he does let's mock BPA.
2. Jaguars: Jarvis Jones OLB Georgia
Jones has health concerns but should pass them in the end. Jags need the best player available as there is no QB that much better of a prospect than Gabbert was to justify investing another top 10 pick there so soon.
3. Raiders: Star Lotulelei DT Utah
The Raiders need to shed some of the weight on this team and change the culture. Star would be a great replacement for a few of the guys already here.
4. Eagles: Damontre Moore DE Texas AM
Pick change. The Eagles need a CB but will probably keep Nnamdi and start Boykin on the other side. That opens up best defensive player available which is Moore who should bring what Babin was supposed to.
5. Lions: Demarcus Milliner CB Alabama
One of the worst defensive backfields in football last year.
6. Browns: Bjoern Werner DE Florida State
The Browns could surprise and go a different direction but it should be a defender.
7. Cardinals: Geno Smith QB West Virginia
The Cardinals need a QB. Until they acquire one (Alex Smith? Mike Vick?) they simply cannot afford to let the seventh pick pass without taking Glennon or Smith. Smith grades out higher.
8. Bills: Ryan Nassib QB Syracuse
The Bills' staff already have worked with Nassib for three years and Syracuse is just two hours away from Buffalo.
9. Jets: Barkevious Mingo OLB LSU
The Jets may go a different way, but what may ultimately happen is pass rusher. Maybin will need to be replaced.
10. Titans: Chance Warmack OG Alabama
Chris Johnson's production fell off with the loss of Hutchinson and Mawae. You'll see this pick in my final 2013 NFL mock draft as well.
11. Chargers: Eric Fisher OT Central Michigan
This offense needs help everywhere. A good tackle may be what Philip Rivers and Ryan Matthews need to get back on the good foot.
12. Dolphins: Cordarrelle Patterson WR Tennessee
The Dolphins absolutely need to draft a receiver in this draft. With this pick they can take the most physically gifted pass catcher in the class.
13. Buccaneers: Jonathan Banks CB Mississippi State
The Bucs need to replace Aqib Talib.
14. Panthers: Kenny Vaccaro S Texas
I doubt the Panthers draft yet another tackle with the recent string of busts there. Haromi Nakumara needs to be regulated to special teams only.
15. Saints: Ezekiel Ansah DE BYU
Ansah cemented a top 15 spot in the Senior Bowl.
16. Rams: DJ Fluker OT Alabama
The Rams need to solidify the right side of their line. Fluker is a elite RT prospect.
17. Steelers: Xavier Rhodes CB Florida State
The Steelers are aging in the defensive backfield.
18. Cowboys: Sheldon Richardson DT Missouri
Josh Brent's AND NOW Jay Ratliff's incidents are going to force Jerry's hand. It's time to cut bait with guys who get behind the wheels of cars drunk and put the people of Dallas at risk.
19. Giants: Manti Teo ILB Notre Dame
The Giants have some young linebackers, but they are missing the middle they had in Antonio Pierce.
20. Bears: Barrett Jones OG Alabama
Could be Cooper from UNC here as well. Either way you got to protect Jay Cutler.
21. Bengals: Dion Jordan DE Oregon
Michael Johnson will likely be allowed to pursue free agency, and a replacement will be needed.
22. Rams: Eric Reid S LSU
The Rams need a defensive back and may like Reid. If they do, here is where they can get him.
23. Vikings: Keenan Allen WR California
The big body receiver is what they have lacked all along. Percy Harvin may be traded.
24. Colts: Johnathan Hankins DT Ohio State
The Colts 3-4 lacks good depth and has no elite players on the line… yet?
25. Seahawks: Sam Montgomery DE LSU
Bruce Irvin is more of a situational pass rusher. For a full-time DE, Montgomery is worth the pick.
26. Packers: Eddie Lacy RB Alabama
The Packers brought BACK Ryan Grant. Again. It's time to get young.
27. Texans: Kawann Short DT Purdue
Short had a huge Senior Bowl too. He is a steal right here as a 3-4 end.
28. Broncos: David Amerson CB N.C. State
Someone has to displace Rahim Moore from this starting lineup. Bailey will return at CB and hopefully Porter will be healthy.
29. Falcons: Tyler Eifert TE Notre Dame
Tony Gonzalez has called it a career. Zac Ertz could be the selection here as well. Whoever grades higher.
30. Patriots: DeAndre Hopkins WR Clemson
The best WR left should be this selection but defensive tackle is in play too. Are Wes Welker drops becoming an issue? Yes, they are.
31. 49ers: Matt Elam S Florida
Goldson is a franchise player, and could be gone depending on his contract demands. Whitner's spot could be upgraded as well.
32. Ravens: Alec Ogletree ILB Georgia
Kevin Minter is an option as well. Ray is on his way out, so the Ravens need to take a look at the future.