2013 Senior Bowl: First Half Observations
Updated: January 26, 2013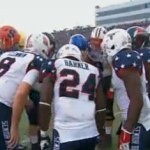 It's that time of the year again, the Senior Bowl. This is the game that borderline Senior prospects use to showcase their abilities to NFL scouts and teams alike. A good showing in this game can move you up in the NFL Draft, a bad game can re-affirm any suspicions scouts have on you.
With that said this year's game could be titled as "the struggle to find a quarterback" or "the rise of Zeek Ansah."
Here are some random observations from today's first half:
EJ Manuel had a good drive and looked comfortable in the shotgun, as you would expect.
Tyler Wilson played in his conventional offense: dink & dunking.  Questionable arm strength.  He missed an open WR for a TD on a deep ball that was poorly under thrown.
Ezekiel Ansah displayed a high motor, beat OTs with nice power and burst. Totally disruptive in run game too.
Landry Jones still cannot play from a messy pocket.  Nothing new here.
Lane Johnson is showing good footwork, solid top 40 pick.
Zac Dysert was uneasy, and just trying to get rid of the ball. I doubt he's draftable.
Mike Glennon is still getting first round consideration off his arm, but not showing the "it" factor.  Needs to push it down field and show his Flacco-like ability.