2013 Senior Bowl: Second Half Observations
Updated: January 26, 2013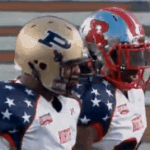 And we are back with the second half of the Senior Bowl.  As the game winds down you would imagine players are trying hard to get something on film. It looks like that for better or worse some guys aren't going to be able to escape their reputations.
So with that said. Here are the second half notes:
Mike Glennon showing the arm, still not sold on him but he throws the best ball in this class.
Pugh still struggling with those short arms. Will not be taken as a LT in the draft.
Kawaan Short is making some good stops. Nothing exciting but he is going to stand out on the replay of this game.
Lane Johnson is absolutely owning Michael Buchanan.
Jordan Poyer is around a lot of big plays. You can tell he mentally stays in plays and doesn't quit prematurely.
Denard Robinson is getting some screens, not getting much afterwards. He probably should have been a WR his entire career, not showing a fluid transition yet.
Ryan Nassib is looking pretty inconsistent. Great athleticism but not showing great quarterbacking if that makes sense. But this is just one game.
Ezekiel Ansah hasn't quit. Still making big plays, now adds a strip sack to his day. Today has made him a very rich man.
Landry Jones is still having trouble in the pocket. Is he draftable?