Denard Robinson to Play Wide Receiver Going into Senior Bowl and Draft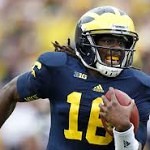 Michigan QB Denard Robinson was one of the most exciting players in the nation during his stint in Ann Arbor. He was so good in his exciting play that he was called many times the "November Heisman."
All was fine and well until Robinson suffered injury which caused Devin Gardner to get the start at QB and forced Robinson to move to other positions such as running back and receiver. Now we are getting word that Robinson will not be making the switch back to quarterback and will indeed play receiver in the Senior Bowl. Here is what Mel Kiper had to say on it:
Kiper: "There's a lot of people hoping that he goes down to Mobile, Ala., and plays in that Senior Bowl and does what Antwaan Randle El did coming out of Indiana as a quarterback, goes there and shows that he can catch the football and return punts," Kiper said. "If Robinson does that, we know he's got tremendous speed, a tremendous burst, we know he's a tough kid, we know he can run with the football in his hands, you can put him in the backfield. He could be a situational back, you could put him in the slot, in the wing, you could put him in the return game, you can get him the ball in space.

"I think as long as he shows he can catch the ball effectively, he's got a chance to be a second-round draft choice. I really believe that's where he could potentially go."
H/T Glen Erby/Blacksportsonline
Even though at least one former GM thinks he should move to defense, I think that Robinson would be a good fit as a developmental receiver.