Philadelphia Eagles Coach Chip Kelly Looking for QBs at the Senior Bowl
Updated: January 23, 2013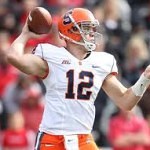 No need to panic Eagles fans. This happens all of the time. When a new coach comes to a new team he usually looks for the type of players that fit his system instead of trying to work with what is already there.
Or as Bill Parcells once famously said "I'm buying the groceries if I'm preparing the meal."
Well it's time for Chip Kelly to eat and according to NFL.com he is on a scour for a mobile, no-huddle quarterback at the Senior Bowl:
…the Eagles have traveled to Mobile, Ala., to find a fit for Kelly's up-tempo, spread attack. Easier said than done.

"Who's a quarterback that fits that offense? We really can't find one in this particular draft," NFL.com's Daniel Jeremiah wrote Tuesday.

Landry Jones, in theory, might be a match. He operated out of a spread, no-huddle scheme at Oklahoma, but scouts came to Mobile concerned with Landry's ability to move around and make plays when the pocket breaks down. Jeremiah said Tuesday that Landry has shown some promise on that front and has "helped his stock a lot" in two practices this week.
In theory the guys at the Senior Bowl that fit the system the best are EJ Manuel, Ryan Nassib, and Geno Smith. If the Eagles want Ryan Nassib or Geno Smith they are going to have to do it with the fourth pick in the draft (yikes!)
In the end, if Michael Vick accepts a pay cut I would not be surprised to see him retained. He openly respects Chip Kelly, he is mobile, and may find career-best success in a pure spread offense. They can always try to trade Nick Foles and draft EJ Manuel to develop behind Vick with a third round pick.
H/T: Glenn over at BSO