Latest 2017 NFL Mock Draft: April Edition!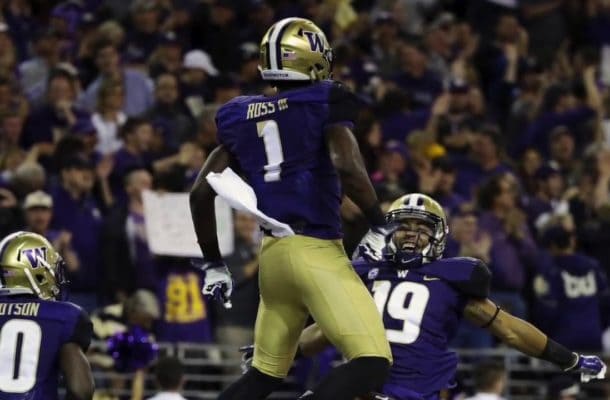 We are on the road for the draft. The days are counting down fast and swiftly. But what will happen in 16 days?
Well, we already know Myles Garrett is a lock for #1. Unless something crazy happens he will be holding down the #1 selection. That's just one pick though. We have a whole draft after that!
Let's just get straight to the picks.
Here is the latest 2017 First Round NFL Mock from jbassetta22:
Best fits and Worst picks for each selection. Who should your team avoid?
1. Browns: Myles Garrett DE Texas A&M
Best Fit: Myles Garrett, DE- Texas A&M. Hands down the best player in the draft. This pick should be as much of a sure thing as any in recent memory. Worst Pick: QB Mitch Trubisky- UNC. I can't see Cleveland going any other route than Garrett here, but the only other options would be at Quarterback. DO NOT DO IT, CLEVELAND.
2. 49ers: Solomon Thomas DE Stanford
Best Fit: DE Solomon Thomas- Stanford. The 49ers are beginning to look like they head in the right direction with the 2nd pick, and that would be Thomas. An athletic edge rusher, he is more than just a freak, as he can stuff the run and grind his way off the block. Worst Pick: RB Leonard Fournette-LSU. Don't get me wrong, Fournette is an other-worldy talent at RB and is going to have a great NFL career, but this is not the place for him. A bad offensive line, no quarterback of the future, and a defense that doesn't stop anybody, a running back is the last thing San Francisco needs especially with Carlos Hyde already here.
3. Bears: Jamal Adams S LSU
Best Fit: S Jamal Adams-LSU. Quick. Name somebody on the Bears defense…It's a lot harder to do nowadays as Chicago looks like a ghost of their former selves. A playmaker and a hard hitter, Adams brings athleticism and headiness to a position of need and can become a leader of a young defense. Worst Pick: WR Mike Williams-Clemson. The Bears might want to jump to an answer for losing Alshon Jeffery to Philly, but they shouldn't this high in the draft. Trading down and selecting a WR or waiting until the later rounds is a good idea because the defense is a top priority in the first round.
4. Jaguars: Leonard Fournette RB LSU
Best Fit: TE O.J. Howard-Alabama. The Jaguars have a few options here. But in terms of best fit for their team, Howard is the guy. They traded Julius Thomas to help their offensive line, which was a great move. They now have a solid left tackle, which could open up the run game and help Bortles stay in the pocket. Howard is a great safety option who can also go deep and make plays after the catch. Worst Pick: QB Mitch Trubisky-UNC. The last thing Jacksonville needs to do is draft another QB this high. Bortles struggled last season, but they invested too much in him to abandon ship after one bad year. Stick with your man.
5. Titans: Malik Hooker S Ohio State
Best Fit: WR Mike Williams-Clemson. Hooker would be a great pick also, but I love Tennessee going with a stud WR like Williams. Mariota's best passing options are Delanie Walker, Rishard Matthews and DeMarco Murray. A true #1 is what they need in that offense. Worst Pick: WR Corey Davis-Western Michigan. I'm just not sold on Davis as a top 5 pick. He can wind up being a great player, but I think the risk is too high at a pick this high.
6. Jets: Mitch Trubisky QB North Carolina
Best Fit: CB Marshon Lattimore-Ohio State. The team's biggest need and one of the best players available, this sounds like a slam dunk. The only concern is his long term health, which the Jets can take a risk on because of his supreme talent. Worst Pick: QB Mitch Trubisky- UNC. And the first team to screw up their draft is…My New York Jets. I just have a feeling about this one. They will fall in love with him in the process, and claim he is the guy to build their future around. They need to build a team around their quarterback first, though, and this pick will wind up biting them.
7. Chargers: Mike Williams WR Clemson
Best Fit: WR Mike Williams-Clemson. They would be loaded with weapons after adding a future star. Williams joins Keenan Allen, Travis Benjamin, Hunter Henry, Antonio Gates, Tyrell Williams, and Melvin Gordon to propel Philip Rivers in his remaining years. Worst Pick: QB Deshaun Watson-Clemson. I've heard LA can take a QB high in this draft. Not this high. Wait until the 2nd or later rounds.
8. Panthers: Marshon Lattimore CB Ohio State
Best Fit: DE Taco Charlton-Michigan. They need a pass rusher. Learn behind a Hall of Famer in Peppers. Worst Pick: RB Dalvin Cook-Florida State. If Fournette falls, jump. But don't just take Cook because you need a RB. This draft is deep at the position.
9. Bengals: Reuben Foster ILB Alabama
Best Fit: LB Reuben Foster-Alabama. Biggest need on defense, best player available. Worst Pick: OT Ryan Ramcyzk-Wisconsin. Don't reach for your biggest need after losing Whitworth and Zeitler.
10. Bills: Quincy Wilson CB Florida
Best Fit: CB Quincy Wilson-Florida. Can step in and be a top Corner. Worst Pick: S Jabril Peppers-Michigan. Not the safety the Bills need. Questions about his real position.
11. Saints: John Ross WR Washington
Best Fit: DE Taco Charlton-Michigan. Edge rusher they desperately need. Ross compares to Brandin Cooks, so the Saints pull the trigger to replace him. Worst Pick: RB Christian McCaffrey-Stanford. They have talent at RB, and have major holes they need to fill before making luxury picks.
12. Browns: Deshaun Watson QB Clemson
Best Fit: QB Deshaun Watson-Clemson. They have to draft one eventually right? Worst Pick: QB DeShone Kizer-Notre Dame. Don't get cute. Watson is the better prospect.
13. Cardinals: Corey Davis WR Western Michigan
Best Fit: LB Haason Reddick-Temple. Fills a need, and this kid is a great football player. Worst Pick: CB Tre'Davious White-LSU. Any corner here is a reach and White can be an option in round 2.
14. Eagles: Gareon Conley, CB-Ohio State
Best Fit: Conley. After signing Jeffery, this is the biggest need. Best CB available. Worst Pick: RB Dalvin Cook. Doesn't do anything elite.
15. Colts: Jonathan Allen DE Alabama
Best Fit: McCaffrey. Adds a new element to the offense. Allen is best player on the board. Worst Pick: OT Garret Bolles-Utah. Still a bit too high for Bolles.
16. Ravens: Derek Barnett DE Tennessee
Best Fit: Barnett. Worst Pick: TE David Njoku-Miami.
PLEASE FLIP THE PAGE BELOW TO CONTINUE
Pages: 1 2