22 Draft Picks that will DESTROY the NFL in 2017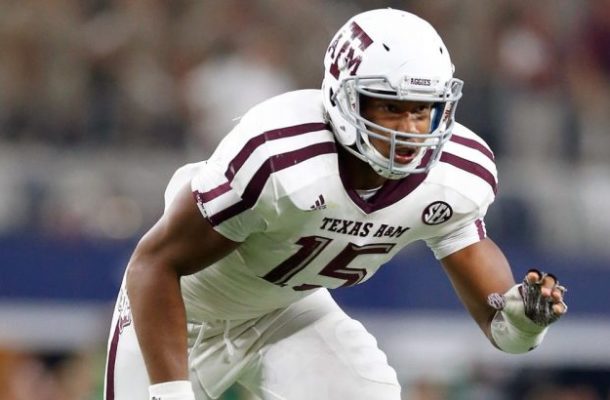 We are just a few weeks away from the 2017 NFL Draft. And with that of course comes more MOCK DRAFTS! There isn't anything we can't tell you that you don't already know, there are bad teams that need QBs at the top of this draft but the top picks are set to be defenders.
So how will things shake out?
Draftguy has put together a new 2017 NFL Mock Draft for us featuring his top 22 picks: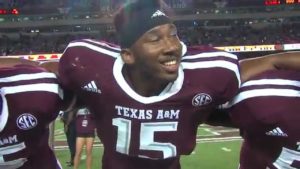 1. Browns: Myles Garrett DE Texas A&M
No Brainer
2. 49ers: Malik Hooker S Ohio State
I think this comes down to Hooker or Adams with no trade partner to take the pick and give equal value. Hooker fits the Seattle scheme better than Adams, and SF won't be fooled by the medical. This guy can flat out play. John lynch can see that.
3. Bears: Jonathan Allen DE Alabama
This could be Solomon Thomas or Jamal Adams here, but I think the scheme diverse Allen gets the nod because he fits better into the 3-4 scheme. It doesn't hurt that he was the best defensive player in college football last year
4. Jaguars: Leonard Fournette RB LSU
I think this is a no brainer. I also think Zeke Elliott and Todd Gurley added value back into drafting elite backs in the top 10 of the draft. Don't be fooled by the 2016 film. Fournette made his money in 2015.
5. Titans: Marshon Lattimore CB Ohio State
This draft could not have fallen any better for the Titans. Lattimore is a top 5 talent, the best CB in the draft and fills a huge hole. They are doing cartwheels in the Tennessee war room.
6. Jets: Deshaun Watson QB Clemson
I don't buy the talk that the Jets are tanking 2016 for Darnold. Bowles needs to win and win now otherwise de doesn't have a job come 2017. I think they need a QB with big game experience and there is no one that has more than Watson.
7. Chargers: Solomon Thomas DE Stanford
Thomas' slide ends here. He;s a perfect fit for the 4-3 scheme and adds value to the pick
8. Panthers: Jamal Adams S LSU
I think this is the 1st trade of the night. I think the Bills move up 2 spots to get Adams at a great value The panthers pick up a 3rd rd pick and move down 2 spots to still get their guy.
9. Bengals: Reuben Foster ILB Alabama
If there is a player in this draft that fits the Bengals, its Foster. He is a top 10 talent, fills a position of need, and will be a terror in the AFC north for years
10. Bills: Ryan Ramczyk OT Wisconsin
I think Carolina needs OL help bad, They need to protect their Franchise QB. The 3rd rd pick they get from Buffalo softens the blow of over drafting the OL help
11. Saints: O.J. Howard TE Alabama
I think the loss of Graham and Cook in consecutive years, as well as the non-emergence of Fleener is a direct cause of the saints drafting Howard. The depth of the defensive players allow them to draft their No.1 offensive receiving weapon in the draft
12. Browns: Mike Williams WR Clemson
I think this is the 2nd trade of the draft. The Browns trade this pick to the Titans for Pick #18 and a 3rd round pick in 2017 and 2018. The titans get the #1 receiver on their board
13. Cardinals: Corey Davis WR Western Michigan
This is the 3rd trade of the night. The cardinals trade with the Baltimore Ravens to move down 3 spot for an extra 3rd round pick in 2017 and 4th in 2018. The Ravens select Corey Davis, a huge position of need
14. Colts: Haason Reddick OLB Temple
The fastest riser in the draft process finds a home in Indy. He fill the hole vacated by Jackson and adds speed to the defense
15. Eagles: Derek Barnett DE Tennessee
Eagles add value with Barnett sliding in the draft
16. Ravens: Patrick Mahomes QB Texas Tech
Bruce Arians gets his QB of the future
17. Redskins: Mitch Trubisky QB North Carolina
Redskins draft the heir apparent to Cousins
18. Titans: DeShone Kizer QB Notre Dame
Cleveland Browns pick their QB for fear of being left out of the dance at 33
19. Buccaneers: Christian McCaffrey RB Stanford
Bucs fill a huge need and land the best receiving RB in the draft.
20. Broncos: Forrest Lamp OT Western Kentucky
Broncos draft the best available offensive linemen in the draft
21. Lions: Dalvin Cook RB FSU
Imagine Cook in a dome 8 games a year. Fills a huge hole on Offense
22. Texans: Davis Webb QB California
Early run on QB's causes 5th QB of round to go here