18 Draft Picks that will Change the NFL FOREVER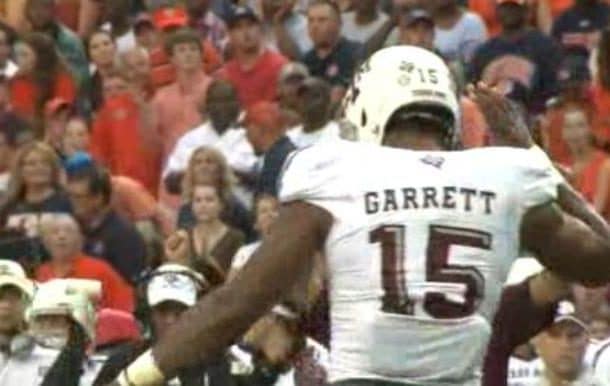 We are back with another day of mock draft coverage. Today's mock comes from ScottyCyclone2 who dropped 18 of his best picks for 2017. These picks are sure to change the NFL FOREVER if they were to happen.
Check out his mock draft below:
Creating mock drafts are almost kinda therapeutic to me, so this was a lot of fun. Here are my picks!
1. Browns: Myles Garrett DE Texas A&M
No brainer.
2. 49ers: Solomon Thomas DE Stanford
Solomon Thomas is the next best player available. The 49ers could be killing two birds with one stone by upgrading at pass rusher and selecting one of the best talents in the draft. Plus, Stanford and San Fran are so close to each other!
3. Bears: Jonathan Allen DE Alabama
Seems like the Bears have been eyeing Jonathan Allen for a long time. Though his length was revealed a concern at the combine, that will only drop him one spot in this draft as the Bears could really use a defensive lineman anyway. Though Garrett and Thomas are better prospects, they won't turn down Allen.
4. Jaguars: O.J. Howard TE Alabama
Those predictions that the Jaguars will take Leonard Fournette aren't bad, just not as logical as them taking O.J. Howard. Jacksonville has T.J. Yeldon and Chris Ivory are reliable enough in the meantime, but Marcedes Lewis and Mychal Rivera aren't #1 tight ends. Drafting a tight end- the best tight end in the draft for that matter- helps out Blake Bortles tremendously as he needs as many targets as he can get.
5. Titans: Jamal Adams S LSU
Both Jamal Adams and Malik Hooker are neck-and-neck for the top safety spot. I have Adams getting picked first because of Hooker's recent surgery. Adams can plug right in to this Titans secondary and can compliment the signing of Johnathan Cyprien. Those poor Rams had to give this pick away for Jared Goff…
6. Jets: Marshon Lattimore CB Ohio State
No, Leonard Fournette is NOT being picked here either. The Jets have a lot of issues on their team, but the secondary is probably the most beat up. With Matt Forte and Bilal Powell in the backfield who are both decent enough, Buster Skrine, Marcus Williams, and the newly signed injury prone Morris Claiborne need help. While it's hard to picture anyone as good as Revis, Marshon Lattimore can be the next marquis man in New York's secondary.
7. Chargers: Cam Robinson OT Alabama
This might seem like a strange pick, but I think it makes sense. The Chargers won't be gung ho on selecting a safety because of their resigning of Jahleel Addae, and their offensive line woes have gone on for what seems like ages. San Dieg- I mean Los Angeles would be wise to select the best offensive lineman in Cam Robinson from Alabama before anyone else.
8. Panthers: Leonard Fournette RB LSU
This is the most ideal spot for Leonard Fournette, assuming no other team trades up for him before this spot. With Jonathan Stewart turning 30, the Panthers would love to bring in the most electrifying offensive player in this draft. Fournette provides youth, excitement, and overall talent to Carolina's backfield.
9. Bengals: Reuben Foster ILB Alabama
While character issues were a concern for Foster, the Bengals will still be open to selecting him 9th overall. Vontaze Burfict also had some doubts going into the draft (he went undrafted) because of his character, but he's become a staple on their linebacking squad. With the release of Rey Maualuga this offseason, Cincinnati will be looking to find an inside linebacker, and Foster can certainly perform.
10. Bills: Marlon Humphrey CB Alabama
Sure, the Bills could use another wide receiver. Really badly. However, the loss of Stephon Gilmore makes their need for cornerback just as serious. Marlon Humphrey isn't as hyped as Marshon Lattimore, but he's arguably just as good. The Bills will think hard about drafting a wide receiver, but will ultimately go for this game-changing corner.
11. Saints: Taco Charlton DE Michigan
The Saints have Cameron Jordan and Sheldon Rankins who are for sure starters. One more piece on that defensive line could make a huge difference. Taco Charlton's draft stock increased after the combine, and the Saints surely have taken note of that.
12. Browns: Malik Hooker S Ohio State
Should the Browns pick their quarterback here? No. The Browns have a ton of other needs, including in their secondary. Most don't predict Malik Hooker falling this far down in the draft, but if he does, the Browns would gladly pick him up. Drafting a quarterback here does not make their defensive backfield any better.
13. Cardinals: Adoree Jackson CB USC
Can you think of who the cornerback across from Patrick Peterson is? Me neither. Adoree' Jackson is one of the better cornerbacks in his class and the Cardinals would surely scoop him up.
14. Colts: Caleb Brantley DT Florida
The Colts are going to be tempted to take Dalvin Cook or an offensive lineman, but their defensive line is weak. Especially their defensive tackles. Caleb Brantley is one of the best interior pass rushers in this draft and the Colts would value him.
15. Eagles: Dalvin Cook RB FSU
The Eagles know that this draft has many good cornerbacks and less valuable runningbacks when they pick next. That's why they're going to choose Dalvin Cook here. He's a sure starter in this league, and some experts even say he's better than Fournette. With Darren Sproles retiring next season and the Ryan Mathews/Wendell Smallwood duo just not cutting it, Dalvin Cook would be perfect to bring in to form chemistry with Carson Wentz.
16. Ravens: Mike Williams WR Clemson
The Ravens are for sure going to draft a wide receiver early, and they'd be lucky to take the first one off the board. Mike Williams is nicely built and a big red-zone threat who Joe Flacco would love to throw to.
17. Redskins: Derek Barnett DE Tennessee
The Redskins brought in Terrell McClain and Phil Taylor this offseason, but they could use the extra firepower. Derek Barnett is one of the best edge rushers in the draft and the Redskins would not want to pass him up.
18. Titans: John Ross WR Washington
Remember when the Titans drafted the 40 time record holder Chris Johnson? I can see them doing it again with John Ross. The Titans like speedy players and need another wide receiver, and John Ross certainly fits the bill.
CLICK HERE TO READ THE FULL MOCK!