Latest 2017 NFL Mock: Jimmy Garoppolo Trade Edition
Updated: February 27, 2017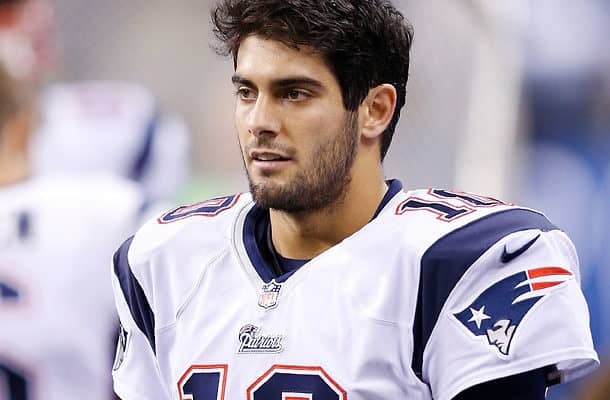 Should the Patriots trade Jimmy Garoppolo?
I don't know if it's a "if or should" situation, but the Patriots may be at a point where they have to trade before Jimmy cashes in and leaves them with nothing in return. Of course if the Super Bowl Champs trade their young prospect they will likely shake up the first round of the draft and cause a domino effect on the board.
So why not project what would happen in this scenario?! This is Mock Draft HQ for a reason.
Here is a Jimmy G trade scenario mock draft for 2017 thanks to danjr:
Jimmy G Traded to the Browns for pick 12 49ers sign a vet backup(Schaub/Hoyer) Bears sign Tyrod Taylor Jets Trade a 4th round pick to KC for Alex Smith Bills sign Glennon KC signs Romo Cutler doesn't get a starting job offer & waits til preseason to see if any injuries occur Leave Comments 2/22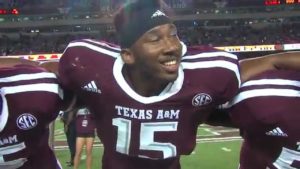 1. Browns: Myles Garrett DE Texas A&M
With QB no solved with the Jimmy G trade, Cleveland can sit back, rest easy, and take the best player in the draft. Easy pick.

2. 49ers: Jonathan Allen DE Alabama
Most mocks have SF taking a QB because it is a huge need but I look at it differently. They have the new regime of Shanahan & Lynch 6 year contracts so they have the job security to make sure they get the QB right vs reaching and hoping. That being said they most likely would like to trade out of this pick because Allen does resemble the previous 2 years 1st rd pick Armstead and Buckner but he is the next best player in this draft. With the move to a 4-3 defense he can kick play outside and kick inside when needed so his versatility will allow all 3 D-linemen to be on the field at the same time.
3. Bears: Jamal Adams S LSU
I gave them Tyrod Taylor so it minimizes the need to reach for a QB early. The QBs in this draft just are not ready to start day 1 and I believe they will drop. John Fox and Ryan Pace have to win now as they have taken steps back for 2 straight years. Year 3 has to produce results so taking an impact DB like Adams could do wonders for this team.
4. Jaguars: Solomon Thomas DE Stanford
Tom Coughlin is running this team and he loves to build his teams in the trenches. Dante Fowler has not lived up to his draft pick but he is only 1 year removed from ACL surgery so their is still hope. The Jags hit on 2016 3rd round pick Yannick Ngakoue but they still need more productivity from the pass rush. Thomas will form a nice tandem with Fowler and on 3rd down passing situations he can kick inside to DT and Ngakoue can be on the field with Fowler. That is a nice front that a defense can be built around.
5. Titans: Marshon Lattimore CB Ohio State
Huge need for Tennessee is filled. Lattimore is the best CB in the draft and can form a nice duo with veteran CB Devin McCourty. They will be able to address multiple needs with the haul from the Rams trade.
6. Jets: Leonard Fournette RB LSU
There are no CBs or pass rushers that fit the value of the 6th overall pick. I though about Hooker but to me, given I have just traded for Alex Smith, Fournette just makes sense. Smith will manage the game and minimize turnovers but he will need balanced offense like he has had in KC. Fournette, although not the same player skill wise, can have the same impact Zeke had for the Cowboys. Bowles is desperate to keep his job so this is as quick of an impact player as you can get in this draft.
7. Chargers: Malik Hooker S Ohio State
Pretty common pick for the Chargers as they still have not filled the void left by Eric Weddle. Value matches up nice with need here.
8. Panthers: Dalvin Cook RB FSU
This is another situation of value over need. I think if there was an OT, CB or perhaps a pass rusher that was worth the 8th pick they could go in that direction but since there is not I gave the Panthers a dynamic play maker that will take a lot of pressure off Cam Newton.
9. Bengals: Reuben Foster ILB Alabama
Another situation of BPA that hits a need. Foster can play multiple positions in a 4-3 at LB. Maualuga could be upgraded in the middle and Burfictm while a great player, is unreliable.
10. Bills: DeShone Kizer QB Notre Dame
The first QB comes off the board. In my scenario the Bills did not fill the long term QB need but bring in Mike Glennon who can start in 2017 while Kizer develops. I am not sure any QB in this class will be able to start day 1 which is why none went higher.
11. Saints: Derek Barnett DE Tennessee
The Saints defense is atrocious and they need help at all 3 levels. I gave them the best defensive player available. Pass rushers are always needed and Barnett give the Saints a nice tandem with Cam Jordan.
12. Patriots: O.J. Howard TE Alabama
It is looking like the Pats could lose Martellus Bennett unless they pay big $$. Given they will have a healthy Gronk coming back I am not sure they will give Bennett what he wants. Instead the Pats do what they always do…fill holes without skipping a beat. Howard is the best TE in this draft that is the rare TE that can be both effective in the passing game and a great blocker. OJ screams Pats and with the 12 pick they have the luxury to take him.
13. Cardinals: Mitch Trubisky QB North Carolina
Palmer almost didn't come back for 2017 and he took a big step back in 2016. There is a strong possibility this is his last year so look for the Cardinals to invest early in a QB for Bruce Arians to develop. Trubisky, like Kizer, will not be relied on to start immediately which will benefit him in the long run.
14. Colts: Ryan Ramczyk OT Wisconsin
I wanted to give them a pass rusher that fits the 3-4 but there are none IMO worth the 14th pick . CB is also an option but i went OL for the 2nd straight year for the Colts. Andrew Luck is 1 of , if not THE, best young QB in the league and his last 2 years have been squandered because he has been unable to stay healthy. They have a LT in place and drafted a C in rd1 last year to go along with a solid LG in Mewhort. Add Ramczyk at RT and they may actually have something going on the OL that will keep Luck healthy. Even with the defense being in as bad of shape as its in, Luck when healthy, can take this team to the playoffs.
15. Eagles: Mike Williams WR Clemson
Dream scenario for the Eagles as the best WR in the draft falls right into their lap and fill 1 of their biggest needs. Pretty easy pick not much more to explain,
Pages: 1 2