2017 NFL Mock Draft – Week 15 Picks
Updated: December 17, 2016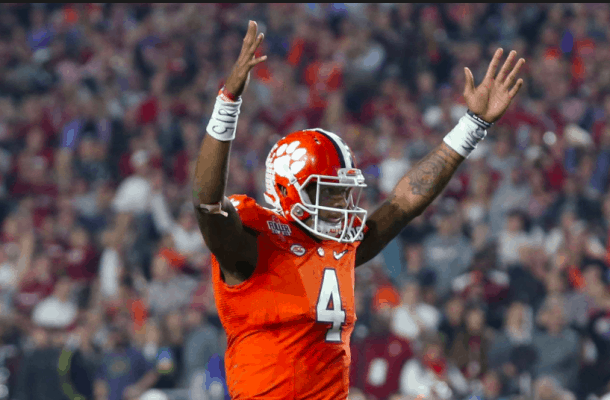 I cannot believe the NFL season is almost done. I cannot lie, this has been a painful year to watch as a pure football fan with a lot of games played being pretty sloppy all across the board. I am not sure if it's a coaching issue, talent issue, or a maladjustment to the new emphasis on "illegal" hits.
Even with all the sloppy play it looks like the Kansas City Chiefs are the leagues best team right now and the New England Patriots are right behind them. We are far from the Denver Broncos and Carolina Panthers dominating their respective conferences just a year ago.
What does the future look like for your favorite squad?
Community member dakpeel has come through and dropped a well thought out 2017 NFL mock draft over on the draft creator.
Check out his draft below and let us know what you think:
1. Bears: Mitch Trubisky QB North Carolina
Bears need a QB after they cut ties with Cutler. They move up to pick the best QB, but it is a risk because UNC QB only played 13 games in college. Big risk = Big Reward?
2. 49ers: Myles Garrett DE Texas A&M
The 49er's are in a tough spot. I see them needing a QB next season, but with the Bears moving ahead of them I don't think they can pull the trigger on Watson with the #2 pick. I think they go to defense again and grab another diverse player in Garrett to play DE/OLB
3. Jaguars: Cam Robinson OT Alabama
Well Jags are back in the top 5 in the Draft and again a ton of spots to fill. I see them sticking with Bortles at least another year, but I cant say the same for their coach Gus. Going in to the draft they Need OL,DT, and S help. I'm going to say that they go with OT Ca Robinson because they have to see if Blake is the guy and what better way to do so then giving him protection
4. Browns: Jonathan Allen DE Alabama
The Browns already have 2 picks in the top 10 this year and with the trade back to the 4th pick from the 1st pick with the Bears they pick up even more draft picks to help a roster which is bad to say the least. They stay in the 4th spot even though they get many offers to move back again. They still get the guy they wanted.
5. Jets: Jabrill Peppers S Michigan
The Jets Should move on from Fitz and Geno, but no real QB worth it at the #5 pick. They need help on the offensive line, but the pick is worthy of a better player. So the Jets for with Secondary again. They have had a few misses the pass years, but with the Island falling apart and young talent not living up to the expectations they go with best available.
6. Titans: Mike Williams WR Clemson
Titans have played well this year. I believe even above some expectations. The play of 2nd years QB Mariota has been much improved and really has people excited. Coaching was big for Mariota. Play calling put him in a great comfort zone. As the teams enters the last few games fighting for a playoff spot, we look at there next pick. Its very true that they do need more weapons for the Offense, but CB is also a need. A few players are open for them at the #6 spot. They
7. Panthers: Jalen Tabor CB Florida
Panthers have had one of the most disappointing season by any team. At least, we expected the Browns to stink the Panthers were just in the Super Bowl. They lost CB Norman and it looks like it hurt this season. So….. easy they replace him. But which one?
8. Saints: Reuben Foster ILB Alabama
Like every year it seems like NO needs Defense. They need to find the next QB, but for now the look to the other side of the ball. The Saints D preformed much better this year than past years but still need help. Needs DL, LB, Secondary. Holes Everywhere.
9. Browns: Leonard Fournette RB LSU
Browns Pick again. after moving out of the number 1 pick and drafting a DE/DT in Allen the browns move to Offense by taking maybe the best rated player in the Draft and Keeping that rough and tough moto in the AFC North.
10. Chargers: Ryan Ramczyk OT Wisconsin
The last 2 years the Bolts have been hit hard with injuries to the WR position, but the have endless guys Allen, Johnson, Inman, Tyrell, Benjamin. If they stay healthy they have a ton of depth. This season the OL has been healthy but not good.
11. Ravens: Jamal Adams S LSU
I have the Ravens moving up to the 11th pick because they see a gap that needs to be filled. S has been no problem with the Ravens because Ed Reed was there for so long, but he is gone and they need to have that Playmaker back there.
12. Bengals: Charles Harris DE Missouri
Many options here for the Bengals. I like them going defense and most likely D-Line the Question is who. Not a flashy pick but a hard nose player that can work in this system.
13. Colts: Dalvin Cook RB FSU
The Colts O-line still struggled this year even though they draft a lot and had new changes over the past 2 years, but we think they give them another year to gel before they start moving people around again. This draft they go with RB. Gore getting older in his last year of his deal may retire. Cook is a good match can do it all and great value at the #13 pick.
14. Bills: Malik Hooker S Ohio State
Every year I look at the Bills and see a team with great talent and every year the draft someone who should or will be good, but every year they are the same 7-9 to 9-7. What is it with this team? Anyway QB is a question mark. The running backs are all set. They could use another passing option WR or TE. They need help on the O-line and The secondary is gonna need help as well. Graham getting old, Darby had a terrible year, Gilmore could be gone, and Williams had a 2nd neck surgery. I believe OL is the way to go, but I think they go Secondary.
15. Titans: Jake Butt TE Michigan
So the Titans are back on the clock. They took WR Mike Williams from Clemson with the 6th Pick. Now do they turn to D or stay with O. This one is tough I like 2 players Jake Butt from Michigan and CB Lattimore from Ohio St. Offense or Defense? This pick depends on what they do in Free agency but I go with Butt .
16. Packers: Marshon Lattimore CB Ohio State
GB moves up ahead of the eagles to grab a young and possible great CB. The GB team needed another playmaker in the secondary because they looked bad this year. Running back is another position they need to question. Is Lacy a fit? Do you stay with Montgomery? Either way Lattimore is a steal at 16th. Great pick and Fit.
17. Eagles: Flip the page below to continue…
Pages: 1 2