danjr's 2017 NFL Mock Draft Picks After Week 5
Updated: October 12, 2016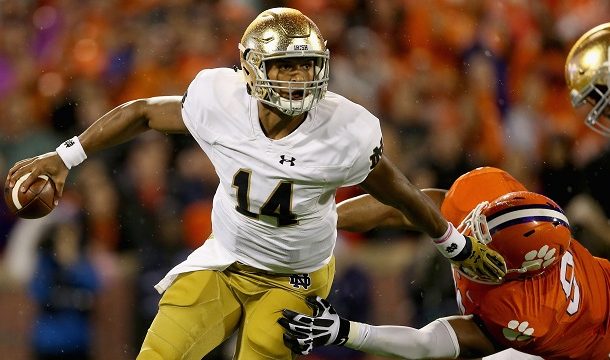 The first quarter of the NFL is in the books. It is crazy that after four games we had THIRTEEN teams sitting at 1-3. Yes, thirteen!
The race for the bottom is already heavy. One of those 1-4 teams is surprisingly the NFC returning champions, the Carolina Panthers. And surprise- the Patriots (4-1) survived the Tom Brady suspension and are back destroying people.
So who will these struggling NFL teams draft in 2017? Let's see what danjr of the draft community thinks.
His 2017 NFL Mock Draft below:

1. Browns: DeShone Kizer QB, Notre Dame
2. Saints: Myles Garrett DE Texas A&M
3. Jaguars: Jabrill Peppers S Michigan
4. Jets: Deshaun Watson QB Clemson
5. Bears: Brad Kaaya QB Miami
6. Colts: Jonathan Allen DE Alabama
7. Dolphins: Leonard Fournette RB LSU
8. 49ers: Mike Williams WR Clemson
9. Chargers: Malik McDowell DT Michigan State
10. Buccaneers: Jamal Adams S LSU
11. Texans: Marlon Humphrey CB, Alabama
12. Redskins: Reuben Foster ILB Alabama
13. Panthers: Cam Robinson OT Alabama
14. Lions: Charles Harris DE Missouri
15. Ravens: Tim Williams OLB Alabama
16. Chiefs: JuJu Smith-Schuster WR USC
17. Cardinals: Jalen Tabor CB Florida
18. Cowboys: Derek Barnett DE Tennessee
19. Browns: Devonte Fields DE Louisville
20. Bengals: Jalen Reeves-Maybin OLB Tennessee

WAIT! This draft continues.
CLICK PAGE 2 BELOW
More picks after the jump!

Pages: 1 2