What's Going on and the Future of MDHQ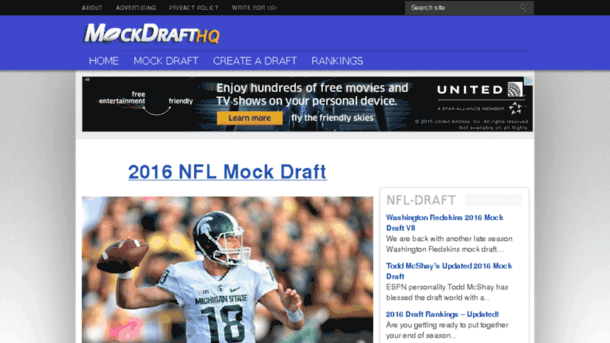 The 2016 draft has finally concluded and I am just now getting back to normal. Draft season was extremely chaotic, seeing me drive 24 hours in 48 hours to Nashville to attend an event at the last minute. Naturally the driving and overall hectic monitoring of the site took its tool on me.
I am somewhat back to normal now even with my ecommerce businesses going crazy currently. If you haven't noticed I have a new pattern of posting new articles at night. It's just the best time for me to focus on providing content.
With all of that, I feel like I should give you a brief rundown on what's going on with the site:
1. Daily Content… Kinda

I am sticking to posting an article or two every night as stated above. I cannot guarantee you'll always get something but I am doing my best. For the most part I am happy with the output I have been able to keep up. Every now some of the other writers will contribute but for some reason some people couldn't log in a few weeks ago. It looks like the bug is worked out so you will see their mock drafts and articles going forward.
2. Content Curation

I'm focused more on content creation these days rather than attempting to chase down stories you've already seen on ESPN, BSO, TheBigLead, etc. etc.
The curated content comes from the draft creator community which (A) gives everyone a chance to shine on the main site and (B) helps with original content. Original content these days is a #MAJORKEY in sports media. Basically, if you don't have any exclusives your site is going to die.
3. Draft Creator

I will be loading in the draft creator for 2017 later this week. For history's sake make sure you copy your mocks somewhere safe because it will all be gone in a few days. Most of the drafts that had content were featured on the main site so use the search box if you miss anything.
4. Google/SEO

I have a love-hate relationship with SEO. Meaning that I love the site but the search engines hate it. In 2016 we made some strides in SEO but Google still doesn't rank this site where it should be. It's rare you'll see MDHQ on the rankings… even for stories we broke.
The original content surely helps with the long tail stuff and the other search engines but it's nothing compared to being on that front page. 2016 was a pretty good year but it could have been better.
At the very least the search rankings we did achieve provided a little extra ad revenue to invest going forward and I am appreciative of that.
5. 2017 on the Way

I cannot believe it is a decade since I sat down in my college computer lab and created the NFL Draft Notebook which later became this site.
The 2017 version of the site will be much like you saw in 2016: focused on curated content and you. Featuring more members of the draft community is the focus of the site and I want everyone submitting as many drafts & analysis as possible.
This year I will be working behind the scenes on getting credentialed and a few events we will be looking to cover for sure are the Senior Bowl, Shrine Bowl, National Championship, and of course the draft. If you are interested in joining the team and going to cover one of these events NOW is the time to contact me.
6. #ForTheCulture

You see it. I did it for the #Views (from the 6th page in Google.)
For some odd reason these types of posts do extremely well for us and I like traffic so you will continue to see them. Everyone likes the ladies so that's that.
If you are a IG model and want to be featured #ForTheCulture then contact me.
7. Podcast

This is Ruck & Dwash is our once a month podcast we do on sports and entertainment. When we drop a new episode I usually feature it in a player on this site as well as Youtube.
The pod is just a way for you to get to know us better individually as there is only so much you can get through text or photos.
If you are a sponsor and want your message added to the podcast or on our Youtube clips then contact us.
8. Going Forward
Going foward, that is pretty much it. The site will focus on (A) your mocks from the mydraft draft creator community, (B) #ForTheCulture posts comprised primarily of photos, and (C) the This is Ruck & Dwash podcast.
That's basically it. I know it sounds simple but it is really a labor of love at times.
I thank everyone for their contributions in the past and hope you're riding with us for the future. Let's make 2017 another successful year!