New Mocks Rock: Final 2016 NFL Mock Draft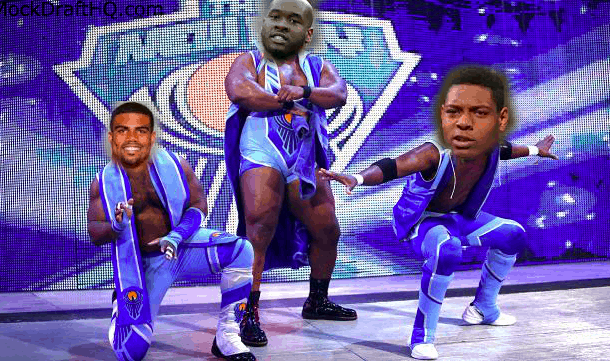 It is that time again. In just a few hours we will all be enjoying the 2016 NFL Draft and trying not to be spoiled by hotshot "look at me" reporters on twitter.
Before I get into this, let me rant a bit.
What is the purpose of tweeting draft spoilers? Does the notoriety of posting a "XYZ will draft ABC" tweet five minutes before it's aired on television really aid your career that much? I'm pretty sure all it does is p!ss a lot more people off than had the tweet been posted maybe a minute max before the pick. It's kind of annoying to listen to Berman and the crew go on for five minutes trying to create a compelling TV moment and some "reporter" on twitter has already ruined it.
Rant over!
Now that's off my chest, I must say that this draft season was one of my favorite in the entire time I've been doing this. I probably watched the least amount of games and draft specials this year and just let the information come to me. If someone was getting hype, I checked him out. If not, then I let it go. Fun things like the late emergence of Carson Wentz and the random #1 overall hype train for Jalen Ramsey kept things interesting.
As you can tell, this season I took more of a content curator role with the site. I had to make a tough decision but ultimately allowing others to shine on the platform was the best use of my energy and investment.
A Big Thank You

I want to give a BIG THANKS to everyone who posted mocks in the mydraft draft creator. There are literally too many names to mention but you know who you are. Also BIG THANKS to those who contact me behind the scenes with advice. You know who you are. What's understood need not be said.
Thank you all for a successful 2016. I already have a lot of innovative content ideas (#fortheculture) that I want to start implementing ASAP. Next year we will start credentialing writers to cover events so if you want to be down with the team NOW IS THE TIME to contact me.
Other than that I am ready to watch my Broncos panic and give up way too many picks to select Paxton Lynch.
Enjoy the draft.
NOW DON'T YOU DARE BE SOUR AND CLICK ON THE NEW MOCK AND FEEEEEEL THE POWERRRRRR!