#1 Overall Pick? Scout Says Kristaps Porzingis Hype is Real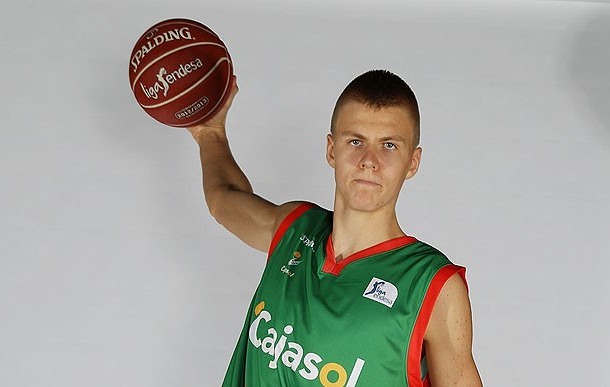 One of the names that started randomly flying up this years NBA draft board was that of Kristaps Porzingis. The guys over at Grantland seemed to be big fans as well as NBA insider Chad Ford, who drew comparisons of Porzingis to that of Dirk and AK47.
I've even read more than one Kevin Durant comparison published recently. While most of us haven't had the pleasure to see Kristaps Porzingis, some scouts are telling me personally that the comparisons are real.
Over at ESPN a piece was published signing the praises of Porzingis which noted:
He's a 19-year-old Latvian who is 7 feet tall and projects as a stretch 4. He has 3-point range, the size and skills to score inside, and the athleticism to get up and down the floor. He's too raw to contribute right away, but plenty of scouts consider him the one player in the draft with a higher ceiling than Towns.
If that wasn't enough to convert you, I've even had a scout privately contact me and tell me that this kid is the real deal.
Here is a snippet of our conversation:
Kristaps Porzingis the real deal man..will def go top 5..& if played college ball..could have even gone No.1 overall possibly…
This guy knows his stuff, and I take his word as gold. I've heard that the Knicks are serious players at #4 and now I wouldn't be surprised if someone pulled the trigger at #2 overall if they can wrangle that pick from LA (Sacramento?)