Mock in the Bank: Final 2015 Mock Draft!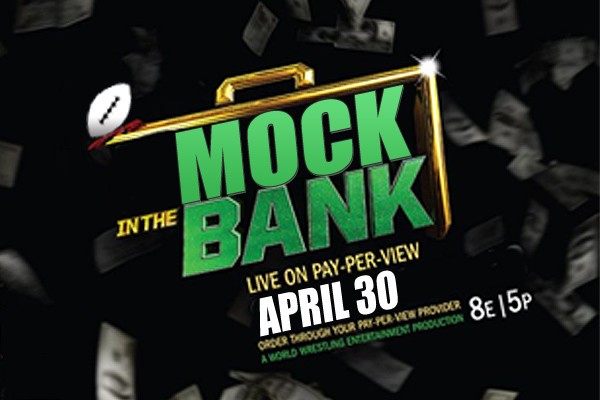 2015 marks an interesting year for Mock Draft HQ. I will not lie, there were a lot of struggles behind the scenes running the site but we kept pushing forward. I apologize for my lack of motivation at times, but when you see the landscape of the net consistently change and you get demolished by Google in the rankings it can make anyone frustrated.
Even with Google showing the site no love I am pleased to say I am here for the long haul. Initially MDHQ started off as just a blogspot blog, and I will always be incredibly proud of the community we have built over the years.
Enough of the negativity though. You came here for a mock draft and that's what you're going to get. Thankfully we have a great staff and draft community that gave you beyond enough mock's to read in the process of figuring out the direction of the site (I think I only dropped like 4 mocks this season!)
However don't be alarmed by my stream of consciousness, MDHQ will be here for the long haul. You can believe that.
Without further adieu here is my final 2015 NFL Mock Draft:
MOCK IN THE BANK
1. Buccaneers: Jameis Winston QB Florida State
The pick is all but official, it will be Jameis Winston to the Bucs. Hopefully Winston is the right pick in this management's exhausting effort to reboot this franchise.
2. Titans: Marcus Mariota – QB Oregon
Whether the Titans keep this selection or deal it, if you want Marcus Mariota you will need the second pick in the draft. The Titans may want to trade out but ultimately there will probably be no acceptable offer. Mariota for better or worse is the pick.
3. Jaguars: Dante Fowler Jr. DE Florida
Fowler just seems to keep getting better year after year. The Jaguars would like to add some offensive weapons for Bortles, but it seems as if Julius Thomas is the answer to that problem for now.
4. Raiders: Amari Cooper WR Alabama
Oakland builds on their exciting young offense with the playmaker Cooper. If Derek Carr is going to succeed he needs a top flight receiver to grow with.
5. Redskins: Vic Beasley OLB Clemson
Brian Orakpo took his talents to Nashville, but Trent Murphy remains. I still think the Skins go for a pass rusher. Beasley is the super athlete of this class of pass rushers and the type of talent you simply don't pass up to draft a receiver for.
6. Jets: Leonard Williams DL USC
The Jets used their cap room to bring back Antonio Cromartie and Darrelle Revis. Therefore this pick will not be a corner. With no quarterbacks worth the sixth pick, Jets brass' hands are forced between WR and best player available. Drafting Williams would be an embarrassment of riches at the 3-4 end spot but rumors are that Muhammad Wilkerson is getting traded.
7. Bears: Kevin White WR West Virginia
Whoever ends up quarterback in Chicago will sorely miss Brandon Marshall. Yes Alshon Jeffrey is a good player but he alone will not make up for the attention Marshall commanded from defenses.
8. Falcons: Alvin Dupree DE Nebraska
The Falcons have one of the worst pass rushes in football. Let's be honest about it. Drafting arguably the quickest pass rusher in this class absolutely makes sense. Atlanta grabbed Brooks Reed in free agency but that alone isn't the answer. Dupree is a talent that will contribute from day one on special teams and may grow into his potential as a top flight edge rusher.
9. Giants: Brandon Scherff OT Iowa
I still have Scherff to NY as of now. It looks like the Giants have decided to bring in Shane Vereen as a veteran back and Scherff fills a need to help their backs consistently get lanes. He's being compared to Zach Martin and that's a pretty good comparison if you ask me.
10. Rams: Andrus Peat OT Stanford
Last time I wrote this draft I told you that Sam Bradford was given permission to seek a trade. That trade has happened and Bradford has been shipped to Philly in exchange for Nick Foles.
With Foles trusted as the starting QB the Rams are open to get another linemen. This would stop the shuffling between guard/tackle that Greg Robinson is currently having to do. Ironically, I think Mike Mayock's comments on Peat's physique have helped Peat's name stay on the top of draft people's minds.
11. Vikings: DeVante Parker WR Louisville
The Vikings just traded for Mike Wallace but that doesn't mean anything. Wallace was under utilized in Miami and that could be the beginning of a downward trend in his career.
12. Browns: Danny Shelton DT Washington
The Browns who are in need of an impact player upfront badly. There are injury concerns with Phil Taylor going forward.
13. Saints: Trae Waynes CB Michigan State
Drew Brees will probably throw stuff at the TV as the Saints draft a corner. The DNA of this team has changed dramatically in just a few months now that Jimmy Graham is now in Seattle in exchange for Max Unger, and Kenny Stills has been traded to Miami for Dannell Ellerbe. I would not be surprised to see a 2016 Saints team that relied a lot more on possession time and defense to win games than they have in previous years.
14. Dolphins: Todd Gurley RB Georgia
With Kenny Stills and Jordan Cameron in town the attention can be turned into making this pick strike some gold in the backfield. Gurley's your prototypical feature back and has experience playing a large number of snaps per game.
15. 49ers: Shane Ray DE/OLB Missouri
How much can one defense take? Justin Smith and Patrick Willis have decided to retire. Then there is the constant question of how long can Aldon Smith stay out of trouble?
Even with his citation, Ray fills a huge need at linebacker. Something tells me the Niners are going to use their newly less talented defense as a scapegoat to dump Smith….
16. Texans: Breshad Perriman WR UCF
Now that Andre Johnson has left this team after years of frustration the new era can begin. Perriman is a young big body receiver who will draw defenses away from doubling DeAndre Hopkins. He may be no AJ, but the speedster is a good consolation prize for losing the best receiver in franchise history.
17. Chargers: Melvin Gordon III RB Wisconsin
San Diego had to depend on the undrafted Brandon Oliver to fill the loss of Ryan Matthews. Now that Matthews is in Philly and the Chargers have brought in Orlando Franklin upfront, they need an explosive back to shoulder the bulk of the carries. Carrying the load is nothing new to Gordon who had a historic collegiate career.
18. Chiefs: Ereck Flowers OT Miami
I previously mocked Jaelen Strong in this spot but it feels as if his hype train has cooled somewhere in the second round. Flowers provides versatility for an inconsistent offensive line.
19. Browns: Brett Hundley Jr. QB UCLA
Here are the Cleveland Browns current Quarterbacks: Thad Lewis, Johnny Manziel, Josh McCown & Connor Shaw.
McCown will do his best in 2015 but at age 35 there is little left in the tank as we saw in Tampa. Manziel is a wasted pick and has to be treated as such until there is evidence that young man has his life together. Maybe he becomes a trade asset in a year or two.
Hundley is a big character guy with a ton of physical potential if he can get his mechanics down consistently:
20. Eagles: Nelson Agholor WR USC
There are only two possibilities for this pick in my opinion: Nelson Agholor or this pick is traded in some crazy deal to land the Eagles Marcus Mariota. Chip Kelly is doing things his way whether we like it or not. Agholor is the only other guy's name you consistently see linked to this team outside of Marcus Mariota.
21. Bengals: Randy Gregory, DE/OLB Nebraska
There he is. One of the top pass rushers in this draft falls all the way down into the 20's amid rumors of his weight loss and personal issues away from the game. As you probably noticed, the Bengals needed a pass rusher in the worst way last year so they will do what it takes to secure somebody in this draft to fill that role. As long as Marvin Lewis is still the head coach here you have to always consider the possibility of him taking a shot on one of the more troubled prospects.
22. Steelers: Landon Collins S Alabama
Pittsburgh needs help in the defensive backfield. Troy Polamalu is not walking through that door. Nor is Ryan Clark. Landon Collins is the top rated safety in this draft and thankfully will probably be around when the team that needs him the most picks. I know his mother wrote a letter on Bleacher Report saying she wanted to see him a Redskin… well this makes 0 for 2 Momma Collins, sorry.
23. Lions: Eddie Goldman DT Florida State
Ndamukong Suh and Nick Fairley are both out of the door. In comes Haloti Ngata, but he can't do it all himself.
24. Cardinals: Arik Armstead DL Oregon
The Cardinals sorely missed Darnell Dockett last year. Now that Dockett is recovered from his injury and has moved on to San Francisco, a young end is needed.
25. Panthers: DJ Humphries OT Florida
If the Panthers don't draft some offensive linemen Cam Newton should demand a trade. It is just that simple. I know Carolina brought in "The Blindside" and "The Bullied" but you let me know if you think that's going to work out favorably.
Note: This pick would be La'el Collins OT LSU if he wasn't being questioned by police over the murder of his pregnant ex-girlfriend. That story sounds way too eerie to the Panthers organization *cough*RaeCarruth*cough* and is enough to warrant Collins being removed from the board completely.
26. Ravens: Phillip Dorsett WR Miami
The Ravens need a receiver pretty badly. Their best player at the position is the 36 year old Steve Smith Sr. They may view the small and speedy Dorsett as the heir apparent to Smitty, and a way to replace Torrey Smith's down-field speed.
27. Cowboys: Malcom Brown DL Texas
Demarco Murray is gone to Philly but I don't think its as big of a deal people think. He's coming off a near 400 carry season and had major flaws in his ball handling/durability even with that offensive line opening huge lanes. Remember, the underwear thief Joseph Randle ran for nearly 5 yards a carry in spot duty. They'll be alright.
With Jerry Jones' team desperately needing an increase in production from this defensive line the local prospect Brown will definitely be on Jerry's board. Hopefully he makes it this far.
28. Broncos: Jordan Phillips DT Oklahoma
Again, this pick would be La'el Collins but I imagine that he's coming off nearly every draft board in the league. The only explanation I have for Jordan Phillips is that Denver's looking for a cheap replacement for Terrance Knighton who should have never been allowed to leave in the first place.
29. Colts: Shaq Thompson LB/S Washington
The Colts really don't have much to talk about at the safety position. There is Dwight Lowery and the old man Mike Adams and that's pretty much it.
30. Packers: Eric Kendricks ILB UCLA
Eric Kendricks is the prototypical inside linebacker prospect in this draft class. Seeing that this squad has tried to mend their problems on the inside by moving Clay Matthews out of position, it is finally time to move on from AJ Hawk and draft at his position.
31. Saints: Maxx Williams TE Minnesota
The Seahawks decided to do something about their tight ends and trade this pick to the Saints. Ironically, the Saints now need a tight end so the pick doesn't actually change: Maxx Williams.
32. Patriots: Byron Jones CB Connecticut
Darrelle Revis followed his heart (and wallet) back to division rival NY Jets. Brandon Browner opted for New Orleans. Who's left? Super Bowl hero Malcolm Butler of course, but he needs help.
Teams absolutely love Bryon Jones' athleticism and character. Add that to the fact he's local and it makes too much sense.
Related: Max's 2 Round Mock Draft