Ultimate Redskins Draft 10.0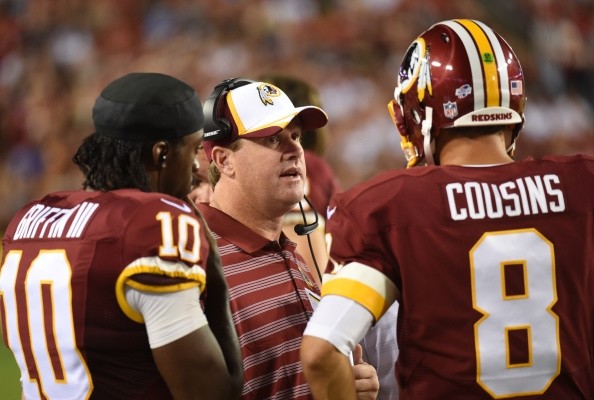 Here is a brand new Washington Redskins mock draft for you, courtesy of draft community member Draftp. Inside he breaks down each and every pick the Skins should make during this year's draft, including a trade scenario!
Picks below:
At this point in the mock draft process I'm only interested in working trade scenarios for my Redskins. In this mock draft I have 2 trades.

The 1st trade is with the Falcons trading up to pick 5 to draft OLB Vic Beasley. The Redskins get in return Rd. 1, pick 8 and Rd. 2, pick 42. According to draft charts this would be a +180 points in the Redskins favor. The Falcons are desperate for a pass rusher.

The 2nd trade is with the 49ers trading up to pick 38 in the 2nd round for ILB Eric Kendricks. The Redskins get in return Rd. 2, pick 46 and Rd. 4, pick 126. According to draft charts this would be a +34 in the 49ers favor but the 49ers will also trade a 4th round 2016 draft pick to make up for the difference. The 49ers have a great need for ILB's.
1. Redskins: Brandon Scherff OT Iowa
Rd. 1, pick 8. The Redskins get this pick as part of a trade with the Falcons. OT/G Brandon Scherff 6-5, 320 Lbs. is my favorite player in this draft. He is big, he is nasty and he will flat out maul you. Redskins fans love those qualities in a lineman. Go Hogs!!!
2. Redskins: Damarious Randall S Arizona State
Rd. 2, pick 42. The Redskins get this pick as part of a trade with the Falcons. FS Damarious Randell 5-11, 196 Lbs. Randell may be slightly smaller than average NFL FS's but he can flat out play the positions. He has great speed and leaping ability that allows him to defend effectively against NFL quality WR's.
3. Redskins: Jaquiski Tartt S Samford
Rd. 2, pick 46. The Redskins get this pick as part of a trade with the 49ers. SS Jaquiski Tartt 6-1, 220 Lbs. is a young up and coming SS that has moved up the mock draft boards with his strong showings at the Senior Bowl and the NFL Combine. The Redskins need to invest heavily in their defensive secondary.
4. Redskins: Jeremy Langford RB Michigan State
Rd. 3, pick 69. RB Jeremy Langford 6-0, 208 Lbs. has been a workhorse for Michigan St. the last couple of years. He has the skill set the Redskins are looking for in a 3rd down back. He runs hard, he's fast and can catch the football but what might put him over the top is his ability to pass block.
5. Redskins: Ben Koyack TE Notre Dame
Rd. 4, pick 105. TE Ben Koyack 6-5, 255 Lbs. The Redskins have a great need to upgrade their blocking TE position. Koyack is a blue collar guy that does not mind getting dirty in the blocking game. He also has soft hands and can make the difficult catch under pressure.
6. Redskins: Chris Conley WR Georgia
Rd. 4, pick 126. The Redskins get this pick as part of a trade with the 49ers. WR Chris Conley 6-2, 213 Lbs. The Redskins don't have a big need for a WR but they could use some more size at the position. Conley has a very intriguing combination a size and speed. Lining a guy up 6-2 with 4.35 40 speed across from DeSean Jackson could be nasty.
7. Redskins: Ben Heeney ILB Kansas
Rd. 5, pick 141. ILB Ben Heeney 6-0, 231 Lbs. is a hard nose old school middle linebacker that the Redskins can develop into LB Perry Riley Jr. replacement. Heeney has good speed and is very aggressive.
8. Redskins: Geneo Grissom DE Oklahoma
Rd. 6, pick 182. DE/OLB Geneo Grissom 6-3, 262 Lbs. Grissom is one of my favorite guys in this years draft. I like his potential as a pass rusher and he could develop into a really good one. He is a bit of a raw talent but he is loaded with athleticism, that with good coaching, should help harness all that ability.
9. Redskins: Jarvis Harrison OG Texas A&M
Rd. 7, pick 222. OG Jarvis Harrison 6-4, 330 Lbs. Harrison has the versatility to play multiple positions along the O-line. Harrison moved well at the combine but he plays with some inconsistencies that have drop his draft stock. With coaching he may develop into a solid NFL starter in a year or so.