Ultimate Redskins Draft 9.0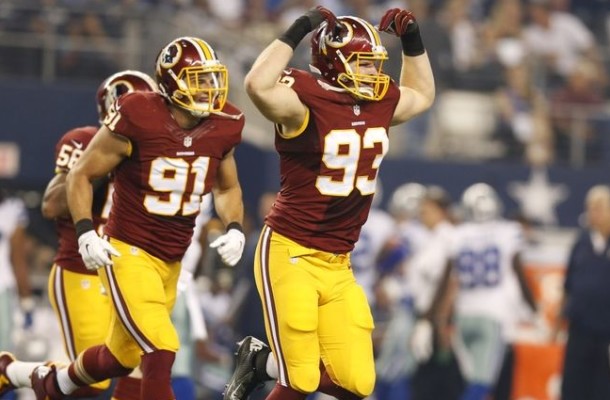 Washington Redskins fans have been waiting for a few seasons to see the end result of one of the most historic trades in NFL history. So far things have not worked out so well but with a young coach and a young hungry team things can only get better.
Draft community member Draftp gave us his projections. His thoughts and Redskins mock draft picks below:
I'm at this point in the mock draft process where I'm not concerned any longer in working out a complete mock draft for all teams. As a Redskins fan I'm only really interested in what they can do in this draft. With this said I'm running a Saints trade scenario with the Saints trading up to #5 to draft OLB Vic Beasley and in return the Redskins get Rd. 1, pick 13, Rd. 1, pick 31 and Rd. 3, pick 78.
Picks below:
1. Redskins: Landon Collins S Alabama
Rd. 1, pick 13. The Redskins get this pick as part of a trade with the Saints. SS Landon Collins 6-0, 222 Lbs. Collins is the best safety in this years draft and the Redskins desperately need to find a long term solution at both safety positions. Collins has let is be known that he wants to be drafted by the Redskins so I'm making his wish happen in this mock draft.
2. Redskins: Ereck Flowers OT Miami
Rd. 1, pick 31. The Redskins get this pick as part of a trade with the Saints. OT Ereck Flowers 6-6, 329 Lbs. should be a "Plug and Play" RT for the Redskins. Flowers has the size, strength and speed to be the starting RT for the next 10 years.
3. Redskins: Damarious Randall S Arizona State
Rd. 2, pick 38. FS Damarious Randall 5-11, 196 Lbs. Randall has been rising up draft boards and some may have him rated higher than Landon Collins. Randall although slightly undersized, still has the physical gifts to succeed in the NFL.
4. Redskins: Tevin Coleman RB Indiana
Rd. 3, pick 69. RB Tevin Coleman 5-11, 206 Lbs. Coleman could fall to the beginning of the 3rd round do to a lack of combine numbers and the solid depth at the RB position this year. Coleman fits the bill as a 3rd down back but he is a tremendous kick returner as well.
5. Redskins: Stephone Anthony ILB Clemson
Rd. 3, pick 78. The Redskins get this pick as part of a trade with the Saints. ILB Stephone Anthony 6-3, 243 Lbs. has 4.5 40 speed and is physically gifted enough to come in and win a starting job this season.
6. Redskins: Ben Koyack TE Notre Dame
Rd. 4, pick 105. TE Ben Koyack 6-5, 255 Lbs. Koyack is a, "Jack of all Trades" and his versatility as a pass catcher and lead blocker will be utilized by the Redskins offense.
7. Redskins: Chris Conley WR Georgia
Rd. 5, pick 141. WR Chris Conley 6-2, 213 Lbs. With his size and 4.35 40 speed he could be gone by this point of the draft, but if he is still on the board the Redskins should jump on this pick.
8. Redskins: Jarvis Harrison OG Texas A&M
Rd. 6, pick 182. G Jarvis Harrison 6-4, 330 Lbs. Has the physical traits you look for in an NFL lineman he just needs good coaching and NFL conditioning to develop him into a quality NFL player.
9. Redskins: Connor Halliday QB Washington State
Rd. 7, pick 222. QB Conner Halliday 6-4, 198 Lbs. Halliday is a young strong armed QB that the Redskins can develop. Halliday falls to the 7th round do to an injury.