Wrestlemania 31 Predictions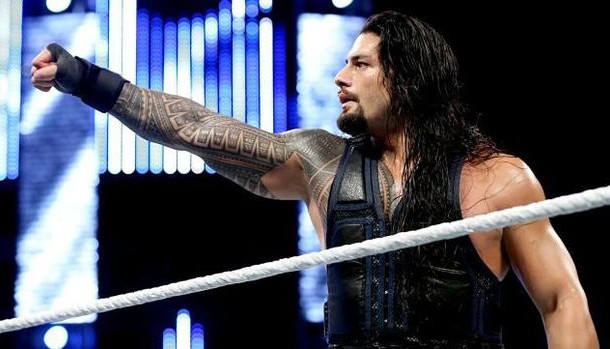 Who will be the WWE Champion after Wrestlemania 31? Will it be Roman Reigns or the BEAST Brock Lesnar? Who will be the last man standing after the Intercontinential Championship ladder match? Will the Undertaker redeem himself after getting his 21-0 streak snapped last year?
Well, I don't have the answers to any of those questions but I do have a host of predictions. Like everyone else I am beyond ready to see this year's Wrestlemania *live on WWE Network for only 9.99!*
Let's get straight to it and break down this card.
Note: I have no inside information so these are strictly blind predictions.
2nd Annual Andre the Giant Memorial Battle Royal
This is basically a jobber fest featuring the likes of Darren Young, Big Show, Sin Cara, Goldust, Curtis Axel, Miz, Adam Rose, etc. NXT call up Hideo Itami will be in the battle royal as well. I personally think Ryback will be the last man standing when it is all said and done. WWE has botched Ryback with a lot of start and stop momentum. Hopefully DA BIG GUY gets back to the top of the card following a Andre the Giant Battle Royal win.
Who am I kidding? He'll be jobbing to Seth Rollins and J&J security in three months.
WWE Tag Team Champions Tyson Kidd & Cesaro vs. The New Day vs. Los Matadores vs. The Usos (Fatal 4-Way)
The battle of the horrible stereotype tag teams vs the Brass Rings. I think Cesaro and Kidd continue to dominate this division and get a much needed win. Hopefully we see the end of The New Day's current gospel loving clapping characters and they become more serious.
Again, who am I kidding? New Day will be selling prayer rags in promos next week.
Randy Orton vs. Seth Rollins
WWE has a lot invested in the Money in the Bank winner Seth Rollins. Randy Orton is a trusty veteran but at this point in their careers Seth Rollins needs a big win over Orton badly. You can't have this guy get jobbed out then expect him to be taken seriously as WWE Champion if he cashes in on Monday.
I also want to predict Rollins will cash in and lose if he cashes in Monday.
AJ Lee & Paige vs. The Bella Twins
I got Lee and Paige. Next…
United States Champion Rusev vs. John Cena
Rusev has been protected heavily by WWE so far in his short career. No superstar has scored a pin fall over him, and I expect that to end Sunday. There is no way on Obama's green earth that John Cena is going to get pinned or tap out at Wrestlemania to a rookie. Cena is due to get his win back from Fastlane where Rusev defeated him via knock out.
And your new US Champion… Johnnnnn Ceeeeena! *DUN DUNNA DUN! DUN DUNNA DUN!*
The Undertaker vs. Bray Wyatt
So the great babbler Bray Wyatt has strung together a series of mindless promos thinly veiled at the Undertaker. And out of all people Undertaker decides to make his WWE return against Bray Wyatt. Hmm.. this makes no sense at all but whatever.
WWE may have realized that breaking the streak was indeed a mistake (especially when Brock had 1 year left on his deal.) Will Taker walk out victorious this year? Or will WWE continue to keep Wyatt strong?
This is a toss up, but I'm going to go ahead and predict Undertaker will win and get his proper send off. Thank you Taker.
Intercontinental Championship Ladder Match
So a cast of characters including Truth, Stardust, Dean Ambrose, and former IC Champion Luke Harper have all taken turns stealing Wade Barrett's title and it can only be settled in a ladder match. Again this totally makes sense (sarcasm.)
Anyone can win this but I think the stage is set up for Daniel Bryan to pull off another Wrestlemania moment. Yes! Yes! Yes! His fans will scream as they fail to realize Bryan has been quietly moved to permanent mid-card status.
Sting vs. Triple H
WWE has done a great job telling the story of Sting coming to WWE to put Triple H in his place. If I told you a year ago that Sting would be coming to WWE to wrestle you probably would have told me it was to face Undertaker. Somehow Triple H has characteristically inserted himself into Sting's much-anticipated return, and somehow it makes sense. As with Brock Lesnar's return I wouldn't be surprised to see Triple H pin Sting in the near future but it won't happen at Wrestlemania.
Trips will do what's Best for Business and put Sting over.
WWE World Heavyweight Champion Brock Lesnar vs. Roman Reigns
And now for the match of the night: The Beast Brock Lesnar vs. The Samoan Badazz Roman Reigns.
This match up got really intriguing with the news that Brock has resigned with WWE but something tells me not to trust what I see. My gut has told me since last year's Royal Rumble that Wrestlemania 31 would end with Roman Reigns holding the WWE title as a cloud of confetti rains down on him (no pun.)
I just envision this image of Vince McMahon sitting in the Gorilla position for the last three months shouting, "Make him look strong damn it!" anytime Reigns is on screen. Reigns has been protected more than any WWE Superstar since the first appearance of The Shield and I don't think that ends now.
The money has been invested in elevating Reigns to a Rock-like baby face and its time WWE completes the plan to transition the product around Reigns. Your new WWE Champion will be the Samoan Badazz rocking a tactical vest. Believe dat.
There are only 24 hours left so we will see what happens. Hopefully Wrestlemania 31 is one for the ages.