NXT? The 400 lb. TE Wants to Join the WWE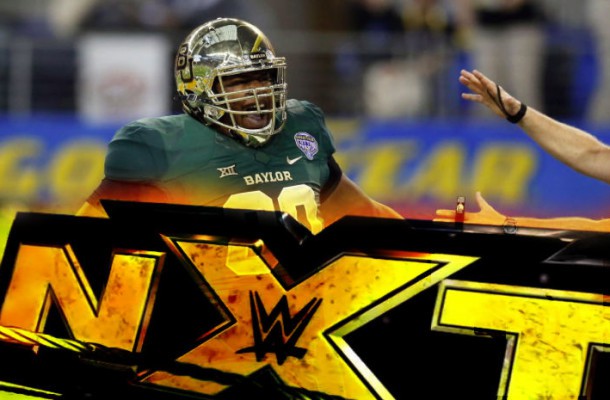 Baylor's 6'7, 400 lb. tight end LaQuan McGowan has a pretty bleak NFL future by all current signs. McGowan is a player who is loved by the college world but NFL teams are skeptical on his overall health and fit as a skills position player on the wrong size of 400.
So what will LaQuan do if he doesn't hear his name in the 2016 draft?
According to reports he's got his eye on becoming a WWE Superstar:

"I feel like once that's over with, the WWE is calling my name," McGowan said, adding he's already spoken to a "couple of people" in the industry who "said they might be interested and talked to me a little bit about the process and how stuff works."
Happy to say that LaQuan & I have been in communication the past few months. He'd fit great in @WWE after @NFL https://t.co/Aw3O93IWDY

— Jim Ross (@JRsBBQ) April 11, 2016
It's good to hear he's already gotten in good with Jim Ross. With Mark Henry retiring soon and Titus O'Neil's future with the company at a crossroads, it wouldn't hurt to sign another larger than life African American superstar.
Who knows? Maybe the big man LaQuan can be the next Viscera or Mark Henry himself…. and that would be best for business.
Do it Trips!