Jameis Winston Proves He's The Best Quarterback at Louisville
Updated: November 3, 2014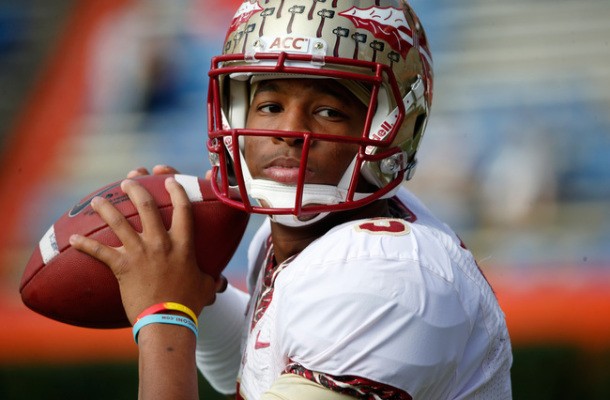 Controversial Florida State Quarterback Jameis Winston proved once again why he is probably the best prospect at his position in college football.
Last Thursday night his team fell behind at Louisville by 20 points and the young quarterback did nothing short of exceed all expectations. Even after throwing two interceptions, suffering a nasty ankle sprain, and getting hit by blitzers all night, Jameis stood tall with poise and marched his team back for the improbable win.
Yes, freshman running back Dalvin Cook was also a huge part of why Florida State won (he was practically untouched on 109 yards and two scores) but it started with Winston. Winston calmly executed a quick passing offense to neutralize the blitz once he was injured. That combined with Cook's electric scampers sealed the deal.
In my mind such a performance could have only come from a player who has "it." And Jameis has it. Where most quarterbacks would sulk or panic after throwing two picks and getting injured Jameis simply executed the offense with no signs of peril. Say what you want about the guy but he's simply the kid of stone cold competitor any team wants.
There are still pauses for concern over his immature outbursts (FHRITP!), shoplifting, and interactions with a female student but I think a NFL team will sell themselves on him. I had the same concerns about Cameron Newton coming into the pros and everything worked out for him just fine. As long as Jameis goes to a team with veteran leadership in place to teach him how to be a professional he should be fine.
You'll see Jameis back in my new mock draft, likely ahead of the Conner Cook and Brett Hundley's of this draft. There are great prospects in this draft, and then there is the undefeated Heisman trophy winning, crab leg grabbing, post game speech giving Jameis Winston.