2015 NFL Mock Draft: August 2014
Updated: September 19, 2014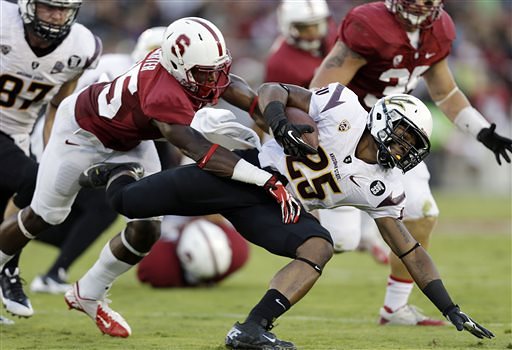 Interested in our old picks? We'll for archival purposes I will post the old picks every time I update the main page. Here are the previous 2015 draft picks, per August 2014.
Click here for the most updated picks.
1. Texans: Marcus Mariota QB Oregon
If the Texans pick top 10 two years in a row, its time to bring in a franchise QB. Mariota is billed as a prototypical NFL "new age" type of running/passing threat at QB.
2. Rams: Jameis Winston QB Florida State
With all the pain Missouri is in, a guy like Jameis Winston might be the right pick in more ways than football. Granted he has his issues, I think he matures in his final college season.
3. Jaguars: Randy Gregory DE Nebraska
The Jags would like to draft an offensive threat here, but stay true to the board as usual.
4. Browns: Stefon Diggs WR Maryland
Diggs is a speedy WR who can help alleviate the loss of Josh Gordon, whether that is temporary or long term.
5. Raiders: Andrus Peat OT Stanford
The Raiders stay true to the board and draft help for Derek Carr up front.
6. Falcons: Amari Cooper WR Alabama
7. Panthers: Cedric Ogbuehi OT Texas A&M
Cam can't buy good luck. All of his WRs leave town and two starters on the line bounce as well.
8. Vikings: Leonard Williams DE USC
The Vikings are relying on a bevy of young players up front on D. If no one emerges they must continue to look.
9. Browns: Shilique Calhoun DE Michigan State
After grabbing a top WR, the Browns can stay true to the board with their pick from Buffalo.
10. Lions: Melvin Gordon III RB Wisconsin
Reggis Bush and Joique Bell are good players but Melvin Gordon is in a different class in the traditional 3 down role.
11. Titans: Landon Collins S Alabama
Youth is needed behind veteran Bernard Pollard.
12. Giants: Ray Drew DE Georgia
The Giants haven't been that Super Bowl winning threat since their defensive line quietly fell apart via injury and free agency.
13. Bears: Bryce Petty QB Baylor
If the Bears pick anywhere near the top 10, its likely time to groom a replacement for Jay Cutler.
14. Colts: PJ Williams CB Florida State
Admittedly, the Colts have a pretty good set at CB with Loucheiz Purifoy and Vontae Davis. Their group at safety leaves a lot to be desired coverage-wise though.
15. Steelers: Cameron Erving OT Florida State
This group at tackle doesn't have a player with franchise potential. Irving would be an attractive candidate at this point.
16. Ravens: La'el Collins OT LSU
Outside of of Eugene Monroe, the Ravens need to upgrade their tackles.
17. Cowboys: Brett Hundley QB UCLA
Tony Romo can't play forever. Hundley here is a bargain Jerry Jones shouldn't pass up.
18. Jets: Ronald Darby CB Florida State
We'll see if "the other best corner in the game" Dee Milliner (his words) lives up to that hype.
19. Dolphins: Todd Gurley RB Georgia
I initially had the Dolphins going tackle, but after thinking about it this pick is much better used on a top flight ball carrier. Yeah RBs are getting devalued, but this year has a great class at the position.
20. Cardinals: Devin Funchess TE Michigan
This pick should be Devonte Fields, but he just got suspended five days ago.
21. Packers: Mario Edwards DT Florida State
A team in need of a push in the middle of that defensive line.
22. Chargers: TJ Yeldon RB Alabama
Even if Ryan Matthews continues to develop into a reliable starter the Chargers could always use a young dynamic threat alongside. Danny Woodhead will turn 30 this season.
23. Redskins: KeiVarae Russell CB Notre Dame
The Skins have spent the big money on offense… when will it trickle down building some quality youth in the defensive backfield?
24. Eagles: Vic Beasley OLB Clemson
The Eagles have made it no secret they covet fast, athletic players on defense.
25. Bengals: Dante Fowler DE Florida
After suring up the offense its time to reload on the defensive depth.
26. Patriots: Noah Spence DE Ohio State
The Pats covet players who can move all over the defensive side of the ball. Spence has the power to play DE but a linebacker's frame.
27. 49ers: Ifo Ekpre-Olomu CB Oregon
This team has traditionally relied on older corners, and should draft more youth.
28. Chiefs: Brandon Scherff OT Iowa
People are very quietly whispering the B word after Eric Fisher's rookie campaign and less than successful preseason this year. He's probably not a bust but certainly not living up to his draft position yet.
29. Buccaneers: Trae Waynes CB Michigan State
The Bucs traded Revis and elected to sign Alturann Verner to pick up the slack. Depth could always help.
30. Saints: Nelson Agholor WR USC
Yes Brandin Cooks is a Saint but we've yet to see if his role will be a typical one or more of a Sproles-type. Agholor is more traditional.
31. Seahawks: Alex Carter CB Stanford
The "best corner in da game" and his buddies need depth after losing Brandon Browner.
32. Broncos: A.J. Johnson ILB Tennessee
This is a pick I routinely mocked in 2013. The Broncos still need a reliable ILB a year later.