2014 NFL Draft: First Round Review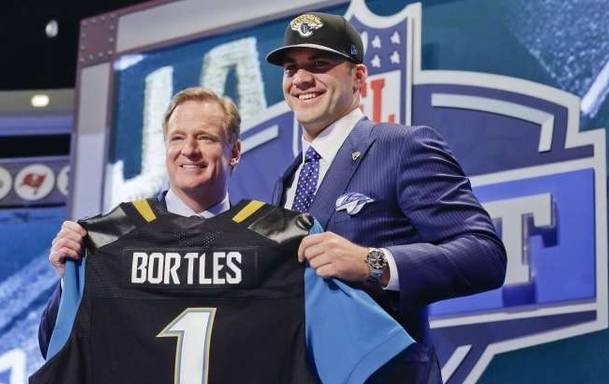 The 2014 NFL Draft is now three days in the rear view mirror and talking heads are already beginning to tear apart some of the more surprising selections we saw go between Thursday and Saturday evening. We saw a quarterback go top three no one expected, and several small school players with second and third round "grades" crack the first.
Being that draft grades mean nothing, I am not going to grade these selections. I'll simply offer my uncut opinion on what I thought as each pick rolled in.
Shall we begin?
1. Texans: Jadeveon Clowney DE South Carolina
Not surprised at all. Even if Clowney lives up to 50% of his hype, you're stupid if you pass him up for a Blake Bortles or Johnny Manziel #1 overall. Basically the Texans had no choice.
2. Rams: Greg Robinson OT Auburn
Wasn't surprised here either. For a split second I thought Sammy Watkins could be the pick, but Robinson it is. I'm worried he might end up a bust for technique and scheme reasons though.
3. Jaguars: Blake Bortles QB Central Florida
Not sure what the Jags were thinking. Several teams would have paid a nice little bounty to come get Sammy Watkins. Sure, you need a QB and you've scouted Bortles to death. But #3 overall? #comeonman
4. Bills: Sammy Watkins WR Clemson
The Browns trade down as the Bills cannot wait any longer. Watkins is there and they trade a first to come get him. Buffalo basically said Sammy is better than anyone they can get in 2015, and I agree.
5. Raiders: Khalil Mack OLB Buffalo
The Raiders stay true to the board and grab Mack. Their LBs are not sack artists in any way shape or form so Mack has his work cut out for him.
6. Falcons: Jake Matthews OT Texas AM
The only person who hated this pick was probably Sam Baker. Jokes aside, this is exactly what the doctor ordered for this team.
7. Buccaneers: Mike Evans WR Texas AM
I hold the unpopular opinion in that I don't believe Evans was worth this high of a pick. Sure he dominated in college and you can't teach height, but I just don't see him as a superstar in the NFL. #7 overall for a #2 receiver? Yikes.
8. Browns: Justin Gilbert CB Oklahoma State
People thought this was going to be Johnny Football, but then the Browns pull a shocker straight out of Draft Day the film and take a defensive player.
9. Vikings: Anthony Barr OLB UCLA
I am one of the only people in the draft community still on the Barr bandwagon. I don't get why people are questioning his passion for the game or his motor. Barr is the rare a sideline-to-sideline "all tackle everything" type of LB. Minnesota will not regret this pick when he's making Pro Bowls.
10. Lions: Eric Ebron TE North Carolina
*scratches head* I got nothing. He made some nice one hand catches and has legit speed for his position, but the Lions really needed a #2 receiver more.
11. Titans: Taylor Lewan OT Michigan
Pure luxury pick, but sometimes talent outweighs need. There was no running back worth this pick and Barr was off the board.
12. Giants: Odell Beckham Jr WR LSU
I normally would criticize this pick, but Lewan went one pick earlier and they do need a shifty WR. Zach Martin wasn't a big enough "can't miss" to over rule Beckham who will help get attention off Victor Cruz.
13. Rams: Aaron Donald DT Pittsburgh
Another pick that people don't agree with. I actually had Donald in the top 10, so this is tremendous value. The Rams drafted a ton of defensive line over the years and they all panned out so far.
14. Bears: Kyle Fuller CB Virginia Tech
Common thought was that Ha Ha could go here, but the Bears opt for a true corner. I can dig it. Fuller fits their mold of tough CBs who will press and fight with the Calvin Johnson's of this division.
15. Steelers: Ryan Shazier OLB Ohio State
They probably could have used Ha Ha a bit more, but Shazier is so versatile I can't really argue..
16. Cowboys: Zack Martin OG Notre Dame
Jerry Jones is the master troll. They put out reports saying they would absolutely select Johnny Manziel, only to make a smart football pick. The last thing Romo needed was to become the next Kyle Orton as the crowd chants for the backup.
17. Ravens: C.J. Mosley OLB Alabama
Ozzie you just ain't going to stop picking up Alabama LBs huh? Great pick.
18. Jets: Calvin Pryor S Louisville
Geno Smith needed help but with the cash Eric Decker got, the Jets decided to go in another direction. This pick has Rex written all over it.
19. Dolphins: JaWuan James OT Tennessee
Definite reach, but positionally makes sense.

20. Saints: Brandin Cooks WR Oregon State
The Saints traded up, and people were thinking it was for HaHa only to get swerved as the Saints stole Cooks from the Panthers, Eagles, and Chiefs.
21. Packers: HaHa Clinton-Dix S Alabama
Prime example of playing the draft board. The Packers didn't panic with all of the trading in front of them and got the highest rated player who was displaced by all the random picks.

22. Browns: Johnny Manziel QB Texas AM
Johnny, Johnny! The worst kept secret in the draft. The Browns wanted Manziel but didn't want to pick a 5'11 QB with a premium pick. I get it. I'm only disappointed ESPN didn't play Johnny Manziel's Draft Day song by Drake.
23. Chiefs: Dee Ford DE Auburn
This is the player I wanted the Broncos to select, so I was kind of disappointed. Add that to the fact they got Black Mamba De'Anthony Thomas as well… already looking forward to how crazy it's going to be going into Arrowhead.
24. Bengals: Darqueze Dennard CB Michigan State
The Bengals are another team that played the draft board. Dennard was the top rated corner on some boards and get displaced all the way down here. Dre Kirkpatrick approves of this pick.
25. Chargers: Jason Verrett CB TCU
I had him going 13 overall, and heading towards draft day he was my #2 rated corner behind Gilbert. Great value AND need.

26. Eagles: Marcus Smith DE Louisville
A lot of people don't understand this pick but I do. The player the Eagles really wanted was Dion Jordan but the Dolphins were not going to trade him for this pick. Smith has a huge frame for his height (6'3) and easily has the potential to be one of the better pass rushers in this division.
27. Cardinals: Deone Bucannon S Washington
Not sure about this pick… I think they could have traded down for someone looking for Carr or Bridgewater and still got Bucannon.
28. Panthers: Kelvin Benjamin WR Florida State
*scratches head* I got nothing. He's tall and caught a game winner?
I'll just leave this here: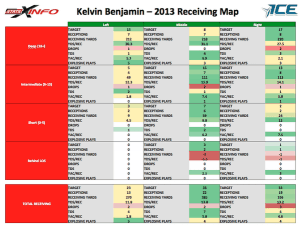 29. Patriots: Dominique Easley DE Florida
There were several teams who were interested in coming up to get Easley, and the Seahawks publicly admitted they had him locked in at 32. Like the pick for this rotation.

30. 49ers: Jimmie Ward S NIU
This was a pure need pick. I'm not familiar with Ward so I'll reserve judgement.
31. Broncos: Bradley Roby CB Ohio State
The little rumors surround Roby were starting to fade in the last week and teams had him back in the middle of the first off talent alone. Love the pick.
32. Vikings: Teddy Bridgewater QB Louisville
The Vikings trade back into the first to grab Teddy from the Texans, Raiders, etc. I like the trade, not sure about the fit. Teddy clearly has grip/glove problems and this team is going to be playing outdoors in two seasons…
Redskins Fans: I Can't Help You After This