Johnny Manziel Back in #1 Overall Discussion After Pro Day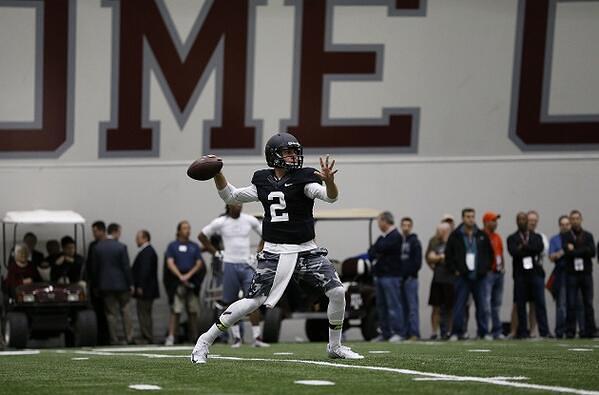 Texas A&M quarterback Johnny Manziel had his much hyped pro day today, and for the most part he delivered. Manziel impressed NFL scouts from eight teams in a workout that saw him only miss one pass. There was also a completion out of bounds and a drop. But other than that, he delivered.
All of the talking heads are back on the bandwagon and Johnny Football is back in the top 5 discussion. With that said, you have to wonder why Blake Bortles was ever ahead of Manziel in their eyes being that Manziel clearly has the stronger arm.
That is a debate for another place and time. For now Johnny Football has silenced his critics and in my opinion he's back in the mix at #1 overall in the 2014 NFL Draft.
If you missed it: make sure you check out how our draft analyst LaDarian has the quarterbacks ranked for 2014.