2014 NFL Draft Top 5 Rankings: Offense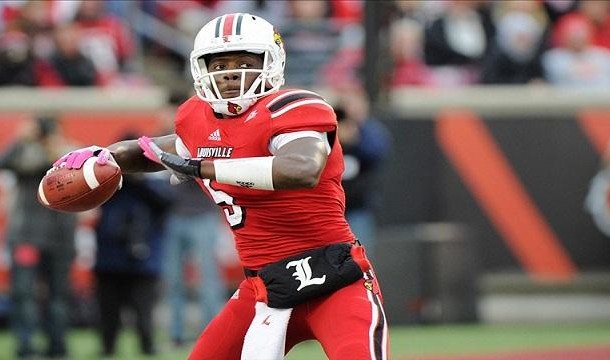 These rankings do not reflect the order I think these players will be drafted. As is the case every year some players are over-drafted and under-drafted. My top 5's consists of who I think the 5 best players are at their respective positions and where I project them to play at the next level.
Quarterbacks:
1. Teddy Bridgewater (Louisville): Easily the best QB in this class. Bridgewater possesses great touch and accuracy. His deep ball needs work but that can easily be fixed by cleaning up his footwork. I'm not at all worried about the questions about his level of competition he faced or his size. Bridgewater has elite potential.
2. Blake Bortles (UCF): Bortles has great size (6'5 232lbs) and good mobility for his size. He can throw accurately on the run but overall his accuracy is average. Doesn't have a huge arm which is surprising for his size. Not a polished prospect at all, he has major technical issues on tape but I saw improvements at his pro day. This shows he takes well to coaching which bodes well for his future at the next level.
3. Johnny Manziel (Texas A&M): Shed the Johnny Football mantra and you get a prospect with amazing elusiveness and short area quickness. He has good accuracy when he has a clean pocket but his mechanics break down when forced to adlib. Manziel is reckless when scrambling and often does too much which will drive coaches crazy. He has the tools but must improve within the pocket to survive in the NFL. His height and weight (6' 207 lbs) don't concern me.
4. Derek Carr (Fresno State): Carr has the best arm of any QB in this class. He's a good athlete who played in an offense that asked him to throw a lot of short passes so he'll have to adjust to a pro-style offense and route tree. Carr has mechanical issues (like every QB in this class) but they are coachable. I think he'll be hurt by his brother's failures in the eyes of scouts.
5. Brett Smith (Wyoming): Smith is a poor man's Johnny Manziel. Smith wasn't invited to the combine but ran a 4.51 40 at his pro. He's not just a running QB he has a solid arm and good accuracy. Smith is a development QB who I think can be a successful starter in the NFL.
Running Backs:
1. Bishop Sankey (Washington): Sankey isn't a burner but has speed to breakaway in the open field. He has good hands so he'll be a threat out of the backfield immediately in the pros. He has good vision but average elusiveness.
2. Carlos Hyde (Ohio State): Hyde has good speed for a bigger back. He won't make you miss in the open field but will run you over.
3. Tre Mason (Auburn): Highly productive as a junior at Auburn. I think Mason can be a workhorse in the NFL. He's solid in pass protection at his size but could benefit from added strength.
4. Jeremy Hill (LSU): Has quick feet and great size. Im not as high on Hill as others but he can be a good rotational back in the NFL. He's more of a power back which is why I don't think he'll be a full time starter.
5. Terrance West (Towson): West is a guy you can give the ball to 25-30 times a game and wear down a defense. West dominated in the FCS so I'm not worried about the level of competition he faced. He has good vision and the best feet of any back in this class.
Wide Receivers:
1. Sammy Watkins (Clemson): Explosive athlete. Not as polished as AJ Green and Julio Jones were when they came out but he's the best WR since those two. Get the ball in his hands and he'll break tackles like a running back in the open field.
2. Mike Evans (Texas A&M): The word that describes Evans best is bully. He has great size (6'5 231) and plays with a mean streak that I like. If the ball is in the air he'll go up and get it. Needs to improve as a route runner but that'll come with NFL coaching.
3. Brandon Cooks (Oregon State): Short speedster who can lineup anywhere on the field. Has quick feet which help him win easily at the line of scrimmage. Dangerous with the ball in his hands.
4. Odell Beckham Jr. (LSU): Dynamic playmaker with freakish vertical jumping ability. OBJ has experience as a return man so that adds to his value. Doesn't have great hands which is a concern but he has a high upside.
5. Jordan Matthews (Vanderbilt): A tall lean receiver with long arms, good hands and is a fluid athlete. The SEC all-time leader in career receptions (262) and receiving yards (3,759) so he produced at a high level against stiff competition, not to mention uncertainty at QB.
Tight Ends:
1. Eric Ebron (UNC): Super athletic tight end that will be a matchup nightmare. Needs to improve as a blocker but he'll dominate in the passing game. Vernon Davis type player.
2. Austin Seferian- Jenkins (Washington): ASJ left school early after a disappointing junior season. He's a solid overall prospect but not a game breaker. He'll be productive but won't produce big plays.
3. Troy Niklas (Notre Dame): Wasn't a great receiving threat at Notre Dame but I think he can be. He's a big body who will be effective in the red zone but needs work.
4. Arthur Lynch (Georgia): Solid overall athlete. Not great at one thing but solid when it comes to route running, blocking, and catching the ball.
5. Jace Amaro (Texas Tech): Has good size but doesn't play to it, he's a finesse player. Doesn't offer much in terms of blocking and often times looks lost as a route runner. His best asset is his run after catch ability.
Offensive Tackles:
1. Greg Robinson (Auburn): A high upside player with boom or bust potential. Has great speed and agility for his size and can develop into a dominate franchise left tackle.
2. Jake Matthews (Texas A&M): The most polished tackle coming out. Can play left or right tackle and dominate at both. Has quick feet and is great as a pass blocker.
3. Taylor Lewan (Michigan): Has some technical issues and isn't an overly physical player. Good in pass protection.
4. Zack Martin (Notre Dame): Can play guard or tackle but is best suited on the right side. Could struggle with bigger lineman but he's a technician. Plug him in your line and he'll play at a high level for 10+ years.
5. Morgan Moses (Virginia): Great size (6'6 314) but is average as a run blocker and in pass protection. Needs to develop in both those areas.
Interior Lineman (Centers/Guards):
1. Xavier Su'a Filo (G, UCLA); Dominate player. Super athletic guard who mulls defenders. Can anchor in pass protection and moves well in space.
2. Gabe Jackson (G, Miss, State): Big, strong physical guard who is a dominate run blocker. Would fit best in a run heavy offense but can also anchor in pass protection. Not overly athletic but good enough.
3. David Yankey (G, Stanford): Physical but needs to add strength to be good at the next level. Has experience playing guard and tackle. Won a lot in college because of technique so that part of his game is refined.
4. Marcus Martin (C, USC): Average athlete but has good size. He could stand to add more strength and needs to work on his awareness or he'll have to play guard in the NFL.
5. Travis Swanson (C, Arkansas): Best pass protection center in this class. Has good size and quick feet so can pull if necessary.