Rant: Did Jadeveon Clowney Quit on College Football?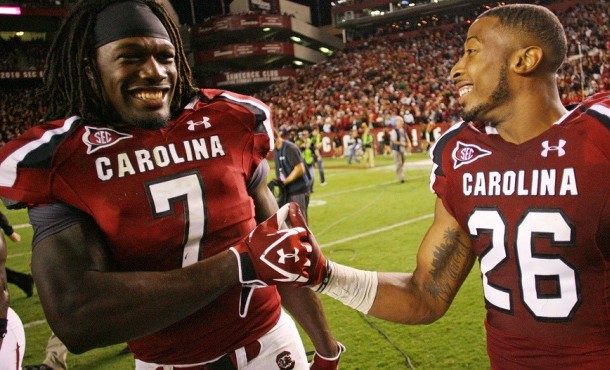 Jadeveon Clowney has told coach Steve Spurrier that he isn't up to play for South Carolina any time in the immediate future. And like that ladies and gentlemen, the NFL Draft process has changed forever. By letting Jadeveon ALLEGEDLY duck the remainder of his collegiate season the NCAA has set a dangerous precedent.
What good is the two year rule when players can simply play a couple games, then sit out and wait for the draft?
I've always privately said the NFL should have some sort of red-shirt system where they can draft 18 year old high school players and develop them without pitting them in live games against grown men. To me the WWE of all people have mastered the development theory with their developmental division titled NXT. Why can't the NFL do something similar? We've already seen NFL Europe work successfully… it might be time to do something similar stateside.
But that's thinking generously… because we all know the NFL and NCAA scratch each others backs. There are billions at stake in preserving the current NCAA system. Is Clowney really hurt? Of course he's banged up but who knows if he can play or not. However from the sound of head coach Steve Spurrier we'll never see #7 at South Carolina again.
"I will just say he told me he couldn't play. That his ribs hurt, couldn't run. Said 'I can't play.' I said, that's fine, you don't have to play. We'll move on. He may not be able to play next week, I don't know. We're not going to worry about it, I can assure you that if he wants to play, we'll welcome him to come play for the team if he wants to.

"If he doesn't want to play, he doesn't have to play, simple as that. We were thinking he was going to suit up and play. He did not practice Thursday. Couldn't run. Said he couldn't play. Any time a player says he's hurt, can't play, who are we to question? He doesn't play."
Jadeveon was putting an average year on tape this season so it is probably beneficial to him to not continue. Will this decision hurt his draft stock? Some people believe so. But this kid has been called the best athlete on planet earth all summer so I doubt he even cares at this point.
Someone will pull the trigger on Jadeveon Clowney with a top five pick. Let's just hope he participates in the entire draft process….