Clowney Remains at the Top of the Board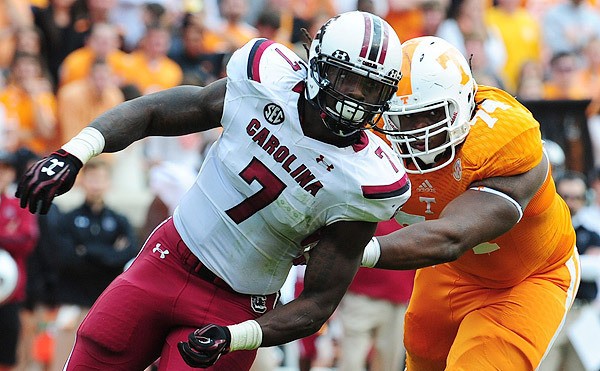 We are less than a month away from the NFL Draft and it seems it will be the first time in 18 years that for two consecutive seasons, a quarterback will not be taken with the first overall pick.
According to FootballBettingCenter.com, Jadeveon Clowney, defensive end of the University of South Carolina, is favorite in the odds to be selected by the Houston Texans, followed by UCF quarterback, Brian Bortles.
Although the Texans need a quarterback after the departure of Matt Schaub, they can't let go the talent of Clowney, who finished his career with the Gamecocks with 85 tackles and 24 sacks. In 2012, he established new school records in sacks (13) and tackles for loss (23.5). He was chosen as the Defensive Player of the Year in the Southeastern Conference.
Selecting him instead of a quarterback is not a bad plan for the Texans, as he could be an excellent complement for J.J. Watt, who in three years with Houston has accomplished 217 tackles and 36.5 sacks, 20.5 of which were in 2012.
Having both players would be helpful to the defense, especially being in the same division as Indianapolis Colts and their quarterback Andrew Luck. Against the pass, the Texans finished last season as number three in the league with only 195 yards allowed per game but were 29th in sacks (32), just above the Chicago Bears and Jacksonville Jaguars (31).
If Bill O'Brien's team takes Clowney, it will be the first time since the 1996 and 1997 seasons that there is not a quarterback in the first overall pick. The receiver Keyshawn Johnson, of USC, and tackle Orlando Pace, of Ohio State, were chosen respectively those years.
Clowney would be the second player from the University of South Carolina to be the first overall pick, joining running back George Rogers, who was taken in 1981 by the New Orleans Saints.