Jadeveon Clowney: Overrated?
Updated: September 9, 2013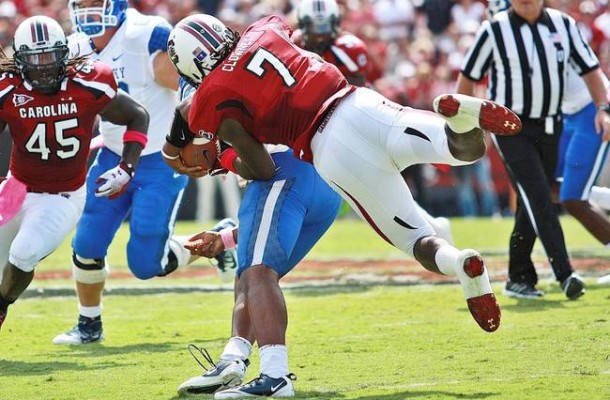 Don't get me wrong, Jadeveon Clowney is one of the best defensive prospects available in the 2014 NFL Draft but the question has to be asked regardless, is he overrated? Even if it's just a bit?
These questions come off the heels of another below amazing performance from Clowney this weekend. Again he seemed winded quickly, blocked out of the running game rather easily, and was handled for the most part one-on-one on passing downs. Yes he got in the backfield and caused a hurry here and there, and even scored a sack on a missed block, but I see nothing near a "Suh-like" level of dominance of the collegiate defensive line. Yet.
For a guy being called the best football player on planet earth, I think I speak for the entire draft community when I say we are waiting for THAT performance to seal the deal of Clowney #1 on our mock draft boards.
There is a lot of football left to play so hopefully Clowney picks it up. I hope I dont see him getting pancaked by a tight end again for the rest of the season (this really happened.) Is Jadeveon Clowney overrated? Of course not. But for now let's chill with the Heisman, best player of all time hype. There is a lot of football left to be played!