PUMA® Signs Patriots' Aaron Hernandez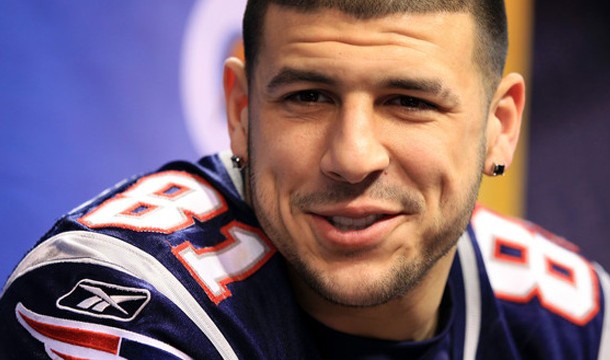 Westford, Mass., April 10, 2013 – Sportlifestyle brand PUMA® announces today a two-year partnership with professional football player Aaron Hernandez who will become a face of the brand's training category. New England tight end Hernandez will be part of a roster of athletes from a variety of sport backgrounds to work with the brand on men's training initiatives.  Known for his speed and versatility, Hernandez is the first to join the PUMA training team.
In true PUMA fashion, the brand's relationship with Hernandez will focus on the unexpected and highlight his life off of the field.  As part of the long-term relationship, Hernandez will be featured in the brand's Nature of Performance marketing campaigns, attend PUMA events, offer training tips via the brand's web site and social media channels, and lead special programs with retail partners including a program launching later this year involving training with high school students.
"I'm very excited to be working with PUMA, I have admired the brand for many years and it really fits my overall lifestyle," said Aaron Hernandez.  "Most people know me for what I do on the football field, but I have to train hard behind the scenes and PUMA helps me to perform at my highest level and look my best."
At age 23, Hernandez has already established himself as one of the most versatile and athletic players in professional football today.  While still a relative newcomer to professional sports, Hernandez has proven to be prominent role model for kids and adult fans across the country.  Hernandez and PUMA will be working together to create programs that not only fit within Aaron's outlook and fitness philosophy, but also work to help causes he is involved with including outreach within the Hispanic community.
"It isn't every day that we welcome such a young talent to our team and we couldn't be more excited to be working with Aaron Hernandez," said Jay Piccola, President of PUMA North America. "His talent, athleticism and ability to overcome adversity have made him a rising star, and all this matched with his personality and intense training regimen is what makes Aaron a key part of the PUMA family."
While he shines on the field, behind the scenes he puts in a lot of work to perform at his ultimate best.  A fan of diverse and rigorous workouts, Hernandez spends time doing various training activities to increase his speed, agility, and strength.  He trains in PUMA's latest trainer BioWeb Elite, inspired by nature but engineered to deliver maximum cushioning and stability no matter what the activity.  Aaron has also recently tested the brand's latest Compression Bodywear, ACTV.  This high performance training apparel fuses the benefits of graduated compression with those of strategically placed athletic tape built into the apparel.  Hernandez will continue to train in ACTV as he preps for the upcoming football season.
To learn more about PUMA's training category and Aaron's favorite gear go to puma.com/bioweb you can also get brand updates at facebook.com/puma or follow the brand via Twitter, instagram and Vine at @puma. Follow Aaron as he trains with PUMA at @AaronHernandez.