Tyler Bray Looking to Improve Leadership Skills
Updated: February 4, 2013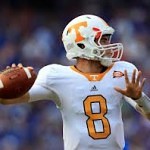 It was a frustrating year for the Tennessee offense. The trio of Tyler Bray, Justin Hunter, and Cordarrelle Patterson were all on NFL scouts radars, but the group underperformed and the Vols finished with just 5 wins.
QB Tyler Bray was almost a lock as a first round pick coming into the season, but maturity issues and lack of consistent footwork have caused some scouts to question his ability to be a "Franchise Quarterback."
According to draft insider Tony Pauline, Bray has been trying to improve in one of those areas by working with former NFL QB Ty Detmer. Detmer is helping Bray learn what it takes to be a professional QB. The work should also improve Bray's confidence at being a leader; something Bray lacked during his time with the Vols.
Bray has the best arm in the draft but is still a work in progress. He has the size teams look for (6'6"), but his skills are still raw and struggles with his decision making and gets rattled too easily when hit (something done often while playing in the SEC).
The player I've most often seen him compared to has been Philip Rivers. I see Bray being taken sometime in the 2nd round. It will likely change as the off season moves on, but I have him ranked as my 5th QB overall.
Follow Chris on Twitter @ChrisDommermuth