Damontre Moore May Not Be Drafted High
Updated: February 12, 2013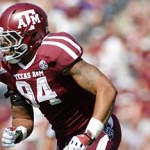 Texas A&M DE Damontre Moore shot up draft boards over the course of the 2012 season, but since declaring for the draft, some of that momentum has been lost. When he first declared for the draft, he was projected as a top-15 pick. I've seen Mock Drafts projecting him as high as the 2nd pick (Thanks to Mel Kiper), but there are whispers that scouts are giving him just a 2nd round grade.
Those same scouts said they love his motor and versatility as a down-lineman or pass rushing linebacker, but he doesn't use his hands well and takes awful angles at times.
Moore is a polarizing prospect because scouts and draft experts have been so torn on what kind of talent he can become. Doug Farrar of Yahoo! Sports wrote about Moore last week saying that he could be the next Aldon Smith.
On the flip side of that coin, CBS Sports' Dane Brugler wrote that Moore wasn't an elite talent and would struggle at both of his potential positions. Former NFL scout Russ Lande recently said he hasn't spoken with a scout that has Moore with a first round grade.
It will be interesting to see where Moore is taken in April. He's got talent and athleticism  but is somewhat of a project. If a team were to take him in the first round, it's likely to be based off the potential player a team believes he can become more than what he is now.
Follow Chris on Twitter @ChrisDommermuth