Tavon Austin Receiving Praise From Todd McShay
Updated: February 12, 2013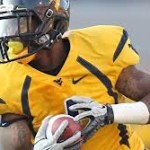 Tavon Austin wowed all of us with his quickness and versatility as a play maker on his way to over 2,900 all-purpose yards in his Senior season at West Virginia. He's been criticized for his size(just 5'9") and questioned on if he can be the same kind of home run threat in the NFL, but Scout's Inc.'s own Todd McShay's latest tweet suggests that Austin can be a difference maker.
"WVU WR/RS Tavon Austin might be the quickest human being I've ever studied on tape… Sent from my iPad" -Todd McShay.
McShay's colleague at Scouts Inc. Kevin Weidl responded to the tweet with "not getting out of the first round." Austin is mustering up comparisons of both Percy Harvin and Desean Jackson for his ability to effect the game both on offense and special teams.
I have a feeling that Austin will be turning heads during the combine and will help his stock immensely. He's currently looked at as a late first round to early second round pick. If he does perform well at the combine I could see him sneaking into the top-15.
He'll never be your prototypical number one outside receivers, but as a play maker and possession receiver, plus a creative offensive coordinator, Austin will be electric. He still needs to show he can perform against bigger defensive backs, struggling against Texas safety Kenny Vaccaro.
I think Tavon Austin would be a nice fit in either San Francisco at 31 or New England at 29.
Follow Chris on Twitter @ChrisDommermuth