2012 Senior Bowl Recap
Updated: January 29, 2012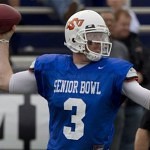 Another year of the Senior Bowl is in the books. This year wasn't unlike previous years. There were a plethora of interesting guys like Kellen Moore and Russell Wilson in the game this year but they did not have the best showings.  I was not in Mobile this year (email me if you are interested in becoming a road correspondent for MDHQ) but I did check out the game via NFL network.  Here is a brief recap.
The Quarterbacks
Everyone was interested in seeing what this year's QB crop could do, and honestly it wasn't much.  Between Brandon Weeden's "blah" performance and Ryan Lindley playing "alright." I wasn't really impressed by any of the mid round guys that others in the draft community seem to love.  Lindley was said to be "somewhere between Tyler Palko and TJ Yates" in ability by Mike Mayock.  Mayock also said that Brandon Weeden could go as high as a top 10 pick.  So clearly he was high.
Anyways, I do like what Kellen Moore did.  He threw a few nice skinny posts right on the money that receivers simply dropped in the endzone.  Kirk Cousins did nothing of note, and once again proved that he is being severely overrated because he's a nice guy.  Nick Foles did well but Foles' once again fell in love with his safety blanket Juron Criner.
And that brings me too…
Backs and Receivers
Juron Criner probably helped himself as much as any receiver this week.  Really strong performance from the Arizona wildcat, catching a touchdown from Nick Foles.  The other receivers played ok.  No one really set the world on fire.  Devier Posey hurt himself as much as a player could in a Senior Bowl game, dropping everything that came his way.
The backs looked pretty good on limited carries.  Doug Martin of Boise had people whispering the names Ray Rice and Maurice Jones-Drew.  Not a bad company to be in.  Isaiah Pead set a Senior Bowl record for punt return yards, and also lead the game with 35 rush yards.  He had the best game of any offensive player, and set himself up to be drafted with a 3rd or 4th round pick.
Offensive Line
The offensive lines were… "ehhh."  You had a lot of guys playing center who hadn't played the position since high school.  That led to a few bad reads, mis-steps, etc.  And for the most part they collectively played "ok."  Mike Adams from Ohio State was the only real standout, and has cemented himself as a mid first round pick.  He was pretty much a brick wall in front of Melvin Ingram all day long.
Defense
Quinton Coples.  The man was in the backfield all day long.  Coples showed that when the motor was on, he was the best player on the field.  Period.   Zach Brown from UNC as well had a big game too.  Brown was constantly in the backfield to clean up plays that Coples disrupted.  The corners in this game played pretty well, as advertised.  Lots of good players in that bunch that will go in the first three rounds.  Lots to like on the defensive side of the ball this year.
All in All…
All in all, it was a pretty solid Senior Bowl especially for the defenders.  Some of the offensive players may have hurt some of their stocks more than they helped themselves, but the Senior Bowl isn't the be all-end all.  It will be very interesting to see how these guys respond at the combine in Indianapolis.